Outrage on Iron Range Mounts over McFadden's Anti-Minnesota Jobs Stance
Workers sound off on the investment banker's backing of Chinese Steel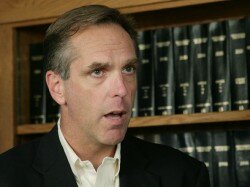 Minnesotans on the Iron Range today voiced their outrage at investment banker Mike McFadden's shocking support of Chinese steel over Minnesotan jobs — calling it "insulting," "frightening," and "a warning to all hardworking Minnesotans."
McFadden revealed this week that he places a higher value on being "cost competitive" to bolster big corporations' profits than creating American jobs.
During a tense back and forth with reporters after the Senate Farmfest forum, McFadden was asked if he would prefer using Chinese steel to build the entire Keystone XL pipeline — not American-made steel — if it were cheaper. McFadden said "yes" and later told reporters "I think we're going off on a tangent right now."
"It is clear investment banker Mike McFadden would rather create jobs in China than on the Iron Range if it means higher profits for big companies. We should be using American-made steel and supporting American jobs. This makes me wonder how we can trust McFadden on anything," said Darik Carlson, President of IBEW Local 242.
"The fact that investment banker Mike McFadden suggests outsourcing our jobs overseas to China is not only insulting, but should be a warning to all hardworking Minnesotans. We don't want someone who will cast aside Minnesota jobs in favor of subsidized foreign corporations—we need someone on our side," said Frank Jenko, President of USW Local 2705.
"Investment banker Mike McFadden is for the Iron Range when it's politically convenient and he's for Chinese steel when using it will help pad the profits of big companies. Hardworking families on the Iron Range deserve more respect than that, plain and simple," said Tom Cvar, President of Iron Range Labor Assembly and union representative with UFCW.
"It is frightening to know that investment banker Mike McFadden is already looking for ways to outsource Minnesota jobs to China. American-made steel and Minnesota jobs should always come first, not the profits of big corporations. His comments make one thing clear, McFadden is not for us," said Steve Preble, AFSME Council 65 Executive Director.
Three reports, including video from The UpTake, documented McFadden's comments. MinnPost reported that McFadden "wouldn't be a stickler for that [American-made] requirement, just that any steel, even if it comes from overseas…" would satisfy him. Forum Communications also reported that "McFadden said he would support the Keystone even if steel came from China…"
Chinese Steel · job outsourcing · Mike McFadden · Minnesota jobs · U.S. Senate