Why We Need to Work to Keep Gov. Dayton in Office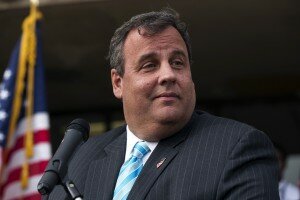 Without Gov. Dayton and the DFL-controlled Legislature, we'd be facing similar curtailment of voter rights.
On October 22, 2014, Jeanne Mack with the National Memo posted an article titled "Chris Christie and His Control of Voting Regulations" that we found chilling.
Ms. Mack reported that the day before Gov. Christie was speaking before the U.S. Chamber of Commerce in Washington (you know, Jenifer Loon's husband's employer). There he "emphasized his eagerness to keep Republican governors in power before the 2016 presidential election. Specifically, he stressed the importance of letting Republicans control voting regulations."
Ms. Mack went on to quote Gov. Christie further: ""Would you rather have Rick Scott in Florida overseeing the voting mechanism, or Charlie Crist? Would you rather have Scott Walker in Wisconsin overseeing the voting mechanism, or would you rather have Mary Burke? Who would you rather have in Ohio, John Kasich or Ed FitzGerald?"
The article includes a map from the Brennan Center for Justice showing the 21 states where residents will face new voting restrictions this November. The governors Gov. Christie cited all come from states on this map: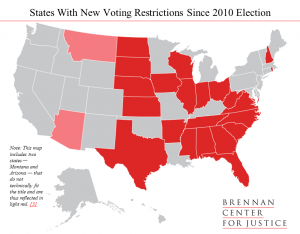 The complete post is worth the read. Click here to view it.
To help keep things like this from happening in Minnesota, get involved in the all-important get out the vote effort right here in Eden Prairie and Minnetonka:
Chris Christie · voting rights