Movement on special session negations
Posted by SD48 DFL Communications Team in News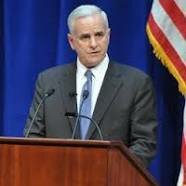 It was announced today that House Republicans will spend $525 million into preschool through high school and will not insist on polices regarding teacher tenure or to control which bathrooms transgender students use. Gov. Dayton's goal for education spending had been $650 million.
Agreements remained to be reached on exact education programs to be funded as well as the environmental bill that was vetoed. According to the Pioneer Press, said Republicans agreed to dump their idea of allowing corporate polluters to
'self report' and be exonerated. In return, he agreed to Republican demands that the 48-year-old citizens' board of the Minnesota Pollution Control Agency be abolished.

Senate Majority Leader Tom Bakk released the following statement: "I applaud Gov. Dayton's leadership in bringing these E12 negotiations to a close. Minnesota's children and families will be better off thanks to his work in securing additional funding for our schools. While I am disappointed House Republicans are unwilling to invest the additional funding we know our schools need, I agree with the Governor that shutting down state government is not the responsible way to resolve these negotiations. Throughout this process we have kept the state workers and their families in our minds, and are unwilling to gamble with their future by forcing Minnesota to endure yet another state shutdown."
House DFL Leader Thissen released the following statement: "Speaker Daudt said today that an additional $25 million for our kids was a 'line in the sand' he would not cross. It is nearly beyond comprehension that Republicans would be willing to force a government shutdown over a refusal to invest an additional $25 million in Minnesota's kids in order to save nearly $1 billion for their top priority: corporate tax giveaways. Thank goodness Gov. Dayton has been there to fight for Minnesota's kids and their families all session long. He has dragged House Republicans kicking and screaming from their initial position of forcing teacher layoffs and larger class sizes in a time of surplus to a $525 million investment in our schools. Nonetheless, Republican intransigence means we are missing a historic opportunity to invest in our earliest learners and change the trajectory of the lives of so many Minnesotans. We will await further details, but remain disappointed that Republicans have left so much work undone, and all to satisfy their desire for tax giveaways for corporate special interests and the wealthiest Minnesotans next year."
2015 legislative special session · Gov. Dayton · Leader Thissen · Mark Dayton · Paul Thissen · Sen. Tom Bakk · Tom Bakk