Middle class economics: The President's Fiscal Year 2016 Budget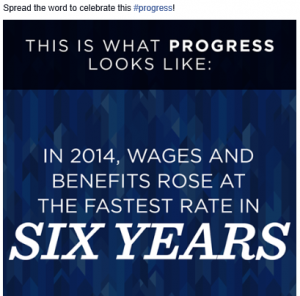 After a breakthrough year for America, the President today released a budget that provides a clear plan to bring middle-class economics into the 21st Century and lays out a blueprint for success in our new economy.
The budget shows what we can do if we invest in America's future and commit to an economy that rewards hard work, generates rising incomes, and allows everyone to share in the prosperity of a growing America.
The President's budget will reverse harmful sequestration cuts and instead make the critical investments needed to accelerate and sustain economic growth in the long run, including in research, education, training, and infrastructure.
The budget makes these investments and eliminates harmful spending cuts while also putting our nation on a more sustainable fiscal path. It does so by cutting inefficient spending and reforming our broken tax code to make sure everyone pays their fair share. In fact, the Budget achieves about $1.8 trillion in deficit reduction, primarily from reforms to health programs, our tax code, and immigration.
In short, the President's budget lays out a strategy to strengthen the middle class and help America's hard-working families get ahead – and it does so while achieving fiscal sustainability and promoting sustainable growth.
What the President's budget does
It helps middle-class families get ahead.
It helps middle-class economics by helping families afford the cornerstones of economic security: child care, college, health care, a home, and retirement.
The President's budget does this by:
Reforming the tax code to help middle-class families get ahead

Tripling the child care tax credit

Expanding child care assistance

Encouraging state paid leave initiatives

Ensuring access to quality, affordable health care

Making two years of community college tuition-free for responsible students

Bolstering job training so it leads to careers

Expanding access to child care and early education

Supporting and rewarding work

Helping families save for retirement

Partnering with communities to expand opportunity

Supporting innovative projects to improve economic mobility
Helps Americans upgrade their skills
Middle-class economics means making sure more Americans have the chance to earn the skills and education they need to keep earning higher wages down the road.
The President's budget does this by:
Making a high-quality education more affordable

Making two years of community college tuition-free for responsible students
Ensuring that Pell Grants keep pace with inflation
Keeping student loans manageable
Simplifying and expanding education tax benefits
Driving performance and innovation in higher education

Training workers for high-demand jobs and careers

Creating pathways to high-growth jobs
Expanding apprenticeships and employer-validated credentials
Helping American workers launch and sustain small businesses
Providing Americans entrepreneurial training to start their own business
Creates a 21
st
Century economy
Middle-class economics means creating the kind of environment that helps businesses start here, stay here, and hire here. The President's budget does this by:
Making investments in manufacturing

Creating a national network of manufacturing institutes
Investing in home grown products and ideas

Building a 21

st

Century infrastructure

Rebuilding our infrastructure
Boosting private investment through Rebuild America Partnership
Cutting red tape in the infrastructure permitting process

Betting on advances in science and research

Investing in innovative research and development
Investing in homegrown clean energy
Keeps Americans safe at home and abroad

The President recognizes that we cannot separate out work at home from our challenges beyond our shores and economic growth and opportunity can only be achieved if America is safe and secure. The President's budget provides the resources needed to sustain the President's national security strategy and protect the country's security and well-being both home and abroad.

The President's budget does this by:
Providing $561 billion in base discretionary funding for national defense – $38 billion above sequestration levels – and $58 billion for Overseas Contingency Operations.

Degrading and defeating the Islamic State of Iraq and the Levant (ISIL)
Countering Russian pressure and aggressive action together with our European allies
Promoting prosperity, security and good governance in Central America
Confronting the threat posed by infectious diseases
Protecting our nation against cyber-attacks
Combatting prescription drug and heroin abuse
Honoring our commitment to Veterans
Creates a government for the future
The President believes it is critical to create a government for the future that is more efficient, effective, and supportive of economic growth.
The President's budget does this by:
Supporting the President's management agenda

Supporting digital service delivery for citizens

Building evidence and encouraging innovation

Reforming the government to win in the global economy
Achieves fiscal sustainability and promotes sustainable growth
The President's budget meets the same fiscal test the Administration has held itself to in prior budgets: reducing deficits to below 3 percent of GDP, stabilizing debt as a share of the economy, and putting it on a declining path.
The President's budget does this by:
Bringing an end to sequestration

Paying for all new investments

Achieving $1.8 trillion in deficit reduction primarily from health, tax, and immigration reforms.
2015 budget · Barack Obama · President Obama
<< Children and families top Gov. Dayton's budget priorities