McFadden plagued by bad headlines, brutal stories during first week of general election
Posted by SD48 DFL Communications Team in News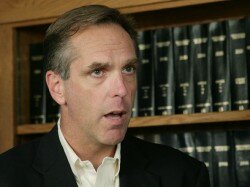 Investment banker Mike McFadden probably thought the first weekend of the General Election campaign would go a little differently, right
McFadden achieved a rare communications feat, leading the evening news and landing on the front pages of major news outlets for the second weekend in a row. Sadly for him the topic is the last one he wants to talk about.
Coverage focused on Iron Range leaders sounding off on the embattled investment banker's declaration that he would pick padding the profits of big corporations over Minnesota jobs and use Chinese steel to build the Keystone pipeline—even if it were just one penny cheaper.
The Mesabi Daily News told McFadden to admit he was "flat wrong out wrong to say what [he] did about Chinese steel" and tell Minnesotans his comments were "stupid."
McFadden's response: attack two state legislators he's not even running against. Seriously?
And if all this wasn't bad enough, on literally his first day as the Republican nominee, McFadden, with help of his political handlers, pulled off one of the fastest flip-flops in Minnesota political history. Full recap below, watch out, though, or you might wind up with whiplash.
Check out the brutal coverage of McFadden's first week of the General Election.
Mesabi Daily News: What's that odor? U.S. Senate candidate Mike McFadden stepped in it big time on Chinese steel issue
KQDS: MN Democrats and Iron Range Steel Workers Respond to McFadden's Comments
WDIO: Democrats Attack McFadden for Foreign Steel Comments
Mesabi Daily News: Foreign steel issue heats up
Duluth News Tribune: Iron Range rally targets U.S. Senate candidate McFadden over foreign steel comment
MPR: DFLers go after McFadden over steel comment
Star Tribune: U.S. Senate candidates clash over Keystone pipeline steel
St. Cloud Times: McFadden 2-steps on stance during St. Cloud stop
Star Tribune: Mike McFadden backpedals over gas tax increase
AP: McFadden reverses course on Minn. gas tax hike
MinnPost: McFadden says he could support gas tax increase, then quickly reverses
media coverage · Mike McFadden · U.S. Senate