McFadden keeps getting caught (again and again) trying to mislead voters
Posted by SD48 DFL Communications Team in News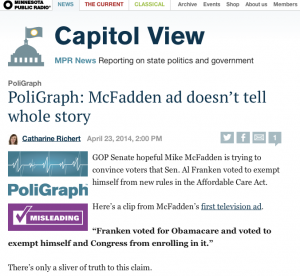 Investment banker Mike McFadden was caught misleading voters again this week after he launched an attack ad to try and distract attention from weeks of bad headlines and terrible stories about his strong support for Chinese steel.
Minnesota Public Radio's PoliGraph took a look at McFadden's latest attack ad and, unsurprisingly, deemed it "misleading" and called it a "big stretch."
But McFadden's willingness to purposely mislead voters is nothing new. Let's not forget that McFadden chose to introduce himself to voters in May by going negative and deliberately misleading them. His ad was fact checked by two non-partisan organizations — PolitiFact and MPR's PoliGraph — and deemed false.
It doesn't end there:
McFadden purposely misled voters about Sen. Franken and the Affordable Care Act and got caught. He continued making the same false claim and could provide "no back up" when called out by the Star Tribune.
McFadden also purposely misled voters and claimed Sen. Franken directed the IRS to "intimidate and harass people based on their personal beliefs." This was, of course, also deemed "false."
McFadden even tried to con Republican donors by asking for money under false pretenses — only to get called out by GOP activists for being a "phony" and a "fraud."
We could go on, but you get the point…
Mike McFadden · misleading voters · U.S. Senate