Martin reelected as chairman of Minnesota DFL
Posted by SD48 DFL Communications Team in News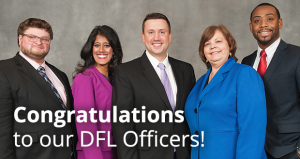 DFL Chairman Ken Martin was reelected to his third two-year term by a unanimous vote of the Minnesota DFL State Central Committee. The Committee took the vote at their Business Conference held Saturday, Feb. 7 in Monticello.
"I am very humbled by the vote and the confidence Party members have in my leadership," Martin said. "It is truly one of the greatest honors of my life to be able to lead the Party."
When Martin took office in 2011, he inherited a Party with a deep debt. After the bruising defeat in the 2010 election, morale was low and stakeholders had little confidence in the Party. Martin turned that around by raising record amounts of money that was used to retire debt and build a campaign infrastructure that could win.
Because of this work, the DFL had one of the most successful election cycles in Party history in 2012 – winning majorities back in both legislative chambers, taking back the seat in the 8th Congressional District and playing an instrumental role in defeating two divisive constitutional amendments.
In 2014, the Minnesota DFL was one of the bright spots in one of the most brutal mid-term elections for Democrats since 1928. Under Martin's leadership, the DFL reelected Gov. Mark Dayton, Sen. Al Franken and kept all statewide offices in DFL hands.
"While there is so much to be proud of, we cannot rest on our laurels," Martin said. "Now is the time to roll up our sleeves and get to work so that we can keep Minnesota blue for our Democratic presidential nominee, keep our majority in the Minnesota Senate and reclaim our majority in the Minnesota House."
Also returning for third terms as state Party officers are Marge Hoffa, as vice chair, and Jacob Grippen, as secretary. Joining Martin as part of the executive team are Shivanthi Sathanandan, as outreach officer, and Ron Harris, as treasurer.
"I'm excited by the experience this leadership team brings to the table," Martin said. "I look forward to working with our new officers as we build the party toward victory in 2016."
Jacob grippen · Ken Martin · Marge Hoffa · Ron Harris · Shivanthi Sathanandan · State DFL