Legislators entering final weeks of session, make your voice heard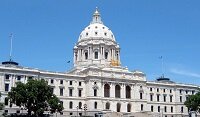 As legislators enter the last month of session, details of the House Republicans' state budget are surfacing, with tax cuts for special interests their top priority.
For every $1 spent on education they want to: give away $15 in tax cuts; increase college tuition and student debt; end affordable health care coverage for working families; and cut programs that create jobs in rural communities.
Decisions made in the coming weeks will impact the state for years to come. Make your voice heard and tell Republican legislators to make investments that grow the economy, not a state budget that provides businesses tax cuts at the expense of students, working families and rural Minnesota.

You can find contact information for your elected representative here.
2015 state budget allocations · corporate tax cuts · education funding · tax cuts for the rich