Join us on the road to progress
Posted by SD48 DFL Communications Team in News
We need your help to keep Minnesota on the road to progress.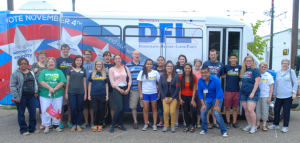 During the past two years, Gov. Mark Dayton and DFL legislators have put Minnesota back on track. They turned a $6.2 billion budget deficit into a surplus; added 160,000 jobs; and provided free all-day kindergarten. DFLers focused on family security by increasing the minimum wage and recognizing same-sex marriage.
But the work isn't done and GOP candidates want to turn back to the clock to a time when millionaires and billionaires didn't pay their fair share; the state budget was balanced on the backs of our students and seniors; and people worked 40 hours a week or more and still lived in poverty.
With our new bus, the DFL Flying Squad will visit all corners of the state to connect with people about the importance of voting DFL this fall. By joining us for one, two or more trips you can make a real difference. We know that when DFLers vote, DFLers win.
Please support our DFL candidates who are committed to building a Better Minnesota for all. Click here for the schedule. Don't delay, sign up today with Andrew Beck, .