Health care should be a right, not a privilege.
Posted by SD48 DFL Communications Team in Issues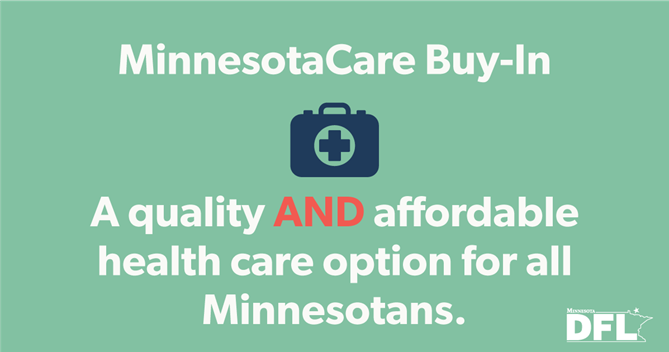 Health care is a fundamental right and we have to do everything in our power to make it fair and accessible. That's why we support @GovMarkDayton's MinnesotaCare buy-in for better health care for all Minnesotans. Read Chairman Martin's op-ed >
Health care should be a right, not a privilege.
Yet many Minnesotans do not have health coverage or struggle to afford their premiums. We must take action to ease the burden of rising health care costs on Minnesota families and make health care more accessible, so no person has to risk going without health care coverage.
That is why we support Governor Mark Dayton's proposal to expand the state's MinnesotaCare program. The program, which has historically served low-income families, provides Minnesotans with affordable, quality health coverage. By removing the program's current income restrictions, the governor's plan would allow all Minnesotans who purchase their health insurance on the individual market the choice to "buy-in" to MinnesotaCare. This proposal, known as the "MinnesotaCare Buy-In," would help an estimated 100,000 Minnesotans purchase better health coverage at prices estimated to be 28 percent less than other commercial health plans.
The plan would inject more competition into the marketplace. It would give Minnesotans more options, especially in rural areas where there is often only one provider. It would drive down medical expenses for working families, and cost nothing for taxpayers.
The MinnesotaCare Buy-In is a win-win. Minnesotans should speak up, and demand that the legislature pass this proposal immediately. It's time for affordable health care.
<< Representative Laurie Pryor discusses current events with The Uptake's Mike McIntee