Grow with Us Plant Sale
No comments · Posted by SD48 DFL Communications Team in Events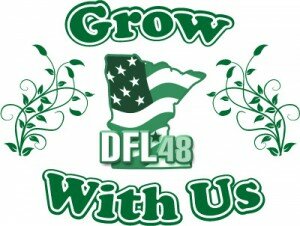 Time to start thinking about plants and gardening.
Though it may not look like spring outside, spring will officially arrive on March 20. Get a head-start planting your patio pots and hanging baskets with annuals and greens.
This year we have a great way for you to buy plants and help fund efforts to elect Democrats in Eden Prairie and Minnetonka.
It's that time of year. So, let's get growing. Purchase certificates now and buy your plants when it's convenient
DFL48 is selling Holasek Greenhouse certificates that can be used at their main greenhouse at 8610 Galpin Blvd in Chaska, as well as any of these Great Gardens by Grandma locations:
North parking lot of Eden Prairie Center, outside of J.C. Penneys
Parking lot of Jerry's Foods, Anderson Lakes Pkwy and Hwy 169
Deakyne's True Value, 17505 Minnetonka Blvd, Minnetonka
Coopers Country Market, 710 Walnut Street N, Chaska
The certificates will allow you to pick which plants you want to purchase, as well as when and the location that's most convenient.
And, to help you plan your garden and planters, here's a PDF download of Holasek's 2014 catalog: 2014 Holasek Catalog.
Certificates are available in a range of denominations
We will have certificates available in a range of denominations:
$ 10 Holasek Certificate

$ 25

Holasek Certificate

$ 75

Holasek Certificate

$100 Holasek Certificate
Have questions? .
Weren't able to attend our demonstration?
On May 10, Shirley Mah Kooyman, Hennepin County Master Gardener, botanist, award-winning teacher, plant information specialist and Vice President of the Minnesota Native Plant Society gave us great information on how to have successful container garden. Here's a brief excerpt:
Post by DFL Senate District 48.
Grow with Us · Plant Sale · SD48 DFL · senate district 48 dfl
---
Comments are closed.