Gov. Dayton Takes His Pre-K Plan to Class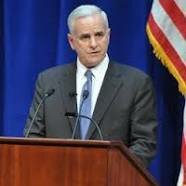 To promote his plan to provide free all-day preschool for all 4-year-olds, Gov. Mark Dayton recently visited a classroom in Newport.
"We have already seen the tremendous successes of all-day kindergarten, which got underway just this year," Gov. Dayton said. "But we have a lot more work to do to narrow Minnesota's achievement gap, and provide excellent educations for every student in Minnesota. That work has to start now, and it must begin with our youngest learners."
What does this plan mean to us "by the numbers"? Here they are:
47,300: In its first year, Gov. Dayton's universal preschool program would send 47,000 kids to preschool, free of charge. Within just a few years, enrollment would grow to roughly 57,000 four-year-olds.
50th:

A study from Education Week

noted recently that Minnesota ranks last in the nation in access to all-day preschool programs.
$16:1: Leading researchers and economists have found that investments in high-quality early learning programs can yield long-term benefits of as much as $16 for every $1 invested in early learning programs.
3rd: Minnesota is the 3rd

-most expensive state in the nation for child care, costing $10,812 per year (on average) for one four-year-old. Sending kids to preschool all day would help students prepare for success in school, eliminate out-of-pocket expenses for preschool programming, and save families additional money on child care every year.
education · Gov. Dayton · Mark Dayton · pre-K
<< DCCC launches campus ad campaign hitting Republicans on college affordability