Former Gov. Granholm to headline DFL's Humphrey-Mondale Dinner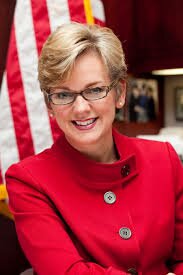 Former Michigan Gov. Jennifer Granholm will headline the Democratic-Farmer-Labor Party (DFL)'s Fourth Annual Humphrey-Mondale Dinner Saturday, June 6 at the Hilton Minneapolis.
"The Minnesota DFL is excited to host this progressive leader," said DFL Chairman Ken Martin. "As Governor, Granholm focused on creating jobs and improving education for Michigan's long-term economic health. During her tenure, Michigan ranked high for business locations and more than 600,000 jobs were created.
"Gov. Granholm is also a national leader on clean energy policy, working to make Michigan an example of how business and environmental interests can work together to meet their goals."
Granholm was elected as Michigan Attorney General in 1998 and then as Michigan's first female governor in 2002. Granholm served two terms as governor. After leaving office, Granholm served as a member of President Barack Obama's transition team, wrote a book and hosted Current TV's political news analysis show "The War Room with Jennifer Granholm".
Currently Granholm teaches courses in law and public policy at University of California (UC) Berkeley, is a senior research fellow at the UC Berkeley Energy and Climate Institute (BECI) and the Center for Information Technology Research in the Interest of Society (CITRIS). She's also the co-chair of Priorities USA Action, a super PAC that is supporting Hillary Clinton for President in 2016.
Granholm is also known for her fiery speech at the 2012 Democratic National Convention.
"She totally electrified the crowd with a speech that took after Mitt Romney's record of putting profits before people," Martin said. "We are looking forward to seeing that energy at the Humphrey-Mondale Dinner as we get DFLers excited to elect the next Democratic president in 2016."
To purchase tickets, go to humphreymondaledinner.com.
2015 Humphrey-Mondale Dinner · Jennifer Granholm