Forbes: Minnesota 9th in nation for being business-friendly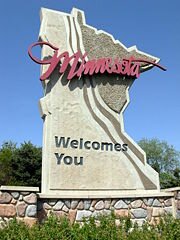 Forbes magazine is out with its list of the most business-friendly states, and Minnesota comes in at No. 9 thanks to high marks for "quality of life" and a strong overall economic climate.
Forbes said the list is based on 36 factors, among them: business costs, labor supply, regulatory environment, economic climate, growth prospects and quality of life. Business costs, which include labor, energy and taxes, are weighted the most heavily. The magazine turned to 11 sources, leaning most heavily on Moody's Analytics.
The magazine pointed to Minnesota benefiting from being the home of Target, U.S. Bancorp, General Mills, 3M and Medtronic (for the time being). It also liked the state for having the fourth-highest percentage of adults with a high school degree at 92.4 percent.
Wisconsin's rating on this list? No. 31.
To read more, click here.
business-friendly states · MN vs. WI