First Lady Michelle Obama to headline campaign rally in support of Sen. Franken and Gov. Dayto
Posted by SD48 DFL Communications Team in News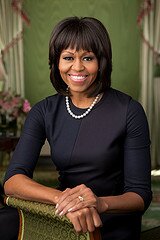 On Tuesday, Oct. 21, First Lady Michelle Obama will headline a grassroots GOTV event in support of Sen. Al Franken and Gov. Mark Dayton at Patrick Henry High School in North Minneapolis.
Doors will open at 2 p.m. The event is free and open to the public. Ticket information can be found at dfl.org/mpls-rally and seating will be first come, first serve.
"We are excited to have First Lady Michelle Obama in Minnesota to support Senator Franken and Governor Dayton," said DFL Chairman Ken Martin. "Minnesotans are energized to help get out the vote, volunteer and make sure their voices are heard on Election Day so we can keep moving Minnesota forward."
Who: First Lady Michelle Obama, Sen. Al Franken, Gov. Mark Dayton
What: Grassroots GOTV event
Where: Patrick Henry High School, 4320 Newton Ave. N, Minneapolis, MN 55412
When: Tuesday, Oct. 21, 2014. Doors open at 2 p.m.
Al Franken · First Lady Obama · get out the vote · Gov. Dayton · Mark Dayton · Michelle Obama · Sen. Franken