Education Energy and Environment Federal Budget Guns and Crime Health Care HIGHER EDUCATION Housing Immigration Labor and Work LGBT Media Military National Security Open Government Poverty Progressive Movement Public Opinion Race and Ethnicity Regulation and Markets Religion and Values Tax Reform Technology and Science Terrorism Women's Rights PROJECTS EXPERTS EVENTS REPORTS ABOUT US PRESS DONATE Issues » Higher Education State Disinvestment in Higher Education Has Led to an Explosion of Student-Loan Debt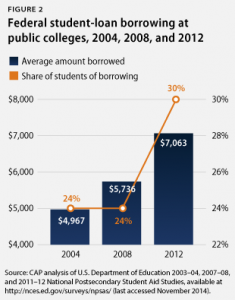 Elizabeth Baylor at AmericanProgress.org posted on that site on December 3, 2014, an excellent review of what's been taking place on this country's colleges and universities over recent years along with information on why it's important to the United States to invest in post-secondary education in the international marketplace.
In addition, the debt load people graduating from college is a massive amount nationally that will impact those graduating financially for years, if not their lifetime.
It's a long read, but worthwhile. Here's a link to the online post.
The PDF has more charts. You can download that here.