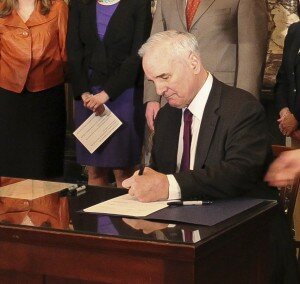 "During Gov. Mark Dayton's first term in office we saw an improved economy, the lowest unemployment rate in years and major investments in all levels of education.
"Gov. Dayton announced a proposed state budget today that will build on those successes. He has provided long-term solutions that will benefit residents of the entire state.
"For example while the Republican leadership refuses to acknowledge that a deteriorating transportation system will deteriorate our economy, the Governor is proposing significant investments in road and bridge repair as well as transportation aid to counties and cities. The Governor's plan creates 119,000 jobs and provides the safe and efficient transportation system the state needs to accommodate new residents and business growth.
"From free all-day kindergarten to a minimum wage increase to being named the best state to live in, Minnesota has come far during Gov. Dayton's first four years in office. Gov. Dayton's proposed budget is a commitment to working families to build an even Better Minnesota for now and future success."
2015 Minnesota budget · Gov. Dayton · Mark Dayton
<< Governor Dayton Details Plan to Fix Minnesota's Aging, Underfunded Transportation System