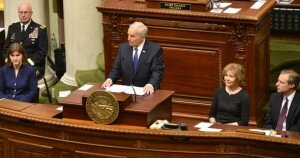 The State of the State
On Thursday, Governor Dayton delivered his annual State of the State Address to the Minnesota legislature. In it, Governor Dayton highlighted a number of his priorities for this session, including education, transportation, and clean water for all Minnesotans. "Minnesota's challenges and opportunities can't wait for next year," said Governor Dayton. "This is our moment of truth. Minnesota's future is now in our hands."
A Strong Start for All Learners
As Governor Dayton and Lt. Governor Smith make stops around the state to highlight Governor Dayton's proposal to send all Minnesota four-year-olds to high-quality preschool programs, a new report out last week shows Minnesota ranking near the bottom nationally in the number of four-year-olds enrolled in public preschool, stressing the critical need for this investment. Education Commissioner Cassellius recently recounted her own experience with early education, and newspapers around the state are calling on the legislature to act in the interest of our youngest learners.
Investing in Minnesota Jobs and Infrastructure
Last Tuesday, Governor Dayton proposed a bonding bill that would put up to 23,900 Minnesotans to work while making critical investments in state infrastructure, including improvements to MnSCU and U of M buildings and classrooms, local parks, roads, and infrastructure across the state. The Governor also stressed the importance of this jobs bill in his State of the State address, including his rail safety investments included in the proposal.
Sustainable Transportation for Minnesota's Future
In his State of the State on Thursday, Governor Dayton also highlighted the need to increase our investments in better highways, roads, bridges, and public transit in a way that provides reliable funding for the next ten years. Lt. Governor Smith has been on the road recently talking about our state's transportation needs, including a recent stop in Mankato.
Protecting and Improving Minnesota's Waters
Governor Dayton has been touring the state recently, talking to Minnesotans about his proposal to protect and improve our water by implementing buffer strips alongside Minnesota lakes, rivers, and other bodies of water. These meetings, in Worthington, Austin, and Northfield have drawn large, passionate audiences. Governor Dayton is committed to taking this critical step forward for water quality, a call he reiterated in his State of the State address last Thursday.
2015 State of the State · budget update · Gov. Dayton · Mark Dayton