CONTRIBUTE!
VOLUNTEER!
CONTACT US!
Can You Host an SD48 Lawn Sign?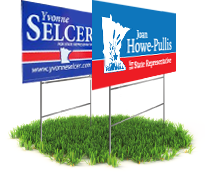 Our candidates are hoping to build visibility with lawn signs!
If you're willing to have one in your yard between now and Election Day, please e-mail us at . We'll pass your information along to our candidates.
Tweets by @DFL48
Daily Brief: Wednesday, June 25th, 2014
Posted by Admin in Daily Brief, News
In the Know
Minnesota DFL
June 25, 2014

Events today
11 a.m. – Gov. Dayton will meet with Roseau County emergency managers and local elected officials at Warroad City Hall to discuss flood response efforts.

Mark your calendars and spread the word!
1 day until June 27 and people can begin to vote by no excuse absentee ballot for the Aug. 12 primary
48 days until the Aug. 12 primary and our first opportunity to vote for DFL endorsed candidates
86 days until Sept. 19 and people can begin to vote by no excuse absentee ballot for the Nov. 4 election
131 days until the Nov. 4 election

2014 election
Governor
Former Speaker Sviggum, state Sen. Benson sign on with Johnson, Star Tribune
Honour says campaign cash gives him advantage to take on Dayton, MinnPost
Sviggum, Benson to co-chair Jeff Johnson's gubernatorial campaign, MinnPost
Gov. Mark Dayton is turning to some reliable allies for a fundraiser tonight in Minneapolis. The "Third Annual Pride Reception," ahead of this weekend's Twin Cities Pride Festival celebrating gay civil rights, is a chance for supporters to open their wallets for Dayton "and his commitment to the LGBT Community," in the words of a flyer for the event. Guests are asked for as much as $4,000, and at minimum $50, for the re-election account of the governor who signed gay marriage into law. Star Tribune
U.S. House
Emmer campaign reclassifies FitzSimmons payments after Times probe, St. Cloud Times
GOP congressional hopeful tries to divert focus from 'Brad Pitt looks', New York Daily News
The Brad Pitt of the Republican Party is just a guy with long hair, The Week
Rangel climbs ahead in tight race, The Hill
Outside groups renewing 8th District spending spree, eyeing 7th, MinnPost
GOP CD8 candidate Stewart Mills will release his next ad. The ad features Mills' wife Heather talking about her husband and his walking in pink shoes to fight domestic violence.http://bit.ly/VmTHca Morning Take
U.S. Senate
People of Minnesota: Re-elect Senator Franken, Faribault Daily News
Cochran topples Tea Party, The Hill
Cochran win in Miss. a boost to Washington establishment, blow to tea party movement, Star Tribune
Who is McFadden? Partisans rush to define GOP Senate hopeful, MPR
GOP Senate candidate Mike McFadden released his next campaign ad yesterday entitled "I Stand with Mike" http://bit.ly/1laRZ2g Morning Take
Congress
Congressional leaders hold hands and sing, Politico

Congressional delegation
Kline
Mark my words and John Kline on disaster relief, Minnesota Political Roundtable
Walz
Walz bill would expand child protection training nationwide, Winona Daily News

Economy
Target-anchored building on Nicollet Mall to sell for record $164.5 million, Minneapolis St. Paul Business Journal
Ex- Retek building occupied by Target gleans $164.5M offer, Star Tribune
Medtronic could avoid $3.5B to $4.2B in taxes with merger, Star Tribune
Business service firms in Minnesota expect higher profits this year, survey finds, MinnPost
The best (and worst) bachelor's degrees for getting a job in Minnesota, Star Tribune

Housing
Too many Minnesotans find affordable housing is 'out of reach,' Minnesota Budget Project

Obama
Despite polls, Obama is in demand with DFL, Star Tribune
Minneapolis woman key to Obama visit, MPR
Obama plans events at Minnehaha Park, Lake Harriet Bandshell, Star Tribune
Obama to spend time with Minneapolis letter writer, Pioneer Press
Obama to make appearances in Minneapolis Thursday and Friday, MinnPost
Obama to spend day with Mpls. woman who wrote him letter, WCCO
Obama will visit Minneapolis mom while in Twin Cities, KARE
President Obama's agenda for 2 days in Minneapolis, Fox 9
On Thursday, June 26, the President will travel to Minneapolis, Minnesota to participate in a town hall at Minnehaha Park and attend a DCCC event. On Friday, the President will deliver remarks on the economy at Lake Harriet Bandshell and depart Minnesota en route Washington, DC. Arrival and departure of Air Force One are open to pre-credentialed media but closed to the public. The town hall with the President is open to pre-credentialed media and invited guests only. There will be print pool coverage of the President's remarks at the DCCC event. The President's remarks at Lake Harriet Bandshell are open to pre-credentialed media and ticketed members of the public. The White House
The President reads a letter from Rebekah, a hardworking mom from Minneapolis who wrote to the President about what she sees, what she thinks needs changing, and her struggle to get ahead. The President chose to highlight Rebekah's story because it is representative of the experiences of millions of Americans: While our economy's made a comeback, too many Americans are still stretched too thin and the President knows there's more work to do. YouTube

Oberstar
Memorials for Congressman Jim Oberstar to be held this week, Morrison County Record
Storm recovery
Gov. Dayton sizes up metro flooding as road closings spread, Star Tribune
Flooded Minnesota towns search for the road back to normal, MPR
Feds provide first $750,000 for emergency repairs of Minnesota's flood-damaged roads,MinnPost
daily brief · issues · news