Daily Brief: Wednesday, Feb. 18th, 2015
Posted by SD48 DFL Communications Team in Daily Brief, News
In the Know
Minnesota DFL
Feb. 18, 2015

Events today
10 a.m. – Voices for Racial Justice rallies and releases its 2013-14 legislative report card and its 2015 racial equity agenda. Christ Lutheran Church on Capitol Hill, 105 University Avenue, St. Paul.
10:30 a.m. – Senate leaders and chief authors will hold a media availability to highlight a package of bills addressing needs in Greater Minnesota. Sen. Tom Saxhaug (DFL-Grand Rapids), Sen. Vicki Jensen (DFL-Owatonna), Sen. Dan Sparks (DFL-Austin), and Sen. David Tomassoni (DFL-Chisholm), Sen. Matt Schmit (DFL-Red Wing) will discuss bills related to jobs and the economy in Greater Minnesota
12:15 p.m. – The House meets in session.
1:30 p.m. – Sen. Katie Sieben and Rep. Ryan Winkler will join Minnesotans for Paid Family Leave at a press conference to discuss the Paid Family Leave Act. The Paid Family Leave Act is supported by a growing coalition of community organizations, called Minnesotans for Paid Family Leave, including the Children's Defense Fund, Center on Women and Public Policy, Gender Justice, ISAIAH and AARP. Lady Slipper Room, Centennial Building, St. Paul.
1:30 p.m. – Gov. Dayton will announce his proposal to expand and improve Highway 14. Nearly 40 miles of roadway would be expanded to four lanes and 6 bridges would be modernized under Gov. Dayton's plan, making needed safety and mobility improvements. Another 40 miles of roadway on Highway 14 would be repaired or repaved. MnDOT District 7 Headquarters in Mankato.

Event tomorrow
9 a.m. – Congressional District 2 DFL and the DFL Senior Caucus hold a joint "Day on the Hill." Minnesota AFL-CIO, 175 Aurora St., St. Paul.

Events Friday
9:30 a.m. – Members of the Minnesota Senate's transportation committee hold a transit presentation at Arrive at the Miller Center, St. Cloud State University, 720 4th Ave. S, St. Cloud.
11:30 a.m. – Members of the Minnesota Senate's transportation committee hold a public hearing on transportation issues, St. Cloud City Council Chambers, 400 2nd St. S, St. Cloud.
3:20 p.m. – Members of the Minnesota Senate's transportation committee hold a hearing on Highway 23. Northern States Supply, 600 Industrial Blvd SW, Willmar.

2015 session
Dayton, Bakk go to separate corners, but feud still simmers, Star Tribune
State House panel moves to roll back Dayton raises, MPR
The best of frenemies: why the Dayton-Bakk pay raise rift isn't likely to be their last fight, MinnPost
Calmer tone heard from Dayton, Bakk in dispute over salaries, WCCO
2016 election
Vin Weber signs on with Jeb Bush, Washington Post
Dems' farm teams languish even with Senate in play, Politico
Campaign finance
Metzen amendment would allow day-of-session fundraising, Star Tribune

Congressional delegation
Klobuchar and Peterson visit Cuba, MPR
Klobuchar
Sen. Klobuchar spends weekend in Cuba hearing out locals, Star Tribune

Constitutional amendments
A visual history of amending the Minnesota Constitution, Pioneer Press

Data privacy
Following tense discussion, License Plate Reader bill faces extra scrutiny, Star Tribune

Dayton
The unnatural: How Mark Dayton bested Scott Walker—and became the most successful governor in the country, Mother Jones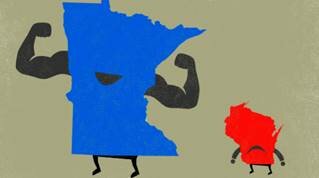 Education (K-12)
Teacher seniority bill clears House committee; heads to floor next, Star Tribune

Environment
Court upholds DNR's management plan for Mille Lacs walleye, Pioneer Press

Immigration
Immigration orders blocked, Obama administration pledges appeal of Texas judge's ruling, Star Tribune
Judge's decision leaves immigrants in legal limbo, MPR

Labor
Coalition launches effort for $15 minimum wage in Minneapolis, Workday Minnesota
Today in history




Mentally ill
Proposed diversion program would keep mentally ill out of jail, in the fold, Star Tribune

Mining
Houston County officials consider keeping mining at bay, MPR

Minneapolis
The miracle of Minneapolis, The Atlantic
New article has high praise for Minneapolis, KARE

MNsure
Legislative auditor: 'We think MNsure performed badly', Star Tribune
Legislative auditor issues tough report on MNsure, Star Tribune
MNsure audit: 'very silly' turf battle contributed to issues, Pioneer Press
The auditor's critique of MNsure, and bigger questions, Pioneer Press
MNsure audit: 5 findings, 4 recommended fixes, Fox 9
Auditor: MNsure's 'failures outweighed its achievements', KARE
GOP: It is just what they do, mnpACT!
Auditor report on MNsure – bad report but not much new, mnpACT!
Sen. Tony Lourey (DFL-Kerrick) statement on MNsure report:
"The legislative audit, released today, provides familiar background for the difficult rollout of MNsure. As I review the report, I am glad to find it provides us with more insight into the first year of operation. I think the most important component of this report is the auditor's recommendations for how to move forward. These recommendations give me confidence that the bill moving through the Senate is on the right track. Three of the four main recommendations in the report are the primary components of S.F. 139—which will bring much needed transparency and oversight to MNsure.
"It is important to not equate technological difficulties and leadership issues with the overall merits of a state-based exchange. Minnesota's reforms have resulted in 180,000 individuals, previously uninsured, finding health care coverage, many for the first time. Minnesota's uninsurance rate is the lowest in state history. These are important accomplishments that should not be overshadowed by the problems in the rollout."
Secretary of State
Simon: Off-election year good time to talk voting changes, Red Wing Republican

Transportation
Dayton lists 600 road, bridge projects in $6 billion proposal, Star Tribune
Dayton ramps up push for transportation finance plan with stop in area hungry for road money, Star Tribune
Dayton: Plan pays for 600 road and bridge projects, MPR
Dayton heads out on transportation road show, KSTP
Dayton makes transportation sales pitch, promises major construction, KSTP
Seeking support, Dayton lists road, bridge projects in $6 billion plan, KSTP
Dayton opens necessary road debate, Mankato Free Press
Gov. Dayton dangles road projects to be built under his plan, WCCO
Mark Dayton details road projects, to pressure legislators, Pioneer Press
Report: Transportation program to generate 15,000 jobs, Minneapolis/St. Paul Business Journal
Dayton's transportation plan highlighted by I-94 rebuild, Fox 9
daily brief · issues · news