Daily Brief: Wednesday, Aug. 13th, 2014
Posted by SD48 DFL Communications Team in Daily Brief, News
In the Know
Minnesota DFL
Aug. 13, 2014

Events today
10 a.m. – DFL Chairman Ken Martin holds a press conference to talk about the upcoming November election.
Noon – Residents of the 8th Congressional District will kick off the "Personally Offensive Tour" at noon Wednesday, Aug. 13th outside the shuttered Georgia Pacific plant at 1220 W Railroad St., in Duluth. The tour will hold multi-millionaire Stewart Mills III accountable for his comments that he finds it "personally offensive" for multi-millionaires like himself to pay their fair share. The tour kicks off outside the Georgia Pacific, which was closed nearly two years ago by Mills' financial supporters, the billionaire Koch brothers. This action cost some 140 workers their jobs.
1 p.m. – Gov. Dayton will provide remarks at the Mankato Civic Center to mark the Civic Center's expansion, which was funded in the 2014 Jobs Bill. This event will take place at the Mankato Civic Center, 1 Civic Center Plaza, Mankato.
1 p.m. – DFL Chairman Ken Martin meets with the Rochester Post Bulletin editorial board to discuss the upcoming election.

Mark your calendars and spread the word!
37 days until Sept. 19 and people can begin to vote by no excuse absentee ballot for the Nov. 4election
82 days until the Nov. 4 election

2014 election
More vote in DFL gov, Senate primaries than Republican ones, Star Tribune
Breakdown of Minnesota primary election results, Star Tribune
Wanted this fall: A vigorous Minnesota campaign, Star Tribune
Johnson wins GOP nomination for gov; Kahn, Loon, Otto all survive challenges, MinnPost
Primary 2014: Johnson, Kahn, Loon hold off primary challenges, MPR
Minnesotans go to the polls for 2014 primary, MPR
Johnson gets GOP nod, other primary results, KARE
Minnesota primary election results roundup, Fox 9
Despite a four-way Republican gubernatorial primary, more DFLers voted in the near-certain DFL primary for governor. Also, Democratic Sen. Al Franken got more votes than the entire GOP Senate field combined. While primary voting strength does not have decisive implications for November votes, the results may hold some interest for partisans working on "get out the vote" campaigns. See the numbers here. Star Tribune
Legislature
Kahn, Loon beat back primary challengers, Star Tribune
State Auditor
Primary 2014: Otto defeats Entenza in DFL auditor race, MPR
Rebecca Otto defeats Entenza in DFL primary for auditor, Pioneer Press
Matt Entenza: Damaged and mistrusted, mnpACT!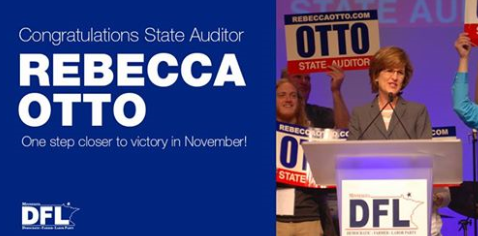 Governor
Jeff Johnson is GOP pick to challenge Gov. Dayton, Star Tribune
The Mild bunch? After a sleepy campaign, election night may finally offer some surprises, MinnPost
Primary 2014: Johnson wins GOP race for governor, MPR
Johnson wins GOP primary for governor; faces Dayton in November, Pioneer Press
Johnson emerges to take GOP governor primary, WCCO
Johnson emerges to take GOP Governor primary, KSTP
Gov. Mark Dayton voted in yesterday's primary at a church on Summit Avenue in St. Paul. The DFL governor faced only token opposition, and an election judge jokingly asked him who he voted for. "I got over the shame of voting for myself when I was in fourth grade," Dayton cracked. Star Tribune
Minnesota Nice. That may be the tone of the Governor's race between GOP nominee Jeff Johnson and incumbent Mark Dayton. While Johnson is partisan, the tone of his campaign against Dayton is not likely to be as harsh as any of the other GOP candidates would have been. For Dayton, even calling Johnson last night, is positioning himself as a gentleman in the matchup. While outside groups will deliver plenty of nastiness, neither Dayton nor Johnson are likely to be the combative campaigner. That's makes it tough for the GOP. Dayton has proved that he's playing it safe on his re-election strategy, and if he stays safe and doesn't slip, Johnson could be challenged to land punches that make Dayton react and make him more vulnerable. Morning Take
U.S. House
GOP voters pick Emmer as likely Bachmann heir, Star Tribune
Kline-Obermueller rematch set, Star Tribune
Hagedorn upsets Miller in First District GOP primary, Star Tribune
FarmFest2014 : Mike Obermueller talks, writes and promises to listen, MN Political Roundtable
Primary 2014: Hagedorn wins GOP primary in 1st District, MPR
Ex-gubernatorial candidate wins nod to replace Bachmann, The Hill
Tom Emmer wins in Sixth Congressional District GOP primary, Pioneer Press
#FlipADistrict: Oust Kline – not just for the 2nd- for everybody, mnpACT!
Hagedorn pulls off upset, defeats GOP-endorsed Miller, Rochester Post Bulletin
Emmer claims GOP 6th district nomination, St. Cloud Times
U.S. Senate
Political newcomer McFadden wins big in GOP Senate primary, Star Tribune
Sen. Franken gets expected union endorsements, Mesabi Daily News
Primary 2014: McFadden wins GOP Senate primary, MPR

GOP
Minnesota GOP official's tweet about Robin Williams death stirs social media fight, Star Tribune
MNGOP candidate says that we'll miss Robin Williams; Parrish really apologizes for ID tweet, Star Tribune
Homeless youth
Groundbreaking in Brooklyn Park for area's first suburban homeless shelter for youth, MinnPost

Minimum wage
Our view: 'Minimum-wage fee' shouldn't be surprising, Rochester Post Bulletin
daily brief · issues · news