Daily Brief: Tuesday, May 19, 2015
Posted by SD48 DFL Communications Team in Daily Brief, News
In the Know
Minnesota DFL
May 19, 2015

Constituency Caucus meetings
May 21 – MYDFL Central Committee meeting, 6:15 p.m., Rondo Community Library, 461 N Dale St., St. Paul.
May 21 – The Hennepin County DFL Senior Caucus will meet at 12:30 p.m. at Maria's Cafe, 1113 E Franklin Ave., Minneapolis. The speaker will be Lee Graczyk, lead organizer for RxRights.org. He is knowledgeable on the politics of Prescription Medicine.
June 6 – The Senior DFL Caucus will hold its annual meeting at the Sheet Metal Workers Local #10, 1681 East Cope Avenue 55109, Maplewood.
Save the date!
June 6 – Tickets are now on sale for the 4th Annual Humphrey-Mondale Dinner.
June 7 – Senate District 42 hosts "Pints and Politics," 6 p.m., Hampton Inn, 1000 Gramsie Rd, Shoreview
June 20 – Registration is now open for the DFL Training Summit. Attend and learn how you can help the party build to win, built to last.

2015 session
The House Republicans end the 2015 session in chaos, The UpTake
Frenzied session ends with work left undone, Star Tribune
Dayton's education funding fight is a lot like one fought by Arne Carlson, with one big difference, MinnPost
Clock runs out on the 2015 Legislature with some funding bills left in limbo, Session Daily
Photos of the session's last minutes, Pioneer Press
Despite chaotic end to session, leaders say key bills passed, Pioneer Press
Session ends in chaos, Pioneer Press
Legislature roundup: Buffer strips, transportation, public safety and more Pioneer Press
Session at a glance by the numbers, Pioneer Press
Session ends in a rush; special session likely, MPR
Session limps to a close with lawmakers dismayed, MPR
Lawmakers await word from Gov. Dayton on budget, special session, KSTP
What's in $42 billion? Minnesota's next budget at a glance, WCCO
Dayton's so-called pout over universal preschool should be called leadership, MinnPost
The final hour of the legislative session becomes very entertaining TV and Twitter. Sleep has been short, and last night the final minutes of the session resulted in the Senate President slipping with a "shit" from the chair, to House DFLers screaming at the Speaker in the final moments of debate – just like the GOP has done when in the minority in previous years at the deadline. The Senate ended with a speech about the history the chamber, while the House ended in a screaming battle between the DFLers and the Speaker. morning take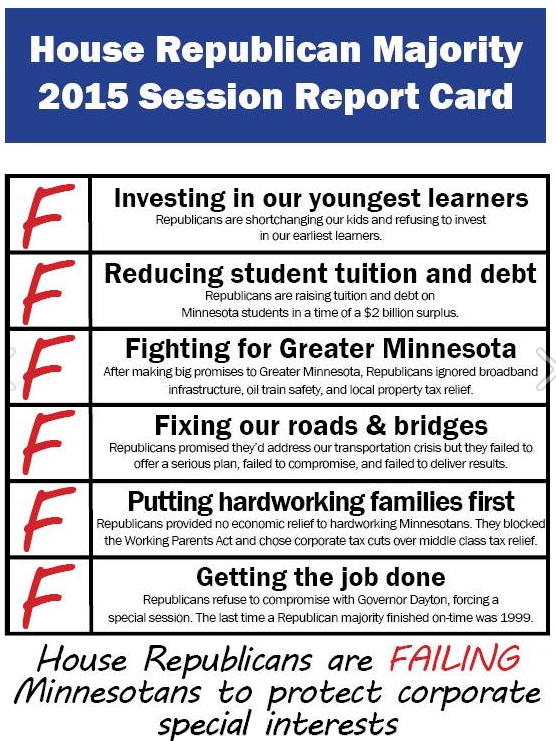 2015 special session
St. Paul Hotel: We'll host your special session for free, Pioneer Press
For special session, when and up in the air, WCCO

Capitol
House Chambers are no more, Pioneer Press
House doubles down on reopening chambers next year, Pioneer Press

Demographics
The seniors are coming to Twin Cities housing, Star Tribune

Economy
Bird flu takes $300 million bite out of Minnesota economy, Fox 9

Education (E-12)
Educators both praise and fret over Dayton's veto promise, Pioneer Press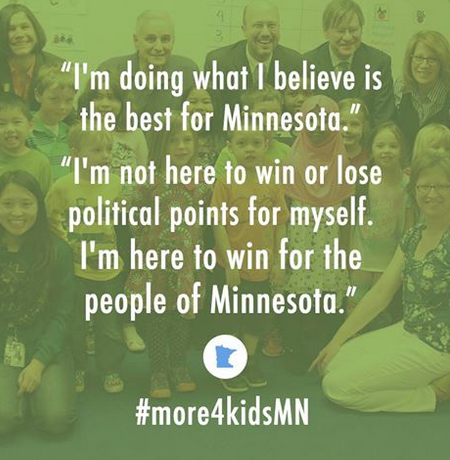 Environment
Environmentalists want another veto from Dayton, MPR

GOP
Leader Thissen: Republicans failed to capitalize on opportunity, YouTube

Labor
Airport workers say MAC min. wage hike not high enough, Fox 9
Airports commission tables minimum wage vote, KARE

Legacy funding
House repasses $540 million omnibus legacy bill, Senate does not, Session Daily

Letterman, David
10 times Letterman made an impact on politics, The Hill

MNsure
MNsure survives another session despite lawmaker anger, MPR
Legislators toss fate of MNsure to task force, Minneapolis St. Paul Business Journal

State Auditor
State Auditor Otto calls privatization measure a 'backstabbing', Star Tribune
State Auditor angry over budget bill, MPR

Taxes
Tax the rich – an animated fairy tale, YouTube
Tax the rich: An animated fairy tale, is narrated by Ed Asner, with animation by Mike Konopacki. Written and directed by Fred Glass for the California Federation of Teachers. An eight minute video about how we arrived at this moment of poorly funded public services and widening economic inequality. Things go downhill in a happy and prosperous land after the rich decide they don't want to pay taxes anymore. They tell the people that there is no alternative, but the people aren't so sure. This land bears a startling resemblance to our land. For more info, www.cft.org. © 2012 California Federation of Teachers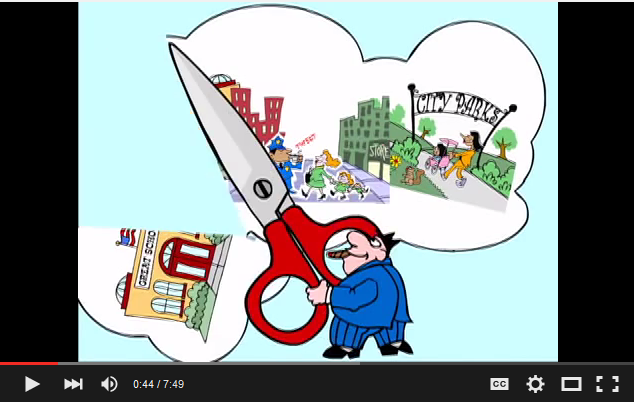 Transportation
'Transit gap' for minorities requires state attention, Minnesota report says, Star Tribune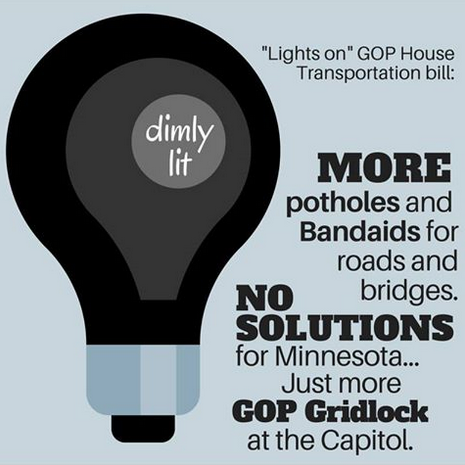 Voting
Cheap and fast, online voter registration catches on, MPR
LIKE the Minnesota DFL on FACEBOOK: https://www.facebook.com/MinnesotaDFL
Follow @MinnesotaDFL on TWITTER: https://twitter.com/MinnesotaDFL
On INSTAGRAM: http://instagram.com/minnesotadfl
daily brief · issues · news