Daily Brief: Tuesday, May 12th, 2015
Posted by SD48 DFL Communications Team in Daily Brief, News
In the Know
Minnesota DFL
May 12, 2015

Events today
10 a.m. – The Minnesota House of Representatives meets in session.
11 a.m. – The Minnesota Senate meets in session.
1 p.m. – Gov. Dayton, Lt. Gov. Smith and legislative leaders will resume budget negotiations at the Governor's Residence.

Constituency Caucus meetings
May 12 – The North Metro Chapter of the DFL Senior Caucus will meet at 11:30 a.m. at Little Venetian Inn, Little Canada. Ramsey County Commissioner Mary Jo McGuire and Ramsey County Deputy Manager Heather Worthington will discuss the Twin Cities Army Ammunition Plant redevelopment.
May 16 – The DFL African-American Caucus will meet at 10 a.m., Golden Thyme Coffee House, 921 Selby Ave, St. Paul.
May 16 – The DFL Environmental Caucus will hold a membership meeting, noon, Powderhorn Recreation Center, 3400 15th Ave. S, Minneapolis.
May 21 – MYDFL Central Committee meeting, 6:15 p.m., Rondo Community Library, 461 N Dale St., St. Paul.
May 21 – The Hennepin County DFL Senior Caucus will meet at 12:30 p.m. at Maria's Cafe, 1113 E Franklin Ave., Minneapolis. The speaker will be Lee Graczyk, lead organizer for RxRights.org. He is knowledgeable on the politics of Prescription Medicine.

Events you won't want to miss!
June 6 – Tickets are now on sale for the 4th Annual Humphrey-Mondale Dinner.
June 20 – Registration is now open for the DFL Training Summit. Attend and learn how you can help the party build to win, built to last.

2015 session
MN Sen. Tom Bakk says lawmakers not close on budget deal, Star Tribune
One week left, lawmakers deep in talks, Pioneer Press
The fishing opener is over: Legislators have seven days to deal with these eight issues, MinnPost
Budget negations focus on health care divide, MPR
Budget talks change venues, topics, MPR
Big differences remain on budget, taxes at the Capitol, MPR
Conceptualizing final negotiations, Pioneer Press
Minnesota budget deal talks continue as clock hits one-week mark, Pioneer Press
Stand up for greater Minnesota, Brainerd Dispatch
Divided government = big impossible mess, mnpACT!
Last week of session but hey, they are still smiling, mnpACT!
Among leaders, misunderstandings Monday but 'no agreements, no concessions,' Pioneer Press
Transportation bill may be doomed by fight over taxes, MPR
D.J. Tice: Crunch time at the State Capitol. Advantage: Dayton, Star Tribune
Despite 'fish summit,' legislators deadlocked on budget talks, WCCO
Legislative session in final days to reach compromise, KSTP
Budget talks kick into high gear at the State Capitol, KARE
I'm told by a House aide that Thursday is the day when if they don't have a global deal the mechanics of finishing on time (Monday night) start to look dodgier. Star Tribune
2016 election
Dayton to attend Clinton campaign event, MPR
Dayton, Smith pitching Hillary Tuesday, Pioneer Press
Political Junkie: The crowded 2016 GOP field, MPR
Hagedorn gunning for 2016 rematch vs. Walz, Pioneer Press
Economy
Minnesota April tax collections netted $2.5 billion, beating expectations, Star Tribune
Millennials are now the work force's largest age group, Minneapolis/St. Paul Business Journal

Education (K-12)
Area schools say state funding bills fall short, St. Cloud Times
Poll: Make education a legislative priority in Minnesota, Star Tribune
As budget talks intensify, Dayton doubles down on school funding, Star Tribune
Dayton floats extra K-12 funding in sprint to budget deal, WCCO

GOP
Sen. Gazelka's freedoms are kind of mixed up, mnpACT!
How Minnesota Republicans are screwing rural voters Part 2, mn progressive project

Labor
This session, House Democrats are pushing for the Working Parents Act so that Minnesota families have access to paid parental leave. House Republicans, however, have blocked the measure. HBO's John Oliver recently called out Minnesota Republicans who opposed the Women's Economic Security Act (WESA), which was passed last year.Watch Oliver's discussion of Minnesota Republicans beginning before the 10-minute mark of this video clip. (Warning — adult language):
"You can't have it both ways. You can't go on and on about how much you love mothers, and then fail to support legislation that makes life easier for them."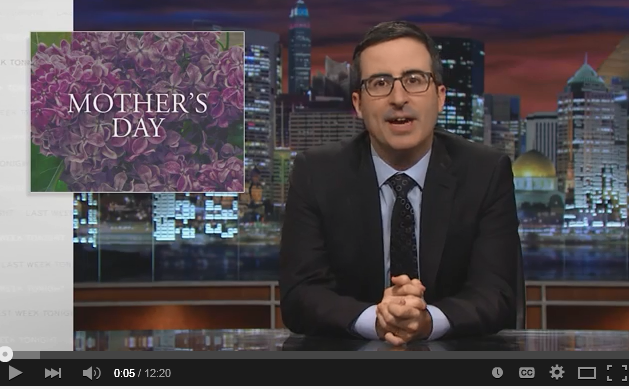 MinneotaCare
MinnesotaCare must not be a casualty of this year's Legislature, Star Tribune
Minnesota Constitutional Convention
If you think Minnesota Republicans and Democrats are far apart today, look back at the state's constitutional convention, MinnPost

Obama library
Obama library will be on Chicago's South Side, MPR

Political Contribution Refund program
Drazkowski leads charge to get rid of campaign refund program, Rochester Post Bulletin

Taxes
Undocumented immigrants contribute $87 million in Minnesota taxes, more expected with immigration reform,Minnesota Budget Project

Transportation
Transportation bill may be doomed by fight over taxes, MPR
Voting
MN Senate passes elections bill, would allow early voting, restore felon voting rights, Star Tribune
Senate fills in bubble for early voting, House not on board, WCCO
LIKE the Minnesota DFL on FACEBOOK: https://www.facebook.com/MinnesotaDFL
Follow @MinnesotaDFL on TWITTER: https://twitter.com/MinnesotaDFL
On INSTAGRAM: http://instagram.com/minnesotadfl
daily brief · issues · news