CONTRIBUTE!
VOLUNTEER!
CONTACT US!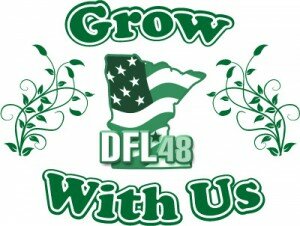 Tweets by @DFL48
In the Know
Minnesota DFL
July 8, 2014
Events today
10 a.m. – DEED and the Minnesota Department of Veterans Affairs are hosting a Veterans Career Fair at the Earle Brown Heritage Center, 6155 Earle Brown Dr., Brooklyn Center. All current and former members of the U.S. military are welcome. More than 140 Minnesota employers with job openings are scheduled to participate.
10 a.m. – Gov. Dayton and Hilton Hotels Worldwide will sign a Memorandum of Understanding launching a new pilot program offering free hotel stays for military veterans seeking employment or new housing in Minnesota.
1 p.m. -Home care workers will gather with supporters and people with disabilities who receive home care services at the Minnesota Bureau of Mediation Services to announce filing for their union election, expected to be the largest such election in Minnesota history. Home care workers and recipients will speak about the challenges and working conditions shared by 26,000-plus home care workers in Minnesota, how they got to this point in organizing their union, and the next steps in their fight to make their work "Invisible No More."
Mark your calendars and spread the word!
Early voting for the Aug. 12 primary is open. Stop by your county election office and cast your vote or click here to request an absentee ballot and vote by mail. Please support your DFL-endorsed candidates!
19 days until July 27 kickoff of "100 Days of Action" at 1 p.m. at your local DFL office.
35 days until the Aug. 12 primary and our first opportunity to vote for DFL endorsed candidates
73 days until Sept. 19 and people can begin to vote by no excuse absentee ballot for the Nov. 4 election
118 days until the Nov. 4 election
2014 election
Moderates are scared to run for Congress, Washington Post
Legislature
Legal disputes escalate in Kahn-Noor legislative race, Star Tribune
Minnesota Family Council tells Eden Prairie voters President Obama doesn't want Sheila Kihne,Bluestem Prairie
Governor
Johnson support of 'biblical principles' earns endorsement, politics mn
Honour's 'opaque' campaign operation, politics mn
TPT's GOP gubernatorial debate: ZZZZZZZZZZ, politics mn
PHOTO: Casting his vote, Marshall Independent
DFL, Lt. Gov. candidate Karin Housley spar over financial disclosure form, MinnPost
The MN GOP's Four Horseman of the Apocalypse candidates, mnpACT!
U.S. House
Wall Street Journal looks to Minnesota to highlight shrinking number of split districts, MinnPost
Republican Aaron Miller, who is hoping to oust Democratic U.S. Rep. Tim Walz this fall, has bought cable ad time to introduce himself to First District voters. The ad, a basic bio spot, will run on cable television throughout the southern Minnesota district, said Brad Biers, of the Miller campaign. Biers would not say how much the campaign is spending to air it. Miller will face off against Republican Jim Hagedorn in an August primary. Hagedorn lost the Republican Party endorsement to Miller this spring and later decided to run in the primary contest. Star Tribune
U.S. Senate
McFadden takes one for the team in new TV ad, politics mn
McFadden ad blossoms into 'groin gate', Star Tribune
Franken vs. McFadden will kick-start a sleepy campaign season, Star Tribune
In which a candidate takes a blow to the gut in his own ad, Washington Post
Former Gov. Quie backs Abeler in GOP U.S. Senate race, Star Tribune
Former Minnesota Gov. Al Quie endorses Abeler in U.S. Senate race, MinnPost
McFadden hits TV; Abeler touts Quie endorsement, Pioneer Press
Minnesota GOP Senate hopefuls jockey for nod, Pioneer Press

2016 election
Poll: Hillary Clinton ahead, Rand Paul leads GOP, Politico

Capitol
Minnesota's Capitol face-lift has its ups and downs, Star Tribune

Congressional delegation
Klobuchar
Senator Amy Klobuchar: heroes aren't always mentioned in the history books, Kenyon Leader

Economy
GOP says Dayton bungled economy, but will voters agree? MPR

Education
Obama orders states to move good teachers to needy U.S. schools, Pioneer Press

Fraser, Don and Arvonne
Don and Arvonne Fraser: Time and experience give extraordinary couple some perspective on issues and politics, MinnPost

GOP
GOP will choose Dallas or Cleveland for convention, Star Tribune

Immigration
Obama makes it official: $2B requested for immigration crisis, MPR

Labor
Despite a U.S. Supreme Court decision last week that put a crimp in some unionization efforts, Minnesota's Service Employees International Union is moving ahead with a union election among home care workers. The court decision in Harris v. Quinn allows Illinois-paid home health workers to opt out of paying union dues. This afternoon, workers and supporters will file for a union election among Minnesota home health care workers, which the union said would be "the largest such election in Minnesota history." Star Tribune

Marijuana
Marijuana hits the shelves as Washington readies to start legal sales, Star Tribune
Obama
Obama to dine with Colorado woman who got pay raise after Obama called for raising minimum,Star Tribune
Reproductive rights
Who owns your womb? A Q&A with U of M law professor Michele Goodwin, MinnPost
What about the mother's life? Part 2 of a Q&A with Michele Goodwin, MinnPost
Harry Reid: 'We're going to do something' on Hobby Lobby, Politico
Hobby Lobby ruling gives impetus to Lizz Winstead's Lady Parts Justice effort, MinnPost

Transportation
Minneapolis deal could postpone Southwest LRT votes, Star Tribune
Southwest Light Rail Project enters crucial week, fate remains uncertain, KSTP
Minneapolis strikes deal with Met Council on Southwest LRT, Star Tribune
Southwest light rail mediator forges deal; no formal approval yet, MPR

Women's Economic Security Act
Measuring sticks: Fair pay, Star Tribune
daily brief · issues · news
---
Comments are closed.
<< Will Republican candidates for governor give tax breaks to the rich? "Absolutely."