CONTRIBUTE!
VOLUNTEER!
CONTACT US!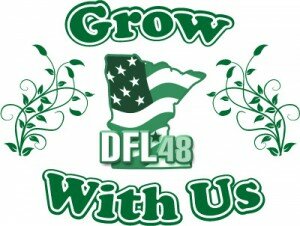 Tweets by @DFL48
In the Know
Minnesota DFL
July 22, 2014

Events today
9:06 a.m. - Living in a world where the one percent sticks together, Daily Circuit, MPR.

Mark your calendars and spread the word!
Early voting for the Aug. 12 primary is open. Stop by your county election office and cast your vote or click here to request an absentee ballot and vote by mail. Please support your DFL-endorsed candidates!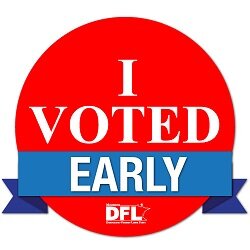 5 days until July 27 kickoff of "100 Days of Action" at 2 p.m. at your local DFL office. (Mankato kickoff is set for 2:30 p.m. Congressman Walz will be joining you!) Visit http://www.dfl.org/dfl100/ to find an office near you!

21 days until the Aug. 12 primary and our first opportunity to vote for DFL endorsed candidates
59 days until Sept. 19 and people can begin to vote by no excuse absentee ballot for theNov. 4 election
104 days until the Nov. 4 election

2014 election
Must-have accessory for House candidates in 2014: The personalized super PAC, Washington Post
Governor
Unexpected stomach surgery halts GOP Jeff Johnson's campaign for governor, Star Tribune
GOP gubernatorial candidate Jeff Johnson has emergency stomach surgery in Maple Grove, MinnPost
Jeff Johnson, GOP-endorsed candidate for governor, hospitalized, Pioneer Press
Stomach surgery halts Johnson's campaign for governor, MPR
Maybe Chester has the plan, politics mn
Anti-Dayton ad uses doe-eyed DFLer, gets mocked and ridiculed [VIDEO], City Pages
U.S. House
Westrom says change is needed, Marshall Independent
The re-education of Rick Nolan, Roll Call
Democrats add Nolan to vulnerable incumbents list, Star Tribune
John Kline on Almanac: Not serious solutions, MN Political Roundtable
U.S. Senate
Democratic Sen. Amy Klobuchar heads back to Iowa, Star Tribune
IP candidate Kevin Terrell could influence US Senate race, MPR

Americans with Disabilities Act anniversary
Americans with Disabilities Act anniversary party will be Friday in St. Paul, MinnPost

Education (K-12)
The Minneapolis and St. Paul school districts are among sixty of the nation's big-city districts that have signed on to President Obama's effort to improve educational outcomes for boys of color — a $200 million initiative known as My Brother's Keeper. Representatives from the districts, including St. Paul Superintendent Valeria Silva, joined mayors, athletes, and business leaders as the president announced the expansion of the initiative on Monday at a school in Washington, D.C. The initiative aims to improve outcomes for black and Latino boys through investing more in early-childhood education, driving down disproportionately high school discipline rates for boys of color, providing mentoring programs, and increasing access to rigorous college-preparatory courses. Star Tribune

Environment
Survey says: Minnesota wants clean water for fish, Star Tribune

Governor's Office is seeking fall interns
The Governor's Office is currently accepting internship applications for the fall term. This is an exciting opportunity for students and recent graduates to work at the highest level of state government. Learn more about the internship program and help share the opportunity here: http://mn.gov/governor/contact-us/internships/

GOP
MNCD8 Republicans paying the rent on new district party offices; who's filling their coffers? Bluestem Prairie

Immigration
Immigration debate comes to Minnesota in force, Star Tribune
Perry sending National Guard troops to border, Pioneer Press
Labor
St. Thomas' part-time professors vote to reject unionization, Pioneer Press

Legislators
Minnesota House Majority Leader Erin Murphy, Rep. Savick to hold senior roundtable discussion in Albert Lea, Byron Review

Medtronic
As more join Medtronic in 'inversions' that cut taxes, Senate scrutiny coming, MinnPost

MNsure
Dayton said he is unsure if release of MNsure rates would add light, Star Tribune
MNsure's top 2 priorities, according to CEO Leitz, MPR

Property taxes
2014 homeowner property tax reduction is wide & deep, Minnesota 2020




Storm recovery
8 Minnesota counties will get federal aid after storms, Star Tribune
Obama signs disaster declaration for eight Minnesota counties, MinnPost
Obama declares emergency in 8 counties, MPR
Worker protections
Gay, transgender workers gain US bias protection, Pioneer Press
daily brief · issues · news
---
Comments are closed.