Daily Brief: Thursday, Oct. 9th, 2014
Posted by SD48 DFL Communications Team in Daily Brief, News
In the Know
Minnesota DFL
Oct. 9, 2014

Events today
Gov. Dayton will speak at the CitizenBlue Forum hosted by Blue Cross Blue Shield of Minnesota.
Gov. Dayton will convene key members of his Cabinet and airport officials to discuss Minnesota's Ebola prevention and preparation efforts.
8:30 a.m. – Minnesota Department of Education and Minnesota State Colleges and Universities will hold a summit to engage local high school leaders, postsecondary educators and businesses in a discussion about re-examining the transition from high school to postsecondary. Bemidji State University, 1500 Birchmont, Bemidji.
3 p.m. – DFL Flying Squad leaves DFL HQ for a door knock for Rep. Will Morgan. Everyone is welcome to join the DFL staff and supporters on the door knock. Not able today? No worries, more Flying Squad opportunities are available atwww.dfl.org/flyingsquad. For additional volunteer opportunities, go to http://www.dfl.org/gotv/.

Mark your calendars and spread the word!
Early voting is open! #simonsaysvote www.mnvotes.org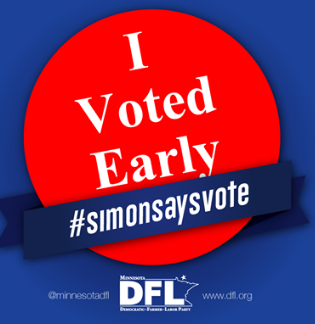 26 days until the Nov. 4 general election
Want to volunteer to elect DFLers? Visit http://www.dfl.org/gotv/
2014 election
Minnesota absentee voters so far tend to be older and from Democratic areas, Star Tribune
Gutierrez, Ellison push Latino voter turnout, MPR
Voter engagement lower than in 2010 and 2006 midterms, Gallup
Legislature
The Minnesota Jobs Coalition is launch new radio ads against DFL incumbent House members including this one against Rep. John Ward. http://bit.ly/1BVVkeG Morning Take
Governor
The race for governor: Dayton, Johnson differ on education spending, MPR
3 Minnesota Governor candidates meet in Moorhead, KSTP
Gov. Dayton pitches gas sales tax in second debate, MPR
Hear the Moorhead gubernatorial debate, MPR
In second debate, Dayton and Johnson clash over transportation funding, Pioneer Press
Pipeline, flood control dominate 2nd debate in governor's race, Star Tribune
Johnson, Dayton spar over taxes, education in Moorhead debate, KSTP
Dayton uses debate to propose increasing gas tax, MinnPost
In e-mailed fundraising appeals on Wednesday, DFL Gov. Mark Dayton's campaign portrayed the situation as rather desperate. "We're short (please respond)," one was titled. "This isn't good news," read another. "If we don't raise $35,000 by 5 p.m. tomorrow, we'll have to cut our media buy. We're short on money – and we need you now," Tom Perron, Dayton's finance director, said in an e-mail. Katharine Tinucci, Dayton's campaign manager, said the need is real. She said that if more donations don't come in, the campaign may have to scale back on the frequency of television ads they had reserved early in the campaign. Star Tribune
U.S. House
The NRA's mixed bedfellows: Stewart Mills, Collin Peterson, Star Tribune
Gun laws take spotlight in Senate, 8th District ads, MPR
Experience gives Emmer the nod in 6th District vote, Forest Lake Times
Stewart Mills fundraiser in Minneapolis features North Carolina Rep. McHenry, MinnPost
DC group plays offense in 3 MN House districts, MPR
NRA plans ad blitz targeting Nolan on gun rights, WCCO
House homestretch: 5 key dynamics, Politico
U.S. Senate
McFadden: If elected, I won't run again if 'Contract with Minnesota' is unfulfilled, Star Tribune
South Dakota shakes up Senate map, The Hill
As energy boom ends, a political identity crisis in Alaska, New York Times
Reality Check: New Franken ad on McFadden is misleading, WCCO
McFadden unveils 'Contract with Minnesota', MPR
U.S. Senate candidate Mike McFadden sets out goals if elected, Pioneer Press
McFadden reveals 'Contract with Minnesota,' mn progressive project
The latest television ad by Sen. Al Franken's campaign paints his Republican challenger Mike McFadden as a tax-dodger who takes advantage of loopholes. That triggered another back-and-forth between the campaigns over McFadden's company's involvement in corporations that move their headquarters overseas. The latest 30-second statewide Franken ad, entitled "Postcards," shows postcards from China, Ireland and Bermuda, and asks, "Where do you go to avoid paying taxes?" insinuating that McFadden's company profited from companies that relocated to foreign countries. The McFadden campaign shot back, saying McFadden's branch of the Bermuda-based Lazard Ltd. pays U.S. taxes, that Lazard didn't represent the companies that moved overseas, and that McFadden supports closing tax loopholes that encourage companies to move overseas. Star Tribune
Budget (federal)
Report: Federal budget deficit falls to $486B, Pioneer Press

Dayton
Dayton shares a friendly evening with Big Business, Star Tribune

Ebola
Minnesota officials to meet about Ebola response, WCCO
Minnesota officials meet about Ebola response, KSTP

Education (higher)
DFL seeks student debt relief, Minnesota Daily

MNsure
Insurance industry calls Dayton's MNsure rate increase average 'misleading,' KSTP

Transportation
Our View: Highway 14 funding progresses, Mankato Free Press
Minneapolis pledges to pursue streetcars and BRT as way to better serve poor and minority residents, MinnPost
Survey: most businesses opposed to new road money, MPR
daily brief · issues · news