Daily Brief: Thursday, Oct. 23rd, 2014
Posted by SD48 DFL Communications Team in Daily Brief, News
In the Know
Minnesota DFL
Oct. 23, 2014

Events today
Noon – Vice President Joe Biden
headlines a rally for Congressman Rick Nolan in Hibbing.
1 p.m. – Gov. Dayton will provide remarks at the Minnesota Housing Finance Agency (MHFA) Housing Awards announcement. Habitat for Humanity Twin Cities, Community Room, 1954 University Ave W, Saint Paul.
3 p.m. – Former Secretary of State Hillary Clinton headlines a grassroots event for Sen. Franken and Gov. Dayton at Macalester College, Leonard Center Field House, 1600 Grand Ave., St. Paul, MN 55105
6 p.m. – Former Secretary of
State Hillary Clinton will headline a dinner to benefit Gov. Mark Dayton. Sen. Amy Klobuchar and Sen. Al Franken will join Hillary as honored guests. St. Paul River Centre, St. Paul. Tickets are available here.

Mark your calendars and spread the word!
Early voting is open!
#simonsaysvote www.mnvotes.org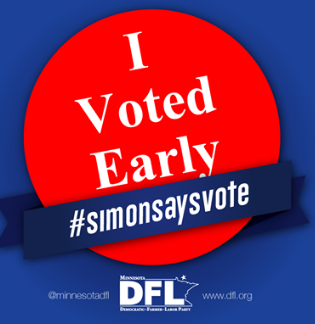 12 days until the Nov.
4 general election
Want to volunteer to elect DFLers? Visit http://www.dfl.org/gotv/
2014 election
Bill and Hillary Clinton are playing a top surrogate role for Democrats in 2014, Star Tribune
The dirty secret behind attack ads, MinnPost
MN GOP launches ads against Dayton, Franken, MPR
Clinton renews political ties in Minnesota, 1 of states she lost during 2008 presidential bid, Star Tribune
Elect McFadden & Westrom? You lose your health care, mnpACT!
The 2014 campaign ads that you just can't stop replaying, MPR
On Monday, WIN Minnesota, one of the funding arms behind the big-spending Democratic Alliance for a Better Minnesota, added more than $90,000 from unions to its campaign cash. According to documents filed this week, Boilermakers 647 made a $15,000 contribution, the AFL-CIO gave $30,000 and Education Minnesota gave $46,800. Unions are spending big with other organizations, too. Teamsters Local 120 got $20,000 from its Washington parent on Wednesday, International Union of Operating Engineers got $25,000 from its New York parent on Tuesday and Public Safety Matters Campaign received $10,000 from Law Enforcement Labor Services in St. Paul on Tuesday. Star Tribune
Legislature
Dayton stumps for Savick in Albert Lea, Albert
Lea Tribune
Secretary of State
Simon: Minnesota should adopt 'true early voting,' Star Tribune
Race is on to decide who will handle Minnesota's elections, Star Tribune
Hear the Secretary of State debate held at U of M, MPR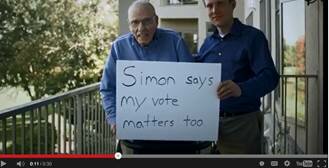 Steve Simon for Secretary of State Campaign launches a 30-second television ad that focuses on Steve Simon's experience and his commitment to being a Secretary of State for all Minnesotans.
Minnesota Supreme Court
Lillehaug, Wright for Supreme Court, Star Tribune
Governor
Minnesota Republican party to start airing anti-Dayton, anti-Franken ads, Star Tribune
In late ad campaign, GOP ties toddler's death to Dayton administration, Star Tribune
Balls & Strikes: Why Jeff Johnson is losing and why he will lose, politics mn
Is big business sitting out the governor's race? MinnPost
Johnson says he chose words poorly on middle class in debate, St. Cloud Times
Family of Eric Dean calls on GOP to take down TV ad, Star Tribune
Politics and the exploitation of the innocent- it's all just sad, mnpACT!
Dayton turns his attention to helping DFL House candidates, MPR
The national Marijuana Policy Project today will announce a $4,000 contribution to Republican gubernatorial candidate Jeff Johnson and an equal contribution to the Minnesota DFL Senate's campaign arm. "Jeff Johnson's support for the more comprehensive, Senate-approved medical marijuana proposal demonstrates that compassion is not a partisan issue," Robert Capecchi, deputy director of state policies for the Marijuana Policy Project, said in a statement. Johnson has called for a more expansive medical marijuana law than the one DFL Gov. Mark Dayton signed earlier this year. Star Tribune
U.S. House
6th Congressional District
debate with Emmer, Perske and Denney, MinnPost
In first debate, Peterson, Westrom
battle over health care, MPR
PoliGraph: Anti-Nolan ad mixes
truth, fiction in MN 8th, MPR
Walz, Hagedorn face off in 1st
District race, Winona Daily News
Democrats' House campaign arm raises
close to $9M in first half of October, spends almost $27M, Star
Tribune
John Kline voted, time and again, to cut taxes for the wealthy and put more tax burden on the middle class. He voted to end guaranteed Medicare benefits, and he said that he wants to privatize Social Security.
U.S. Senate
Franken's cash reserves triple McFadden's, Star Tribune
Franken has $2.18 million for final stretch, MPR
2nd term will be Franken's time to shine in Senate, ECM
McFadden: Small business owners hurt by Affordable Care Act, Star Tribune
Franken leads McFadden in early October fundraising, Pioneer Press
Capitol complex
How secure is the Minnesota Capitol? Fox 9

DFL
DFL plans bus tour as part of GOTV efforts, MinnPost

Labor
Minnesota home-care union won't be stopped by federal judge, Pioneer Press

Minnesota Senate
GOP presses Hayden during ethics inquiry, Star Tribune
Hayden denies ethics allegations, panel delays action, MPR
Ethics panel deadlocked on complaints against Hayden, Fox 9
Ethics panel debates allegations against Mpls. state senator, KSTP
MNsure
State sought low MNsure rates from PreferredOne, Star Tribune
Wisconsin
Obama stopping in Wisconsin, among few states he's still popular, in tight gubernatorial race, Star Tribune
daily brief · issues · news