Daily Brief: Thursday, Nov. 12th, 2015
Posted by SD48 DFL Communications Team in Daily Brief, News
In the Know
Minnesota DFL
Nov. 12, 2015

Events today
Noon – Lt. Gov. Smith will provide remarks at the AgriGrowth Council annual meeting, Minneapolis Convention Center.
12:30 p.m. – The Workplace Rights Defense Committee of Centro de Trabajadores Unidos end la Lucha (CTUL) will release a new report reviewing preliminary findings on the state of the low-wage economy in Minneapolis-St. Paul.
2:30 p.m. – The Mississippi River Parkway Commission meets.
Evening – Lt. Gov. Smith will provide remarks at an AFL-CIO reception.


Mark your calendars
Nov. 13 – The Minnesota Health Care Financing Task Force will convene a meeting at the River's Edge Convention Center on Friday in St. Cloud. The meeting will include a panel on Health Care System and Payment Reform and preliminary recommendations from the Health Care Delivery Design and Sustainability Work Group, the Seamless Coverage Continuum and Market Stability Work Group and the Barriers to Access Work Group.
Nov. 14 – The Democratic National Committee, CBS News, Twitter, Drake University, KCCI, The Des Moines Register, and the Iowa Democratic Party will host the second Democratic National Committee Presidential Primary Debate from Drake University in Iowa. The debate will be broadcast live exclusively on the CBS. CBS News Political Director and Moderator of Face the Nation, John Dickerson, will be the principal moderator.
Nov. 14 – Olmsted 25 DFL, SD 25 DFL, SD 26 DFL will host a "Big Tent Debate Watching Party" for the Democratic Presidential Debate. All Democrats and friends are invited. The party will be in the lower level of the downtown VFW Post 1215, 16 6th Street SW in Rochester. This is a union establishment. Appetizers will be served; people attending will purchase their own beverages.
Nov. 14 – Moorhead State University and Concordia Democrats will host a pizza/debate watching party. 7 p.m., Langseth Hall, Room 104, 600 11th St S, Moorhead.
Nov. 14 – Senate District 51 DFL will host a debate watch party, 7:30 p.m., O'Leary Manor, 1220 Town Centre Dr, Eagan.
Nov. 14 – The DFL Environmental Caucus will meet at 1 p.m. at Maplewood Library, 3025 Southlawn Dr., Maplewood.
Nov. 16 – The Theater of Public Policy, in which they interview a public policy figure and then do improv comedy (?!) about the topics discussed, will host Lt. Gov. Tina Smith at 7 p.m. at the Bryant Lake Bowl Theater, 810 W. Lake Street, Minneapolis.
Nov. 19 – The Hennepin County DFL Senior Caucus will meet from 12:30 p.m. to 2 p.m. at Maria's Cafe, 1113 E Franklin Ave., Minneapolis.
Dec. 13 – Moms Demand Action: How to Keep Our Kids Safe. This free forum on preventing gun violence will be held at 2 p.m. at the Dakota County Library, 1340 Wescott Rd., Eagan. Guest speakers include Sen. Jim Carlson and Rep. Dan Schoen.


Fundraisers
Nov. 21 – CD 6 Unity Dinner – Drawn Together. 5 p.m., Teamsters Local 120, Blaine. Keynote speaker is Congressman Tim Walz. Click here for ticket information.
Dec. 2 – SD54 DFL, River Oaks Golf Course, 11099 S Hwy 61, Cottage Grove, 6 – 8 p.m.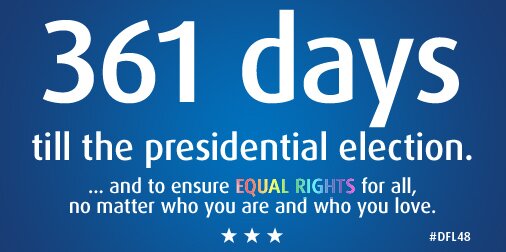 2016 election
Congress
Third Democratic candidate enters Congressional 2 race, Star Tribune
President
Does anyone have any idea what Ben Carson is saying about Special Ops? Washington Post
7 questions Republicans aren't being asked — but should be — about race, Washington Post
Why no one's dropping out of the GOP presidential race, Washington Post
Three fault lines in the Republican field from the Washington Post. (The gaps between the 2016 hopefuls on these three critical issues suggest that the Republican Party could be debating which direction to take for a while.)
Where should we stand on immigration?
Trump: "We either have a country or we don't have a country. They're going to have to go out."
Bush: "They're doing high-fives in the Clinton campaign right now when they hear this."
How hawkish should we be?
Trump: The United States "can't continue to be the policeman of the world."
Rubio: "[T]he world is a stronger and a better place when the United States is the strongest military power in the world."
What kind of conservatism is the winning-est?
Christie: "I'll tell you what I'll bring to the table: the fact that I've won in a blue state."
Jindal: "Let's not be a second liberal party. Let's actually cut government spending."
2016 election
Legislature
Suburban Democrat hopes to diversify House, MPR
President
Koch Brothers might sit out Republican primary campaign, MinnPost
Krauthammer's Take: Trump, Carson, Cruz, Rubio will be GOP's 'final four,' National Review

2016 session
Minnesota speaker Daudt visits Brainerd: Says public can still view floor sessions of Legislature in 2016, Brainerd Dispatch

Capitol Preservation Arts Subcommittee
First meeting on public art at the Capitol notes controversial paintings, MinnPost

Congressional delegation
Who's voting? Minnesota lawmakers' absenteeism tracked by nonprofit, Pioneer Press

Debate
GOP 'debate' sinks to mishmash and gibberish, MinnPost
AP FACT CHECK: Putin puffery and factual misfires in latest Republican presidential debate, Star Tribune
The Fox Business debate had the lowest ratings of the cycle: 13 million tuned in, slightly lower than watched on CNBC. But that's only about half as many as the 24 million who watched the first debate in Cleveland and the 23 million who watched the second debate at the Reagan Library. Washington Post

Disabled Minnesotans
A matter of dignity: Intimacy denied, Star Tribune

Flag burning
Milwaukee police retrieve flag burned at GOP debate protest, Pioneer Press

GOP
G.O.P. fight now a battle over what defines a conservative, New York Times

Housing
Habitat for Humanity dramatically improves families' lives, study finds, Star Tribune

Immigration
GOP presidential field needs a reality check on immigration, Star Tribune
Dems see Obama immigration fight as a boost for 2016, The Hill
Clinton: Trump's deportation plan is 'absurd, inhumane and un-American,' The Hill
Donald Trump calls for 'deportation force' to remove undocumented immigrants, Washington Post

Labor
The first hurdle for paid sick leave in Minneapolis: agreeing on who should study paid sick leave in Minneapolis, MinnPost
Trump doubles down on debate claim: 'Wages are too high,' The Hill

Public safety
Dem senator doubles down on blocking 'stalking apps', The Hill
Transportation
Minneapolis has 21 oil train safety demands, Fox 9

Voting
Should soliders votes get counted? It's not as easy as you think, Washington Post
LIKE the Minnesota DFL on FACEBOOK: https://www.facebook.com/MinnesotaDFL
Follow @MinnesotaDFL on TWITTER: https://twitter.com/MinnesotaDFL
On INSTAGRAM: http://instagram.com/minnesotadfl
daily brief · issues · news