Daily Brief: Thursday, May 14th, 2015
Posted by SD48 DFL Communications Team in Daily Brief, News
In the Know
Minnesota DFL
May 14, 2015

Events today
7:50 a.m. – Gov. Dayton will provide remarks at the Minnesota Prayer Breakfast.
9:30 a.m. – As negotiations continue between Governor Mark Dayton, Speaker Daudt, and Senate Majority Leader Bakk, community members and law enforcement officials will hold a press conference to call on legislative leaders to pass safe roads legislation that enjoys strong bi-partisan support. The safe roads legislation would positively impact members of Minnesota's immigrant communities, and is critical to enhancing public safety and quality of life by ensuring all drivers in Minnesota have the ability to access a valid drivers' license and purchase auto insurance. The press conference will be held in Room 181 of the State Office Building.
10 a.m. – The Minnesota House of Representatives meets in session.
10:30 a.m. – Budget negotiations resume, Governor's Residence.
11 a.m. – The Minnesota Senate meets in session.

Constituency Caucus meetings
May 16 – The DFL African-American Caucus will meet at 10 a.m., Golden Thyme Coffee House, 921 Selby Ave, St. Paul.
May 16 – The DFL Environmental Caucus will hold a membership meeting, noon, Powderhorn Recreation Center, 3400 15th Ave. S, Minneapolis.
May 21 – MYDFL Central Committee meeting, 6:15 p.m., Rondo Community Library, 461 N Dale St., St. Paul.
May 21 – The Hennepin County DFL Senior Caucus will meet at 12:30 p.m. at Maria's Cafe, 1113 E Franklin Ave., Minneapolis. The speaker will be Lee Graczyk, lead organizer for RxRights.org. He is knowledgeable on the politics of Prescription Medicine.

Events you won't want to miss!
June 6 – Tickets are now on sale for the 4th Annual Humphrey-Mondale Dinner.
June 20 – Registration is now open for the DFL Training Summit. Attend and learn how you can help the party build to win, built to last.

2015 session
Minnesota waits as leaders continue to meet without a budget deal, Pioneer Press
Still 'talking friendly' but no deal on the budget, Pioneer Press
Lawmakers try to nudge issues along in case there is no budget deal, Pioneer Press
Health care dominates budget talks MPR
Political reports on the last week of session, MPR
What a budget deal might look like, MinnPost
As private budget talks continue at Capitol, rank-and-file members fret, Star Tribune
Daudt says budget talks have a ways to go, MPR
Long talks in private, silence in public feed budget hopes, WCCO
Tina Liebling: House Republican budget makes compromise difficult, Rochester Post Bulletin
State budget negotiations continue as deadline looms KARE
What's at stake in final budget negotiations: three different approaches to Minnesota's future, Minnesota Budget Project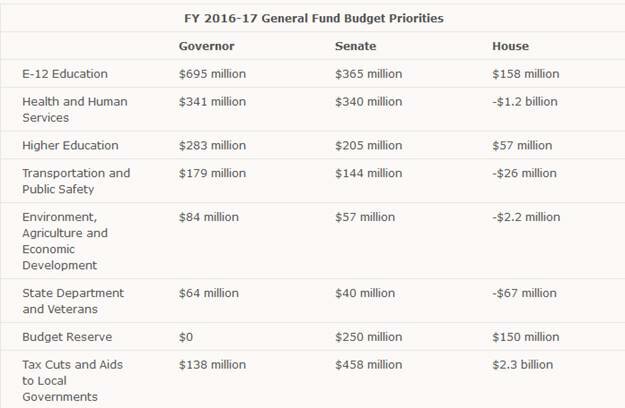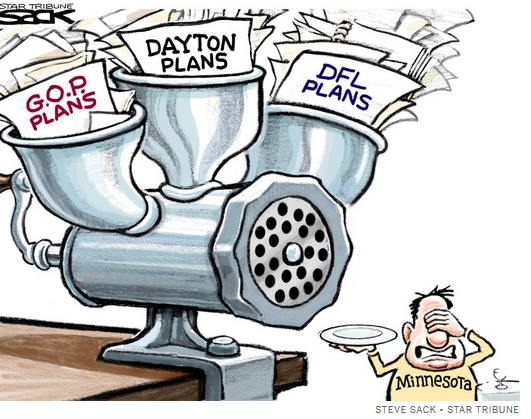 2016 election
Technology revolutionizes voter registration for 2016, Pioneer Press
Rep. Tony Cornish decides against congressional bid, Star Tribune
Clinton's Minnesota campaign kicks off with Dayton appearance, sign-up sheet, MinnPost
Race for 1st district already heating up, Rochester Post Bulletin
O'Malley, eyeing the presidency, plans May 30 announcement, The Hill
Agriculture
Bird flu infects budget talks, Capitol Chatter
Avian flu casts long shadow over Swift, Kandiyohi counties, MPR

Broadband
How the Legislature is cheating Greater Minnesota on broadband, MinnPost

Congressional delegation
Franken
At Sen. Franken's invitation, Chairwoman Carri Jones from the Leech Lake Band of Ojibwe testified before the Senate Indian Affairs Committee about the dire need for more support to repair tribal schools—like the Bug-O-Nay-Ge-Shig School in northern Minnesota—which have long faced serious building construction problems that can negatively affect student achievement. You can download a video of Senator Franken's opening statement here and you can download a video of Chairwoman Jones' testimony here.

Education (higher)
Tuition in limbo as lawmakers debate higher ed, St. Cloud Times
Mankato students walk to Capitol seeking more higher-ed funding, MinnPost

Education (K-12)
State suspends MCA testing after students encounter more problems, Star Tribune
Diane Hellie: Invest now in education for the workforce of Minnesota's future, Rochester Post Bulletin

Environment
Minn. environmental groups rallying opposition to legislation as session counts down, Star Tribune
Legislature considers changes to nursery law installed last year, Star Tribune
Enact a Minnesota ban on small particles found in personal-care products, Star Tribune

GOP
Republicans try to make shut down preparations, Pioneer Press

Labor
Minnesota CEOs paid 305 times more than the average worker, Workday Minnesota
CWA members hold grievance strike at AT & T, Workday Minnesota

Norway ambassador
Obama nominates Minnesota donor as Norway ambassador, MPR
Transportation
Conservative group targets DFLers on gas tax, MPR
Business supports transportation funding solution, MinnPost
Train crash hardens fight over funding, The Hill
GOP's ad campaign hits DFL senators over gas tax, Star Tribune
The eight DFL senators targeted with the digital ads are: LeRoy Stumpf of Plummer, Lyle Koenen of Clara City, Kevin Dahle of Northfield, Matt Schmit of Red Wing, Vicki Jensen of Owatonna, Bev Scalze of Little Canada, Melisa Franzen of Edina and Greg Clausen of Apple Valley.
LIKE the Minnesota DFL on FACEBOOK: https://www.facebook.com/MinnesotaDFL
Follow @MinnesotaDFL on TWITTER: https://twitter.com/MinnesotaDFL
On INSTAGRAM: http://instagram.com/minnesotadfl
daily brief · issues · news