Daily Brief: Thursday, Aug. 28th, 2014
Posted by SD48 DFL Communications Team in Daily Brief, News
In the Know
Minnesota DFL
Aug. 28, 2014

Events today
9 a.m. – Gov. Dayton will present a proclamation at the Senior LinkAge Line Booth, proclaiming it Senior LinkAge Line Day in Minnesota, Education Building, Minnesota State Fairgrounds.
Sen. Al Franken is campaigning at the State Fair including an appearance on the John Hines show on WCCO Radio.
10 a.m. – Gov. Dayton will participate in live press interview with La Raza, La Raza 1400-1470 AM, Corner of Randall and Cooper, Minnesota State Fairgrounds.
11 a.m. – Mike Obermueller, the DFL-endorsed candidate for CD 2, will host a press conference at the DFL booth at the Minnesota State Fair.
1 p.m. – Today's Dynamic DFL discussion at the DFL booth at the Minnesota State Fair features Senate Assistant Majority Leader Jeff Hayden (DFL-Minneapolis) and Rep. Raymond Dehn (DFL-Minneapolis). The topic is equity.
4:35 p.m. – DFL Chairman Ken Martin will appear live with GOP Chairman Keith Downey on WCCO-AM from the Minnesota State Fair.
U.S. Representative Rick Nolan will hold a campaign rally with visiting Congressman Joe Kennedy (MA-04) in Duluth.

Mark your calendars and spread the word!
22 days until early voting beings Sept. 19
67 days until the Nov. 4 general election

2014 election
Tevlin: The sorry state of our political debate, Star Tribune
Governor
With shortfall looming, Gov. candidates disagree on how to pay for roads, MPR
PoliGraph: Johnson's polling claim misleads, MPR
U.S. House
Rep. Rick Nolan to campaign, fundraise with a Kennedy, Star Tribune
Green Party challenger could cause Nolan headaches, MPR
Rick Nolan ad, YouTube
Rick Nolan releases first television ad of 2014, Northland News Center
According to Federal Election Campaign data, Minnesota's Eighth Congressional District race has attracted the most money from outside groups so far. The contest between Democratic Rep. Rick Nolan and Republican Stewart Mills has already seen nearly $1.4 million in PAC spending, with much of it coming from Nolan supporters, such as the House Majority Fund and the AFSCME union. In contrast, the race for the Seventh Congressional District seat, which Republican Torrey Westrom hopes to snatch from longtime Democratic Rep. Collin Peterson, has only seen$245,000 in independent expenditures. Interestingly, the last filing documenting outside spending in that race was from eight months ago. Minnesota's U.S. Senate race, so far, has drawn relatively little interest from independent spenders. According to FEC filings, outside groups have spent about $140,000 to weigh in on the battle between Democratic Sen. Al Franken and Republican Mike McFadden. Star Tribune
U.S. Senate
Franken and McFadden try to win over fairgoers, MPR
State Democrats play defense ahead of midterm elections, MPR
Al Franken ad, YouTube
Finding Al Franken, National Journal
Conor McFadden, eldest son of U.S. Senate candidate Mike McFadden, has joined his dad on a series of campaign stops, including at the Minnesota State Fair. Conor, a Stanford University student and football player currently on hiatus to help with his father's campaign, has become used to being recognized — and ribbed — for starring in a campaign ad in which he relates the tale of his father removing his stitches with a pair of scissors to save $100 on a clinic visit. On a recent visit with a reporter, Conor McFadden showed off the scar between his eyebrows, saying he's used to the attention. "I've pretty much given up my dignity at this point," he laughed. Star Tribune

Congressional delegation
Bachmann
Ex-Bachmann aide pleads guilty to taking cash to quit her presidential bid, Star Tribune
Franken
Senator Franken visits MinnTac, shows support for PolyMet mine, Northland News Center

Education
New office aims to zap the gap in Minneapolis public schools, Star Tribune
Minneapolis schools seek to end disparities by 2020, Star Tribune
Minnesota kindergartners switch to all day every day, Northland News Center

GOP
Senate GOP leader reveals plans to roll back president's successes, Star Tribune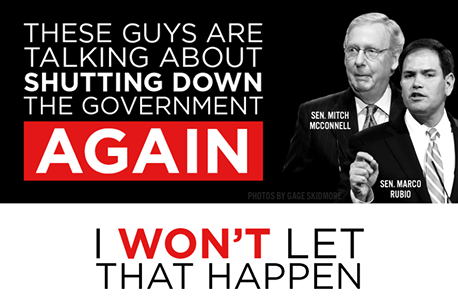 Immigration
Obama crafts legal rationale for immigration steps, Star Tribune
Obama's immigration decision could roil 2014 election, Washington Post

Jobs
What state is Jeff Johnson looking at? Minnesota 2020
Despite conservative claims that tax increases enacted in May 2013 would be a job killer, Minnesota continues to outperform the Midwest average in terms of job growth over the last 14 months (from May 2013 to July 2014).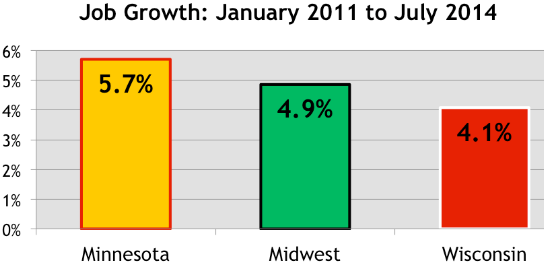 Labor
Home care workers vote to form union met with GOP criticism, Politics in Minnesota
Legislature
Rural Minnesota task force crosses party lines to find solutions, Northland News Center

Transportation
With reservations, Minneapolis Council moves toward final approval of Southwest LRT, MinnPost
With concerns, Minneapolis council panel gives initial Southwest LRT consent, Star Tribune
Dayton wants more answers from railroads on ag shipping problems, Star Tribune
Wisconsin
In race for Wisconsin governor, Mary Burke and Scott Walker in dead heat, Pioneer Press
Wisconsin race for governor is the tightest in the country, Los Angeles Times
daily brief · issues · news