Daily Brief: Thursday, Aug. 21st, 2014
Posted by SD48 DFL Communications Team in Daily Brief, News
In the Know
Minnesota DFL
Aug. 21, 2014

Events today
6 a.m. – Sen. Amy Klobuchar and Sen. Al Franken greet people at the entrance to the Minnesota State Fair.
11 a.m. – Gov. Dayton and Tina Smith will visit the Minnesota DFL booth at the State Fair to greet visitors.
Noon – Gov. Dayton will participate in a live interview with Lori Sturdevant at the Star Tribune's Minnesota State Fair booth.
Noon – The "Personally Offensive Tour," will hold Stewart Mills III, the GOP candidate for CD 8, accountable for not knowing the unemployment rate, while he opposes unemployment insurance stops at 2804 1st Ave, Hibbing.
Noon – Sen. Amy Klobuchar will take questions from MPR political editor Mike Mulcahy at the MPR booth at the Minnesota State Fair.
1 p.m. – The Dynamic DFL panels kick off at the Minnesota DFL booth at the State Fair with a conversations with State Auditor Rebecca Otto and Rep. Steve Simon, the DFL-endorsed candidate for Secretary of State.
1:30 p.m. – Gov. Dayton will participate in the ALS Association Ice Bucket Challenge as part of a live interview on ESPN's Garage Logic with Joe Soucheray, ESPN 1500 Booth, Minnesota State Fairgrounds.

Mark your calendars and spread the word!
29 days until early voting beings Sept. 19.
74 days until the Nov. 4 general election.

2014 election
For candidates, campaign season means questionnaire season, MinnPost
Weak sauce: Rochester Tea Party Patriots whine about Post Bulletin's primary photo placement, Bluestem Prairie
Early voting offices come to three reservations, MPR
Is the swing voter a myth? Not quite. Washington Post
Governor
Dayton pushes education, labor-force agenda for 2nd term, MPR
Chance for civil gubernatorial contest, Mesabi Daily News
Minnesota Supreme Court
MacDonald banned from GOP Booth at MN State Fair, politics mn
U.S. House
ABC News lists Mills, Westrom among 'most interesting' Republican House candidates, Star Tribune
Hagedorn issues debate challenge to Walz, Rochester Post Bulletin
U.S. Senate
McFadden teams with national, Minnesota Republicans on fundraising, Star Tribune
Who's funny in Minnesota's US Senate race? Not former comedian Franken, Star Tribune
PoliGraph: McFadden ad exaggerates, MPR
Republican Senate candidate tours PolyMet Plant, voices support, WDIO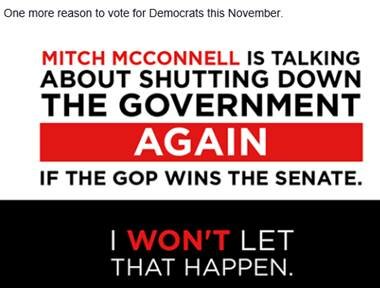 Congressional delegation
Paulsen
Republican U.S. Rep. Erik Paulsen is seizing on a report from an IRS watchdog agency as proof that the medical device tax, a key revenue-raiser for the Affordable Care Act, is flawed. The study from the Treasury Inspector General for Tax Administration found the tax is raising only three-quarters of the revenue originally expected and that the Internal Revenue Service is having problems determining which device manufacturers are subject to the excise tax on sales. Minnesota is home to many medical device firms that would like to see the tax repealed, and Paulsen has been their leading advocate on Capitol Hill. "The medical device tax has been a bad idea since day one and the recent report just provides more reason why it needs to be scrapped," Paulsen said in a statement. Star Tribune
Peterson
Rep. Peterson hears about rural dental access during Willmar visit, West Central Tribune

Economy
What recovery? Workers are telling the Federal Reserve to get real, MinnPost

Education
Minnesota students again top the nation on ACT composite scores, MinnPost
9 years – For nine years in a row, Minnesota students have posted the top ACT test scores in the nation.
22.9 – Minnesota seniors posted an average score of 22.9, compared to the nationwide average of 21
39 percent – More Minnesota students met each of the four benchmarks (39 percent) – English, reading, math, and science – than any other state (26 percent nationally)
76 percent – This year, 76 percent of Minnesota's high school seniors (45,305 students) took the ACT test – a 2 percent increase over last year. Nationwide, only 57 percent took the test.
2015 – In 2015, all Minnesota juniors will take the ACT, free of charge, as part of new graduation requirements approved by the 2013 Legislature. This will help open post-secondary education opportunities for more students, and provide important information to educators on whether students are career and college ready.
GOP
MN GOP's BuzzFeed list on reasons to visit the State Fair includes nobody's No. 1 reason to visit the State Fair, MinnPost
Labor
Judge won't block union vote by 27,000 Minnesota home health care workers, Star Tribune
Judge won't halt home-care workers' union vote, KSTP

Minimum wage
Blue Plate drops plan to dip into tips to offset higher minimum wage, Star Tribune
Blue Plate special: Restaurant group drops tip charge after blowback, MPR
Minnesota State Fair
2014 fair offers new ways to meet, eat, retreat, MPR
Today marks the beginning of the Minnesota State Fair, a perennial stop for candidates to shake lots of hands, pitch their platforms and feast on fatty foods. Today at noon, Gov. Mark Dayton will sit down with Star Tribune editorial writer and columnist Lori Sturdevant for a live interview at the Star Tribune Booth, and U.S. Sen. Amy Klobuchar will participate in a discussion at the Minnesota Public Radio Fan Fair, also at noon. On the Republican side, U.S. Senate candidate Mike McFadden planned to wrap up his statewide 87-county tour this morning at the fairgrounds. Here's a list of the scheduled daily DFL panels and the GOP's top 10 reasons to visit the fair. Star Tribune
Transportation
Governor Dayton discusses new railway regulations, KAAL
daily brief · issues · news
<< McFadden keeps getting caught (again and again) trying to mislead voters