Daily Brief: Thursday, Aug. 20th, 2015
Posted by SD48 DFL Communications Team in Daily Brief, News
In the Know
Minnesota DFL
Aug. 20, 2015

Events today
Minnesota Secretary of State Steve Simon will travel across northern Minnesota and meet with two local chambers of commerce to hear about the issues concerning their business communities, visit with an organization helping victims of domestic violence, and attend the 2015 Leech Lake Tribal Council State of the Band Address. Secretary Simon will meet with local chambers in Bemidji and Grand Rapids.
Sen. Klobuchar will tour the St. Croix River Crossing in Stillwater on a pontoon boat where she will receive updates on the project's construction from MNDOT leadership. Klobuchar led the effort to pass legislation in the Senate that allowed Minnesota and Wisconsin to move forward with the historic bridge project.
10 a.m. – DEED will announce the unemployment rate and employment numbers for July.
11 a.m. – The Dept. of Public Safety will hold a news conference about extra DWI patrols from Aug. 21 through Sept. 7.
12:30 p.m. – The Hennepin County DFL Senior Caucus will meet at Maria's Cafe, 1113 E Franklin Ave., Minneapolis.
Gov. Dayton and Lt. Gov. Smith will attend a Leadership Reception in support of Minnesota's bid to host the 2020 College Football Playoff National Championship.
2:30 p.m. – The Mississippi Parkway Commission will meet.
4:30 p.m. – Gov. Dayton and Lt. Gov. Smith will provide remarks at the "Solidarity in Steel: Solidarity on the Iron Range" Rally and March. Prior to the rally, the leaders will meet with Aurora area business owners and local workers, Aurora Mayor Mary Hess, and Aurora Council Member Dave Lislegard.
Gov. Dayton will provide remarks at the Medtronic Board of Directors Dinner.

Mark your calendars
Aug. 22 – A MN Seniors' Legislative Issues Forum will be held at Wescott Library, 1340 Wescott Rd, in Eagan, from 2 – 4 p.m. The event is free and sponsored by The DFL CD 2 Outreach/Inclusion Committee and DFL Southwest Metro Senior Caucus. Sen. John Marty (DFL-Roseville), Sen. Jim Carlson (DFL-Eagan), Sen. Kevin Dahle (DFL-Northfield), Rep. Debra Hilstrom (DFL-Brooklyn Center), and Rep. Sandy Masin (DFL-Eagan) will speak about legislation benefiting seniors' income, health, transit, and housing, as well as advocacy that can be done for upcoming legislative efforts.
Aug. 22 – The DFL African American Caucus will meet at the Rondo Library, 461 Dale St. N, St. Paul.
Aug. 26 – The Herstoric March on Women's Equality Day will start at St. Stephen and the Incarnation Episcopal Church in Washington D.C. following the 8 a.m. blessing of the walkers. Many will accompany Helene de Boissiere Swanson for the final four miles of this 7,000 mile spiritual pilgrimage to the U.S. Capitol to promote the passage of the Equal Rights Amendment. The four-mile route passing the White House and on to the Upper Senate Park at National Mall where top feminists and human rights activists will hold a press conference, and then rally for the ERA.
Aug. 29 – The Democratic National Committee (DNC) Seniors Coordination Council will meet at the Hilton Minneapolis Hilton at 1001 Marquette Ave. S. from 10 a.m. to noon. Admission is free. For more information contact DFL Senior Caucus Vice Chair Karla Sand at .
DNC presidential primary debates

Oct. 13 – CNN – Nevada
Nov. 14 – CBS/KCCI/Des Moines Register – Des Moines, IA
Dec. 19 – ABC/WMUR – Manchester, NH
Jan. 17 – NBC/Congressional Black Caucus Institute – Charleston, SC
February or March – Univision/Washington Post – Miami, FL
February or March – PBS – Wisconsin

2016 election
2016 campaigns will spend $4.4 billion on TV ads, but why? MPR
Trump's boarder plan splinters GOP field, The Hill
GOP presidential hopefuls tested on education issues at N.H. forum, The Washington Post
While in Vegas, O'Malley makes an appearance in front of Trump's hotel, The Washington Post
Some conservatives in Minnesota are really annoyed with Scott Walker, MinnPost
Bernie Sanders won't play the game, MinnPost
Why Walker unveiled his Obamacare replacement plan in Minnesota, MinnPost
Ad Watch: 2016 arrives as Republicans air anti-Nolan TV ad, Pioneer Press
Donald Trump, Jeb Bush take shots at each other in dueling NH town halls, Star Tribune
What if Trump really does end up a third-party candidate? MinnPost
The craziness of Iowa's oh-so-important caucuses, MinnPost


2016 session
Capitol will be cramped for 2016 session (and no restrooms), Pioneer Press

Beloit College Mindset List
For incoming freshmen, which cultural touchstones are out of touch? MPR
They have never licked a postage stamp.
They have grown up treating Wi-Fi as an entitlement.
The announcement of someone being the "first woman" to hold a position has only impressed their parents.
Kyoto has always symbolized inactivity about global climate change.
The Lion King has always been on Broadway.
TV has always been in such high definition that they could see the pores of actors and the grimaces of quarterbacks.
The proud parents recorded their first steps on camcorders, mounted on their shoulders like bazookas.
The therapeutic use of marijuana has always been legal in a growing number of American states.
They have avidly joined Harry Potter, Ron and Hermione as they built their reading skills through all seven volumes.
Google has always been there, in its founding words, "to organize the world's information and make it universally accessible."

Capitol
Minnesota State Capitol renovations to bring 'bright' future, KSTP

CHS Field
St. Paul: Beer vendor at Saints ballpark provided lobbying savvy to get it built, Pioneer Press

Confederate flag
State Capitol to be site of Sept. 5 rally in support of Confederate flag, Pioneer Press
Confederate battle flag supporters to rally at Minnesota Capitol, MPR

Congressional delegation
Emmer
Emmer's changed approach benefits district, St. Cloud Times
Franken
Al Franken tackles telecomm issues, Iran deal, Grand Forks Herald
Sen. Franken meets with laid off steel workers in Eveleth, Northland News Center
Klobuchar
Sen. Amy Klobuchar says she wants to inspire 'normal people' to run for office, Star Tribune
Walz
Greater Mankato growth hosts forum with Congressman Walz, Waseca County News

Democratic National Committee meeting in Minneapolis
The annual DNC Summer Meeting is coming to Minneapolis at the end of August. That means Hillary Clinton, Bernie Sanders, Martin O'Malley, Lincoln Chafee and Jim Webb will all be right here in Minnesota, and we want you to be there, too.
Donate just $35 or more, and you'll be entered to win tickets for you and a guest to the DNC Summer Meeting in Minneapolis on Aug. 28. Don't miss your chance: Click here to give now to enter before tomorrow's deadline!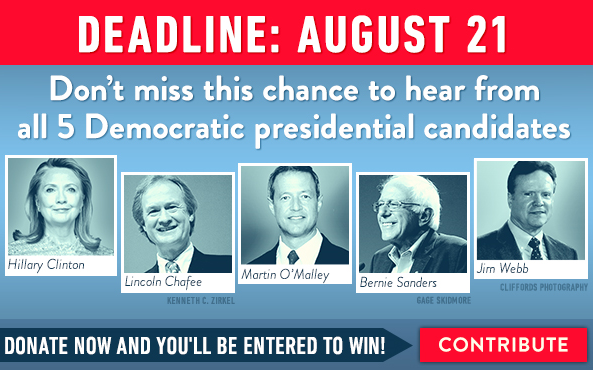 Disaster aid
State approves $1M in disaster aid for Brainerd lakes storm damage, Pioneer Press
Dayton approves aid for 3 storm-damaged counties, MPR

Economy
Community leaders express concerns about jobs, housing, Albert Lea Tribune
House leaders talk rural economic development challenges, KIMT
Locals to legislators: We need to attract youth to our jobs, community, Southern Biz
The fastest-growing states for tech jobs in 2015, Forbes
Report: Minnesota is the fastest-growing tech state, Fox 9

GOP
Minnesota GOP led push for pricier Capitol furnishings, Pioneer Press
Iran
Congress unlikely to override an Obama veto in Iran nuclear fight — for now, The Washington Post

Mille Lacs Lake
Dayton: Walleye special session sleeps with fishes, MPR
Legislators disagree with Dayton about special session for Lake Mille Lacs area, KSTP

Planned Parenthood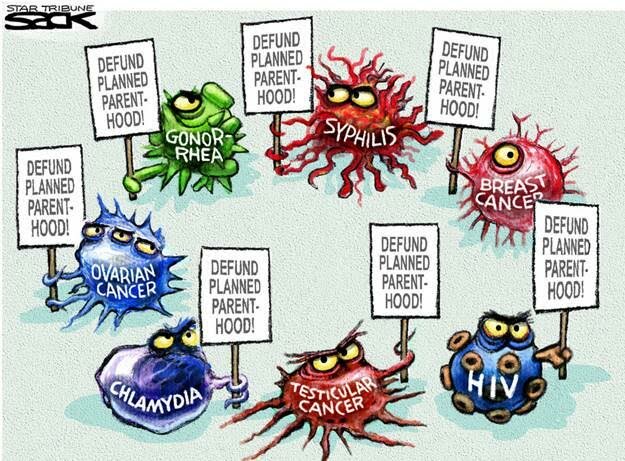 Red Lake Band of Chippewa
Red Lake Chippewa vote to keep banning alcohol sales at casinos, Pioneer Press

Reproductive rights
Next legal battleground over abortion: Texas, Star Tribune

Sex offender program
Attorneys for Minnesota's confined sex offenders propose program changes, Pioneer Press

University of Minnesota
Norwood Teague resignation: State legislator questions U's funding for athletics, Pioneer Press
U president: More complaints against former AD Teague, MPR
Voting
Task force works on emergency Minnesota election plan, KSTP

Washington Post
Every county in America, ranked by scenery and climate, The Washington Post
The Great Lakes region fares poorly, with most of the lowest rankings clustered around the Minnesota/North Dakota border region — hey there, Fargo! The absolute worst place to live in America is (drumroll please) … Red Lake County, Minn. (claim to fame: "It is the only landlocked county in the United States that is surrounded by just two neighboring counties," according to the county Web site).
Thick coats, thin skins: Why Minnesotans were outraged by a recent Washington Post report, The Washington Post
Minnesotans seeing red over Washington Post list of desirable counties to live in, Star Tribune

Wisconsin
Report: Wisconsin worst in nation on shrinking middle class, The Cap Times
LIKE the Minnesota DFL on FACEBOOK: https://www.facebook.com/MinnesotaDFL
Follow @MinnesotaDFL on TWITTER: https://twitter.com/MinnesotaDFL
On INSTAGRAM: http://instagram.com/minnesotadfl
daily brief · issues · news