Daily Brief: Monday, Oct. 3rd, 2016 ~ 36 days until Election Day!
Posted by SD48 DFL Communications Team in Daily Brief
In the Know
Minnesota DFL
October 3
36 days until Election Day, Nov. 8
Mark your calendars
October 5th – SD 16 monthly meeting, 7 PM, Pizza Ranch in Marshall. Please come earlier if you plan to eat there.
October 11th, DFL North Metro Senior Caucus monthly meeting. 11:30 a.m. Little Venetian Inn, 2900 Rice Street, Little Canada (behind Culver's), Speaker: Sen. John Marty, contact Norm Hanson at or at for information and reservation.
Oct. 13 – DFL East Metro Senior Caucus Meeting, 11:30 AM, Sgt. Pepper's Bar and Grill, 930 Helena Ave North, Oakdale.
Nov. 8 – DFL Election Night Party, 8pm-2am, Minneapolis Hilton Grand Ballroom, 1001 Marquette Avenue S., Minneapolis.
Fundraisers
Oct 5. Hennepin County Commissioner Marion Greene fundraiser. 5:30 – 7:00pm 2100 James Ave S, Minneapolis.
Oct. 6 – Rep. Rosenthal fundraiser featuring special guest Mark Dayton, at the home of Tiffany and Jerry Blackwell 7608 South Bay Circle in Bloomington, 6-8 PM, RSVP to Kevin Petrie at
Oct. 8 – Meeker/Cokato DFL Fundraiser and Hot Dish Contest featuring Secretary of State Steve Simon, 5 p.m. Saturday, October 8 at the Darwin Rod and Gun Club (1 mile east of Darwin on State Hwy 12)
October 8 at the Darwin Rod and Gun Club (1 mile east of Darwin on State Hwy 12)
October 9 – 3th Annual Pine 11B Donkey Chili Feed to your Fundraiser, Music by Nathan Frazer Come, meet, greet and eat with local DFLers A suggested $10 contribution is requested, 4- 8 PM, Pine City VFW, 218-372-3744 for more info.
Oct. 15 – Cass County and Crow Wing County Fall Dinner, $25 in advance or $30 at the door, 4-8 PM at the Nisswa American Legion.
Oct. 16 – 2nd Annual Jim Oberstar CD8 Dinner with special guest Rick Nolan, Happy Hour starts at4:30, please RSVP by October 1st to Justin Perpich at or call , Duluth Holiday Inn 200 W 1st St, Duluth.
Oct. 16 – 2nd Annual FDR Day DFL Dinner, Keynote Speaker: US Rep Keith Ellison. For More information, go to this link https://secure.actblue.com/contribute/page/fdrdinner2016?refcode=sd26site
Nov. 19 – 2nd annual CD6 Unity Dinner, Teamsters 120 Hall, 9422 Ulysses St NE, Ste 120, Blaine, for more information follow this link.
Hillary Clinton
Race breaking Clinton's way, The Hill
Sanders to swoop into Minnesota for Clinton, MPR
Bernie Sanders to campaign for Hillary Clinton in Minnesota, Pioneer Press
Sanders to campaign for Clinton in Duluth, Duluth News Tribune
Millennials lean left but may be less motivated to vote, Star Tribune
Clinton could put away Trump by carrying North Carolina, AP
Virginia poll shows with Clinton 7-point lead, The Hill
LeBron James endorses Clinton, The Hill
Trump
Donald Trump Tax Records Show He Could Have Avoided Taxes for Nearly Two Decades, The Times Found, NY Times
How Donald Trump would be able to not pay income taxes for 18 years, MPR
Trump and the testosterone takeover of 2016, MPR
Trump boosters laud his tax 'genius', Politico
Giuliani: 'Everybody' has history of infidelity, The Hill
Trump camp denies sexism accusations on 'The Apprentice', The Hill
Trump in MN
Minnesota GOP officials, donors torn over Trump tax returns, Star Tribune
Congress
House Democrats amplify anti-Trump strategy, The Hill
CD1
First Congressional Race Enters Final Stretch, KEYC
CD2
'Cycle of the outsider' playing out in Lewis-Craig congressional race, MPR
Minnesota's Second District race is among the most-watched in the country, Star Tribune
CD3
Campaign 2016: Bonoff Talks 3rd District Race, WCCO
MN Leg
Big bucks flow into rural area races, Rochester Post-Bulletin
Candidates discuss police shootings, Black Lives Matter, Rochester Post-Bulletin
Minnesota voters will decide legislative pay issue this year, Pioneer Press
Minnesota's legislative candidates spend *how much* on food?, Pioneer Press
2016 Election
How the VP nominees differ from the tops of their tickets, MPR
Kaine, Pence prepare for undercard debate, Star Tribune
New PAC aims to translate political engagement into political power for Hmong-American women, MinnPost
Obama: I see 'straight line' from Palin to Trump, The Hill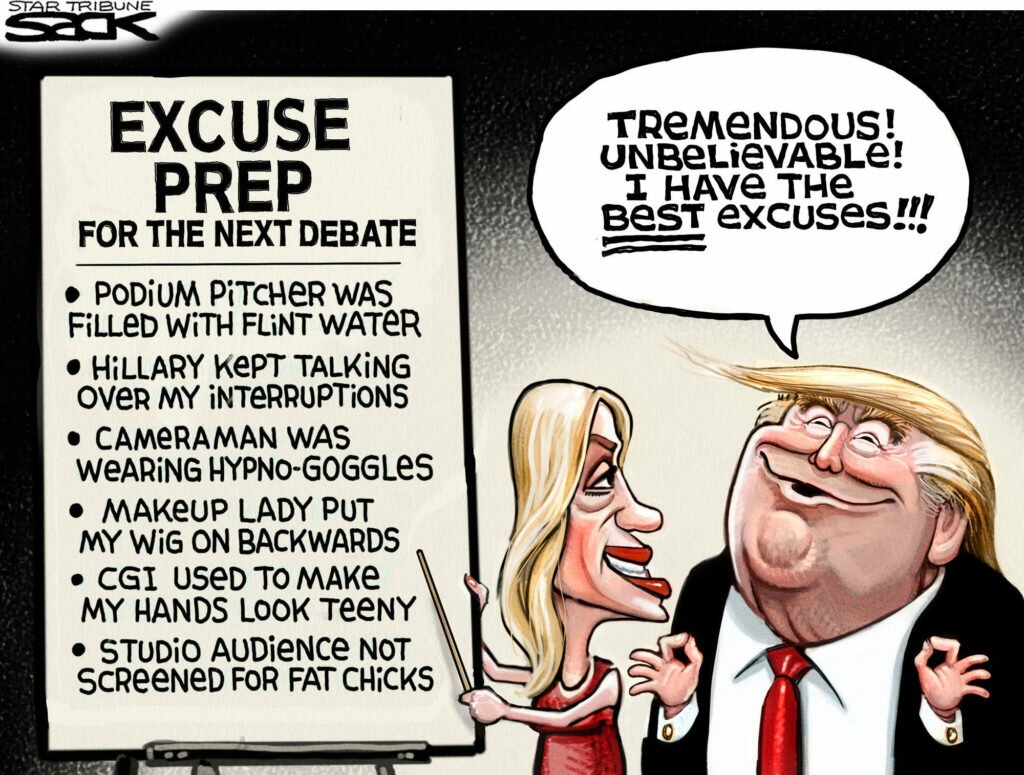 MNsure
'Emergency' for Minnesota as huge insurance premium hikes confirmed , Pioneer Press
Gov. Dayton
Dayton Opposes 'Muslims Get Out' Sign at Lonsdale Business, KSTP
Gov. Dayton expected to attend fundraiser for vandalized Shakopee daycare, Star Tribune
Steve Simon
Simon says: Be superior again. Voter turnout in Minnesota was high for many reasons, Bemidji Pioneer
Our View: Business snapshot offers partnership opportunities, Rochester Post-Bulletin
Willmar
The privilege of diversity, West Central Tribune
Willmar student royalty: homecoming court could help show the world what their schools are like, Bluestem Prairie
Colombia Peace Deal
In surprise result, Colombian voters reject peace deal, MPR
Wells Fargo
You didn't need a new Wells Fargo account. I sold you one anyway., Washington Post
St. Paul
Light rail down St. Paul's West 7th: Could it happen soon?, Pioneer Press
Labor
Union: Striking nurses to vote Monday on Allina contract offer, MPR
Nurses to vote on Allina contract proposal Monday, Pioneer Press
Striking Allina nurses' votes will be counted together, not by hospital, union says, Star Tribune
Striking nurses vote Monday on contract proposal, WorkDay MN
Unions plan major election outreach to women, WorkDay MN
daily brief · issues · news
<< Meet and Greet with Governor Carlson and Steve Cwodzinski ~ Sat. Oct. 22 at 9 am