Daily Brief: Monday, Nov. 10th, 2014
Posted by SD48 DFL Communications Team in Daily Brief, News
In the Know
Minnesota DFL
Nov. 10, 2014

Events today
2 p.m. – Sen. Amy Klobuchar presents Knight of the Legion of Honor Medal to World War II veteran. Bloomington City Hall.

Events tomorrow
10 a.m. – The State of Minnesota Veterans Day celebration is held at Veterans Memorial Community Center in Inver Grove Heights.
Noon – Mark Penn, pollster for President Bill Clinton, and Jan van Lohuizen, pollster for President George W. Bush, speak to Economic Club of Minnesota. Hilton Minneapolis.
In observance of Veterans Day, the Minnesota DFL office will be closed.

2014 election
Area's last blue district doused by election's red wave, St. Cloud Times
At Issue: Nov. 9 – election results, House minority leader in studio, KSTP
Rural voters determine House control, Fargo Forum
House Republicans to the Twin Cities: It's not about you, MinnPost
The seven biggest takeaways from Minnesota's 2014 election, MinnPost
Drawing of Scrabble tiles to decide deadlocked county election, MPR
Two candidates bet the race on a coin flip, MPR
Analysis: 1st District growing increasingly Democratic, Mankato Free Press
Minnesota's political divide: Urban, rural, Star Tribune
Emmer not looking to stray from GOP mainstream, WCCO
WCCO interview: Tom Emmer talks Bachmann, ISIS & Obama, WCCO
Where were 20somethings on Election Day? Alexandra Echo Press
Minnesota bucks national trend, onus now on GOP to govern, Timberjay
Our view: Good day for balance; closer to home, the DFL, Duluth News Tribune
How did pollsters miss the Republican tsunami? USA Today
Labor candidates win key races, but lose control of House, Workday Minnesota
Getting it wrong: The myth of massive ticket-splitting in the 2014 Minnesota elections, TC Daily Planet
Education issues drew millions in election spending, Pioneer Press
Emmer finds drama-free win in 6th District, St. Cloud Times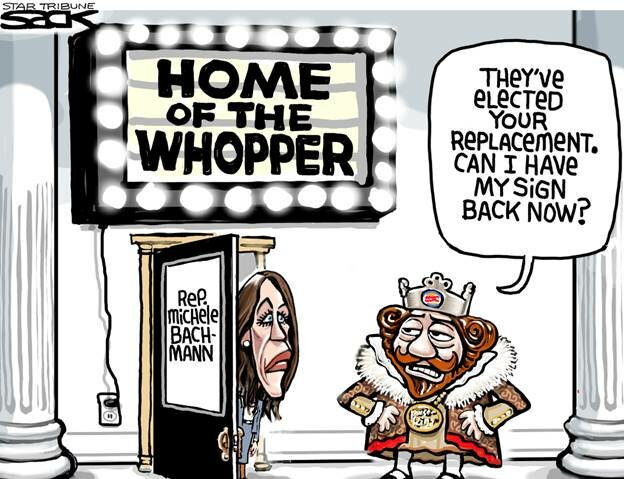 2015 session
It's a divided Minnesota Capitol — so can it still be productive? Pioneer Press
Divided state government could mean delay of DMC funding fix, Rochester Post Bulletin
Minn. lawmakers prepare for renewed Sunday liquor sales push, WCCO

2016 election
State lawmaker Cornish weighs Walz challenge in 2016, Pioneer Press
Rep. Tony Cornish plans to challenge Walz in 2016, Mankato Free Press
Cornish ponders Walz challenge in 2016, MPR
George W. Bush says brother Jeb is wrestling with 2016 presidential run, gives it 50-50 odds, Star Tribune
GOP's midterm election rout helping shape 2016 presidential contest, Star Tribune

Dayton
Editorial: Gov. Dayton's business-climate opportunity, Pioneer Press
Elections
Wanted: More people willing to run for office in Minnesota, Star Tribune
Dark money colors the Democrat's future, Star Tribune
Green Party
How Andy Dawkins tried — and failed — to save the Green Party in Minnesota, City Pages

GOP
Minnesota House Republicans choose Kurt Daudt as Speaker, MinnPost
GOP rethinks strategy after losing statewide offices, Star Tribune
Rep. Kurt Daudt elected state House speaker-designate, Star Tribune
Rep. Daudt says Speaker role his 'greatest honor', WCCO
The Minnesota Republican Party is back. Maybe. Or Not. MinnPost

Housing
Low rents in rural Minnesota stymie new housing, Star Tribune

#Pointergate
#Pointergate: Minneapolis mayor's office dismisses TV report, Pioneer Press
Law enforcement: Criticism of Mayor Hodges' photo report misses the point, KSTP
Explaining #pointergate: The missing context, MPR
Twitter erupts after KSTP #Pointergate story, KSTP tries to defend itself, City Pages
KSTP savaged for Mayor Hodges 'gang sign' story, MinnPost
Pointergate: KSTP does it again, mn progressive project
'Gang sign' report on photo of Minneapolis mayor spawns #PointerGate, Fox 9
KSTP reports Mayor Hodges flashing gang sign; Social media erupts in anger, TC Daily Planet
#Pointergate: A learning opportunity about disenfranchisement, TC Daily Planet
Mayor Hodges, #pointergate, and social media spying, TC Daily Planet
No rest for the DFL message machine even days after the election. DFL Chairman Ken Martin released a statement Friday condemning the KSTP story about whether Minneapolis Mayor Betsy Hodges was flashing gang signs in a photo that was taken of her while canvassing before Election Day. The story went viral and bounced all over the web Friday. Martin said: "Last night's KSTP story, since dubbed pointergate, is an absurd attempt to minimize the work of canvas organizers in communities of color. Neighborhoods Organizing for Change knocked on more than 55,000 doors this election cycle and helped increase north Minneapolis voter turnout by 13 percent. Structural racism is a real issue throughout Minnesota, and we need to work together to continue to stand up to stereotypes and misinformation." Star Tribune

IRRRB
Dicklich lobbies for IRRRB job, Mesabi Daily News

Labor
In face of faculty revolt, MnSCU chancellor stays the course, Star Tribune

MNsure
Stakes are high as MNsure readies for open enrollment, Star Tribune
A critical reboot in MNsure's recovery, Star Tribune

Wisconsin
The cliffhanger election that wasn't: What explains Scott Walker's easy victory? Pioneer Press
daily brief · issues · news