Daily Brief: Monday, May 18th, 2015
Posted by SD48 DFL Communications Team in Daily Brief, News
In the Know
Minnesota DFL
May 18, 2015

Events today
The 2015 legislative session ends today and legislators have until midnight to complete their work.
9 a.m. – The Minnesota Senate meets in session.
11 a.m. – The Minnesota House of Representatives meets in session.

Constituency Caucus meetings
May 21 – MYDFL Central Committee meeting, 6:15 p.m., Rondo Community Library, 461 N Dale St., St. Paul.
May 21 – The Hennepin County DFL Senior Caucus will meet at 12:30 p.m. at Maria's Cafe, 1113 E Franklin Ave., Minneapolis. The speaker will be Lee Graczyk, lead organizer for RxRights.org. He is knowledgeable on the politics of Prescription Medicine.
June 6 – The Senior DFL Caucus will hold its annual meeting at the Sheet Metal Workers Local #10, 1681 East Cope Avenue 55109, Maplewood.

Events you won't want to miss!
June 6 – Tickets are now on sale for the 4th Annual Humphrey-Mondale Dinner.
June 20 – Registration is now open for the DFL Training Summit. Attend and learn how you can help the party build to win, built to last.

2015 session
Dayton, lawmakers remain at legislative impasse, Pioneer Press
Compromise reached on waterway buffers, Pioneer Press
Legislative leaders meet with Dayton as they rush toward a Monday finish, Pioneer Press
Leaders always leave a little time for budget talks, Fargo Forum
Moving parts, dwindling time mark legislature's budget push, KSTP
Despite veto threat, lawmakers push forward with budget, MPR
Budget deal on line, Daudt, Bakk meet separately with Dayton, Star Tribune
Dayton stands by veto threat, says GOP gets blame if session melts down, Star Tribune
Brewing budget deal spares health program, defers tax cuts, Austin Daily News
Minn. DFL House minority sides with Dayton on veto threat, Star Tribune
Sen. Bakk warns Dayton that veto would be 'risky,' Star Tribune
Daudt: We're going to make it, we're going to make it, Star Tribune
Local view: Invest state surplus in education, infrastructure, Duluth News Tribune,
Looking ahead to compete, control costs, Pioneer Press
Dayton: Legislators can meet on the Capitol lawn, Pioneer Press
Dayton calls Legislature's budget plans 'wrong,'" Pioneer Press
A minimal finish for a divided state government, Star Tribune
Budget-setting session reaches deadline, but show may go on, MPR
Minnesota Legislature briefing: Buffer deal, college cash and more, Pioneer Press
Midnight deadline: Update from the Minnesota Legislature, Fox 9
Special session held in Capitol would cost big bucks, KARE
2016 election
Wisconsin takes center stage on fight for Senate majority, The Hill
Large GOP field has leaders nervous about their chances in '16, The Hill
'Campaigns' aren't necessarily campaigns in the age of 'Super PACs', New York Times

Agriculture
Lawmakers backing $16.5 million for avian flu help, Pioneer Press
Sen. Franken on Minnesota bird flu crisis: 'We need to be doing everything we can,' KVRR

Congressional delegation
Kline and Franken provide bipartisan leadership on Indian schools, Star Tribune
Minnesota's two Democrats of different stripes bond over turkey hunting, Star Tribune
Klobuchar
Klobuchar address UMD's Class of 2015, WDIO

Economy
The gender gap in pay: Both real and overstated, Star Tribune

Education (E-12)
Lt. Gov. Smith interview with Esme Murphy, WCCO
The force of will of the education governor, mnpACT!
Education funding decided, but veto threat looms, Pioneer Press
U.S. Education chief pressures legislators on pre-K, MPR
Text of Duncan letter
Commissioners: Education bill a must, MPR
Minnesota's debate on universal preschool exposes differences, Star Tribune
DFL lawmakers say they back Gov. Dayton's education plans, Pioneer Press
What if the education budget gets vetoed and isn't replaced? Pioneer Press
Suspense hangs over Capitol as Dayton renews veto threat over early ed, Star Tribune
House passes conferee report on E-12 education spending, Session Daily
Minn. House passes education finance bill 71 – 59, WCCO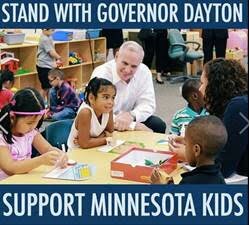 Education (higher)
Agreement reached on $166 million more for higher ed, Session Daily
Higher education budget on its way to governor, Session Daily
Conference committee agreement
State Grant Program: Allows an increased number of Minnesota families and students to receive State Grants while also expanding access to college and university education.
University of Minnesota: Approximately $53 million for the University of Minnesota, including $30 million to ensure the Medical School retains its national prominence and trains Minnesota's next generation of medical professionals. $1 million to continue research into Alzheimer's and Dementia, and $22 million to help keep tuition costs low.
Minnesota State Colleges and Universities: A robust investment of $100 million toward tuition relief for students.
MnSCU College Occupational Scholarship Pilot Program: $5 million to expand available scholarships for qualifying students in technical fields at Minnesota's two-year schools.
Earn While You Learn: Invests $3.4 million into grants for dual-education apprenticeship programs in high growth/strong demand sectors, letting students earn while they learn.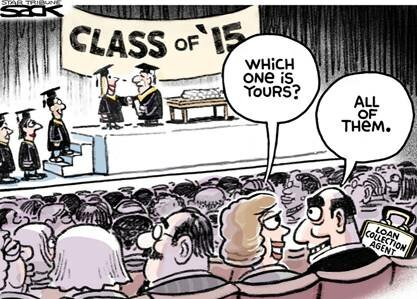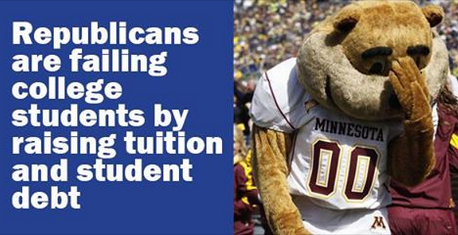 Environment
New buffer strip plan speeds implementation, carries fines, MPR

GOP
Minnesota House Republicans are betraying our trust, Duluth News Tribune

Health and human services
Health and human services budget takes shape, MPR
Compromise spends $138 million on nursing homes, saves $25 million in waste, Pioneer Press
On health care, lawmakers reach deal with little contention, few major changes, Pioneer Press

Restore the Vote
Senate Judiciary chair: Giving up felon voting rights bill 'not easy at all', Star Tribune
Public safety bill drops felon voting, stirs passions, Pioneer Press

Transportation
Daudt calls transportation fix 'not likely' for a year, WCCO
As lawmakers battle budget deadline, impact becomes clear, WCCO
Transportation committee prepares 'lights on' bill, Pioneer Press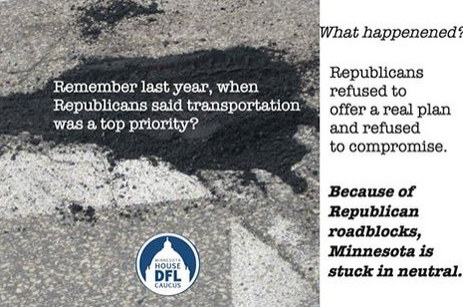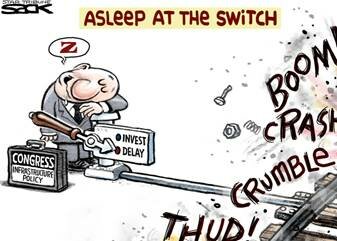 LIKE the Minnesota DFL on FACEBOOK: https://www.facebook.com/MinnesotaDFL
Follow @MinnesotaDFL on TWITTER: https://twitter.com/MinnesotaDFL
On INSTAGRAM: http://instagram.com/minnesotadfl
daily brief · issues · news