Daily Brief: Monday, June 1st, 2015
Posted by SD48 DFL Communications Team in Daily Brief, News
In the Know
Minnesota DFL
June 1, 2015

Events today
Minnesota Secretary of State Steve Simon will travel across southern Minnesota to visit with organizations helping victims of domestic violence, speak with a local chamber of commerce, and meet with county officials to talk about election-reform issues recently passed by the Minnesota Legislature. Today Simon visits Winona, Lanesboro, Rochester, and Caledonia.

Constituency Caucus meetings
June 6 – The Senior DFL Caucus will hold its annual meeting at the Sheet Metal Workers Local #10, 1681 East Cope Avenue 55109, Maplewood.

Save the date!
June 7 – Senate District 42 hosts "Pints and Politics," 6 p.m., Hampton Inn, 1000 Gramsie Rd, Shoreview.
June 14 – DFL Women's Hall of Fame, 11 a.m., Doubletree Bloomington, tickets available here.
June 20 – Registration is now open for the DFL Training Summit. Attend and learn how you can help the party build to win, built to last.

2015 session
2015 session shows importance of transparency, St. Cloud Times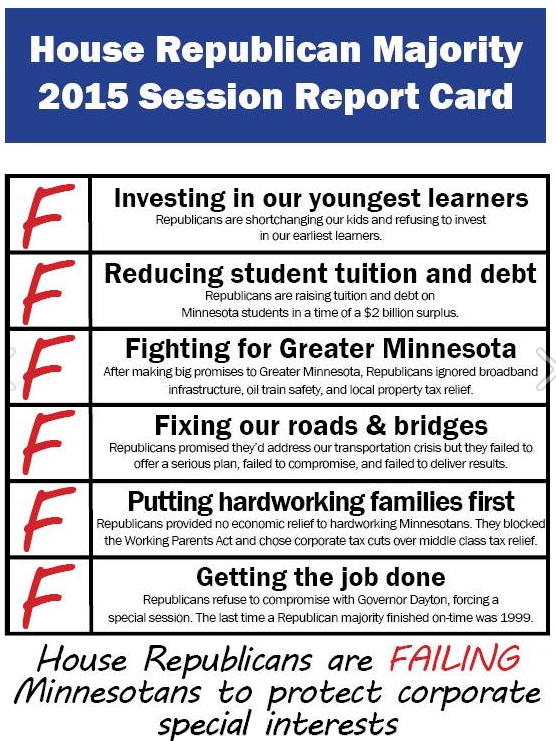 2015 special session
Dayton gives on pre-k plan but still no budget deal with GOP, Rochester Post Bulletin
Dayton drops pre-kindergarten plan to settle budget, Fargo Forum
In Minnesota, special sessions are very special anymore, Star Tribune
Budget talks take a step 'backwards,' Dayton says, Star Tribune
Bad day in Minnesota budget talks; layoff notices pending for 9,500 state workers, Star Tribune
Dayton gives on pre-k plan but still no budget deal, KARE
Gov. Dayton calls latest budget negotiations disappointing, KARE
Dayton calls latest budget talks disappointing, MPR
Hope turns into recriminations in Friday's negotiations, Pioneer Press
With a tax swap, DFLers hope to wedge transportation funding into special session, Pioneer Press
In Brainerd, DFL leadership talks special session, Brainerd Dispatch
Special session represents 'do-over' for Greater Minnesota, Faribault Daily News
State budget remains unresolved, agencies prepare, WCCO
Layoff notices pending for nearly 9,500 state workers, KARE

2016 election
Overflow crowd in Minneapolis hears Bernie Sanders, Star Tribune
Democrats' 2016 presidential field expands with entry by former Maryland Gov. Martin O'Malley, Star Tribune
Presidential hopeful Martin O'Malley banks on vitality, credentials, Star Tribune
Democrats seek richer roster of donors to match Republicans in 2016, Star Tribune
O'Malley pledges new leadership as he launches 2016 bid, The Hill
O'Malley's challenge to Clinton: Ideological or generational? Or both? The Washington Post
Minnesota Republican group wants Fiorina included in presidential debates, MinnPost
5 things you should know about Martin O'Malley, MPR
Sanders hopes populist fire kindles presidential campaign, MPR
Bernie Sanders calls for debates, rallies supporters in Mpls stop, MPR
Overflow crowd in Minneapolis hears Sen. Bernie Sanders, Star Tribune
Spring Grove School Board member to challenge Davids, Rochester Post Bulletin
Sen. Bernie Sanders hopes to win voters at Minneapolis event, WCCO
State budget unresolved, state agencies prepare, KSTP
Presidential candidate Bernie Sanders draws 4,000 to Minneapolis 'town hall', Fox 9
Big crowd in Minneapolis to hear Bernie Sanders, KARE
In response to Martin O'Malley's announcement that he will run for president in 2016, DNC Chair Rep. Debbie Wasserman Schultz released the following statement:
"I welcome Martin O'Malley to the field of candidates seeking the Democratic Party's nomination for President in 2016. As Maryland's Governor, Martin O'Malley demonstrated his solid commitment to social justice and economic opportunity.
"Governor O'Malley has been a leader on fighting for equal pay for women, increasing access to quality health care and expanding voting rights. On issues from college affordability to increasing the state's minimum wage, Governor O'Malley exemplifies the Democratic Party's middle-class economics, highlighting the significant differences between the priorities of the Democratic and Republican parties, regardless of who emerges as each party's nominee.
"I look forward to Governor O'Malley joining Secretary Clinton and Senator Sanders on the campaign trail as they make the case to the American people that the Democratic Party is on their side."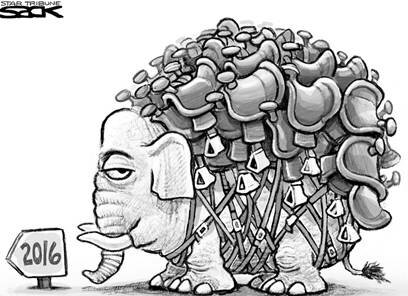 Agriculture
Egg shortage from bird flu trickling down to consumers, Star Tribune
Dayton vetoes ag funding bill, Agri News

Cuba
Franken returns from five-day trip to Cuba, KSTP

Education (higher)
Rep. John Kline says he is in favor of loan forgiveness for Corinthian students, Star Tribune

Franson, Dick
A frequent name at Minnesota ballot box, Dick Franson dies at 86, Pioneer Press
Dick Franson, frequent candidate, dies at 86, MPR

Immigration
Young migrants present state's schools with tangle of needs — and examples of resilience, Star Tribune

Legislature
The Iron Range way in St. Paul, Hibbing Daily Tribune

Medicaid
In wake of federal reform, Minnesota's Medicaid enrollment surges to 1 million, Star Tribune
Patriot Act
Parts of Patriot Act expire, even as Senate moves on bill limiting surveillance, MPR
Patriot Act expires as Paul blocks final vote on NSA reform, The Hill
In Iowa, GOP voters are uneasy about Paul's crusade against NSA spying, The Hill

Sex trafficking
New federal law aids underage sex workers, targets traffickers, Star Tribune
Transportation
Senator Klobuchar tours Winona bridge project, WXOW
LIKE the Minnesota DFL on FACEBOOK: https://www.facebook.com/MinnesotaDFL
Follow @MinnesotaDFL on TWITTER: https://twitter.com/MinnesotaDFL
On INSTAGRAM: http://instagram.com/minnesotadfl
bernie sanders · daily brief · issues · news