Daily Brief: Monday, July 6th, 2015
Posted by SD48 DFL Communications Team in Daily Brief, News
In the Know
Minnesota DFL
July 6, 2015

Mark your calendars
July 8 – Join the Saint Paul Regional Labor Federation and the Saint Paul Building & Construction Trades Council as we break ground on a new home. 3 p.m., 385 W 7th St., St. Paul.
July 8 – Senate District 42 DFL will host a prevailing wage/right to work forum from 6:30 – 8:30 p.m.at the Roseville Library, 2180 N Hamline Ave., Roseville.
July 12 – The Congressional District 2 DFL will host a Lesbian, Gay, Bisexual, and Transgender Legislative Issues Forum from 2 – 4 p.m. at the Galaxie Library, 14955 Galaxie Ave., Apple Valley. For further information, contact Terry Friedrichs, CD 2 Outreach/Inclusion Committee, at 612-859-9676.
July 30 – The Minnesota Nurses Association would like to cordially invite you to the Medicare turns 50 Birthday BBQ Bash on Thursday, July 30 from 5 – 8 p.m. in St. Paul. Medicare is an American as apple pie (Protect Improve Expand Medicare) so join us for an all American birthday BBQ, as we celebrate the 50th Anniversary of Medicare, one of the greatest social safety net pieces of legislation ever signed into law and what we hope to be the basis of a single payer system for our entire nation. Highland Park Picnic Shelter, 1227 Montreal Ave. St. Paul.

2016 election
Stewart Mills seems to want another go at Rick Nolan and CD8, mn progressive project
U.S. Rep. Rick Nolan says he will seek another term in 2016, Star Tribune
Jim Webb announces White House candidacy, The Hill
Jim Webb, a Vietnam vet who became Iraq war critic in Senate, enters 2016 Democratic race, Star Tribune
Sanders raises $15 million in first two months, The Hill
Bernie Sanders draws 600 at campaign event in Rochester, MinnPost
Sanders talks trade, research funding during Rochester visit, Rochester Post Bulletin
Bernie Sanders returns to Minnesota with liberal rallying cry, Pioneer Press
Sanders hammers on inequality during speech, MPR
The 10 Republicans most likely to win the GOP's 2016 nod, The Hill
Voters are shifting to Democrats, flashing a warning for Republicans, The Washington Post
With social media tease, Scott Walker joins 2016 presidential race, Star Tribune
Indignant Bush says he takes Trump's remarks on immigrants personally, Star Tribune
Cruz, Huckabee go head-to-head for evangelical votes, Pioneer Press
In response to Jim Webb's announcement that he will run for president in 2016, DNC Chair Rep. Debbie Wasserman Schultz released the following statement:
"I welcome Jim Webb's bid to seek the Democratic nomination for President in 2016. Senator Webb has a long and distinguished record of service to his country, both in the Marines and in public office. His leadership on the Post-9/11 GI Bill is a sterling example of the Democratic commitment to ensuring the opportunities available for our veterans when they return home.
"As the field of 2016 candidates rounds into shape, a stark contrast is developing between the Democratic and Republican parties. Democrats are fighting for middle class families, and those still struggling to get there. Republicans are concerned only with those already at the very top. Over the coming months, the difference between the Democratic plan to move our nation forward and Republican efforts to bring back the failed policies of the past will only grow more clear."
Affordable Care Act
Minnesota ACA reform saved $61.5 million, can guide innovation, Star Tribune
Barack Obama: The health-care industry president, The Washington Post

Confederate flag
Fire truck flies Confederate flag alongside U.S. flag in Albert Lea holiday parade, Star Tribune
Minnesota firefighter flies Confederate flag in parade, Pioneer Press
Ignoring NASCAR's request, some fans take a stand and display Confederate flags at Daytona, Star Tribune

Congress
Amid the bickering in D.C., real Minnesotans suffer from the gridlock, Star Tribune
Budget brinkmanship grips Capitol, The Hill

Congressional delegation
Ellison
A month of fasting — and feasting — for Muslims in Washington, The Washington Post
Franken
Sen. Franken visits southeast Minnesota for Coffee with Congress, KTTC
Klobuchar
Klobuchar talks timber at Bemidji Potlatch plant: Senator stresses workforce training, forest management in Bemidji visit, Bemidji Pioneer
Sen. Klobuchar talks rail safety in the Borderland, KBJR
Klobuchar: Democrats waiting to see what's in Iran deal, CBS

Economy
Smaller work force, more part-timers: Job market unlikely to return to former strength, Star Tribune
Our View: Business ranking affirms good policy, Mankato Free Press
US adds 223K jobs in June, The Hill

Education (E-12)
Balancing integration and achievement goals in Minnesota schools, Star Tribune
Reactions to Dayton's investments in education, Owatonna People's Press

Education (higher)
Paul Thissen: Rochester U of M students face tuition hike next year, Rochester Post Bulletin

Environment
In farm country, tainted water is just the way it is, Star Tribune

Governor's cabinet
Reality Check: Gov. Mark Dayton faces criticism for cabinet raises, WCCO
Political feud reopens as Dayton sets agency head pay, KARE
Daudt said he gave Dayton "one day" to increase commissioner salaries, Star Tribune
Another day, another episode of Minnesota politics, Grand Forks Herald
Iowa straw poll
Who needs barbecues and straw polls? Candidates have social media and super PACs, Star Tribune

Labor
Grocery store workers seek justice for unpaid wages, Workday Minnesota
Today in history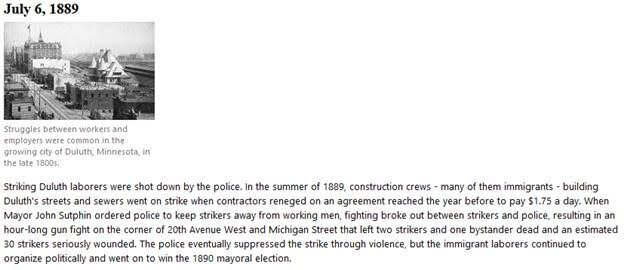 Legislature
Remember the legislative chaos? Minnesota lawmakers trying to find a better way, Pioneer Press
Legislator 2015 per diem reaches nearly $1.8 million, MPR

Marriage equality
43 years later, Minneapolis couple's fight for marriage vindicated, Star Tribune
Faith groups press GOP for response to marriage ruling, The Hill

Obama
Obama defies second-term slump, The Hill
Obama blasts GOP on the economy: 'Their ideas are bad,' The Hill
President Obama touts new overtime rules, hits Gov. Scott Walker in La Crosse speech, Star Tribune
Obama defends his record and struts a little in Wisconsin, The Washington Post
Obama visits Walker's turf, singles out Minnesota, Pioneer Press
In Wisconsin, Obama raps Gov. Walker's policies, praises Minnesota, MPR

Under President Bush: 7.9 million lost insurance and 400,000 lost private sector jobs
Under President Obama: 16 million have gained insurance and 7 million have gained private sector jobs

Ryder Cup
Inside Ryder Cup's lobbying effort to get millions from Minnesota lawmakers, MPR

Safe at Home
Simon helps boost Safe at Home, Worthington Daily Globe
State Capitol renovation
Minnesota is at the intersection of history, sensitivity, Star Tribune

Transportation
Minnesota sputters in race to keep up with road and transit needs, Star Tribune

Wisconsin
Welcome to Scott Walker's Wisconsin, Mr. President, ajc.com
Obama, in Wisconsin, takes on Scott Walker, New York Times
LIKE the Minnesota DFL on FACEBOOK: https://www.facebook.com/MinnesotaDFL
Follow @MinnesotaDFL on TWITTER: https://twitter.com/MinnesotaDFL
On INSTAGRAM: http://instagram.com/minnesotadfl
daily brief · issues · news