Daily Brief: Monday, Jan. 11th, 2016
Posted by SD48 DFL Communications Team in Daily Brief
In the Know
Minnesota DFL
Jan. 11, 2016
302 days until the general election

Events today
9 a.m. – Minnesotans who work in public safety, work in our schools, and deliver vital public services will gather to follow oral arguments in the Friedrichs v. California Teachers Association Supreme Court case. Minnesota AFL-CIO, 175 Aurora Ave., St. Paul.
10 a.m. – Commission on Capitol art meets.
11:30 a.m. – Lt. Gov. Smith will provide remarks at a meeting of the Regional Council of Mayors at Dorsey Whitney.

Mark your calendars
Jan. 12 – President Obama's last State of the Union address.
Jan. 12 – The North Metro Chapter of the DFL Senior Caucus will meet at 11:30 a.m. at the Little Venetian Inn, Little Canada.
Jan. 13 – Senate Majority Leader Tom Bakk, DFL-Cook, Rep. Rob Ecklund, DFL-International Falls, and Rep. Jason Metsa, DFL-Virginia, will hold a town hall with local officials, and Department of Employment and Economic Development officials for those effected by the downturn in the steel industry. 6 p.m., ReUnion Hall, 97 Outer Drive, Silver Bay.
Jan. 18 – Gov. Mark Dayton's Council on the Martin Luther King Jr. Holiday State Wide Celebration will hold an event from 9 a.m. to 1 p.m. at the Ordway Center for the Performing Arts in St. Paul. The keynote speaker is Talila A. Lewis, founder of Helping Educate to Advance the Rights of the Deaf (HEARD). Join us to hear Talila's message on the crossectionality of race, disability, and gender and its role in today's justice system.
Jan. 21 – The South Hennepin County DFL Senior Caucus will meet at 12:30 p.m. at the Uptown Lunds at 1450 W Lake St. Minneapolis. The speaker is Sen. Bobby Jo Champion.

Fundraisers
Jan. 17 – The Minnesota Young DFL will kick off 2016 with a debate watch party and fundraiser at Legends Bar and Grill in Minneapolis.
Jan. 29 – Congressional District 2 DFL will host A Taste of Mardi Gras. The event takes place from 7 – 11 p.m. at Neisen's Bar & Grill, 4851 W 123rd St., Savage. Suggested contribution is $40 and tickets can be purchased online at www.dflcd2.com.
Jan. 30 – Senate District 47 DFL will host a fundraiser from 5-7 p.m. Secretary of State Steve Simon is a guest speaker. The $15 event, which includes a light dinner with beverages available for purchase, will be held at a private residence in Victoria, so a RSVP is required due to space limitations. Information about the event can be obtained from Mary Leizinger at or .
Feb. 12 – Humphrey-Mondale Dinner featuring Hillary Clinton, Martin O'Malley and Bernie Sanders. St. Paul RiverCentre. Tickets available here.
Feb. 19 – Congressional District 5 DFL will host its Heart of the Party fundraiser. 7 p.m., 301 on Main, Minneapolis. There is free parking adjacent to the building in an open surface lot. Tickets are $35.
March 12 – Senate District 63 DFL hosts its annual Spaghetti Dinner. 5 p.m., location TBD.

2016 election
U.S. House
Carson leaves open possibility of run for Congress, The Hill
President
Muslim woman escorted out of a Trump rally in South Carolina – for protesting silently, Washington Post
Still don't think Donald Trump can win? This chart should convince you. Washington Post
In Iowa, Republican presidential contenders see votes in appeal to evangelicals, Star Tribune
These are the towns that love Donald Trump, Washington Post
Martin O'Malley could be excluded from the next debate. That makes no sense. Washington Post
State of Play: Cruz, Trump are up in Iowa, but talk fades of 'takedown' by GOP establishment, Star Tribune
If Trump elected, leaving business behind would take work, Pioneer Press
Clinton and Sanders try to erode each other's strengths in tightening race, Washington Post
Vegas billionaire donor keeps GOP candidates guessing, The Hill
Why Rubio and Cruz could lose the Latino vote in a general election, Washington Post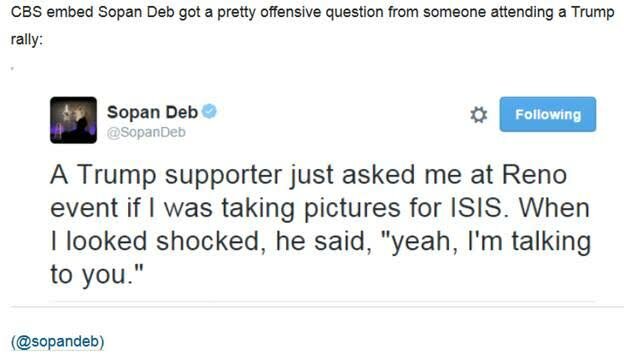 What happens at a Donald Trump rally: Ask a random person to stand and be recognized. Sign a book. Order television cameras to pan the crowd. Tell someone you love them. Mock protesters. Impersonate someone. Impersonate your wife. Brag about poll numbers. Make fun of George Will's glasses. Call Ted Cruz a nice guy. Flash two thumbs up. Trump and his top staffers fly in on his private jet, do a private meet-and-greet with locals that's never open to the press, attend the rally for about an hour and then fly out. Washington Post

2017 election
Nearly two years out, St. Paul mayoral race opens quietly, MPR

Affordable Care Act
Obama vetoes bill to repeal signature health care law, MPR

Black Lives Matter
Protest against police shooting marches through St. Paul SuperTarget, Wal-Mart, Cub, Star Tribune

Bonding bill
Dayton to unveil bonding proposal, Rochester Post Bulletin

Dayton, Mark
Mark Dayton: I'm staying, West Central Tribune
Debates
ABC dumps Union Leader; Trump claims credit, New Hampshire Union Leader

Demographics
Staggering demographic shifts require spending restraint and ambition, Pioneer Press

Disability services
For hundreds of Minnesotans, the wait for disability services is over, Star Tribune

Education (E-12)
Minnesota teacher licensing overhaul delayed; unlikely before spring, Pioneer Press
Teacher hiring 'crisis' hitting MN schools, Detroit Lakes Online

Energy
TransCanada is suing the U.S. over Obama's rejection of the Keystone XL pipeline. The U.S. might lose.Washington Post

GOP
Minnesota lawmaker tried to sway judge on company's behalf, AP
Trump's nomination would rip the heart out of the Republican party, Washington Post
For Republicans, mounting fears of lasting split, New York Times
Controversial Nevada lawmaker to speak at GOP event in Minnesota, Star Tribune

Health care
Efforts to slow rate of medical-assistance spending by Minnesota yield large savings, Star Tribune

Immigration
After immigration raids, Latino leaders ask Obama to show 'moral leadership,' Washington Post

Labor
Workers speak out about what's at stake in Supreme Court case, Workday Minnesota
John Choi: Supreme Court decision could undermine labor, management partnerships, Pioneer Press
Court must stand behind organized labor, St. Cloud Times
Not just teachers: Court case puts cities at risk, too, Star Tribune
Friedrichs v. CTA: What you need to know, Education Minnesota



Medical device tax
With special tax suspended, medical device firms reap big savings, MPR

Minnesota Judicial Branch
Minnesota courts website hacked into last month, Pioneer Press

Minnesota Pollution Control Agency
Minnesota House Speaker calls for investigation into MPCA's pipeline review, Worthington Daily Globe

Polls
Poll: Neck-and-neck 2016 races in Iowa, New Hampshire, NBC
Cruz leads Trump by four points, 28 to 24 percent, among likely GOP Iowa caucusgoers. Rubiofinishes third with 13 percent compared to Carson's 11 percent. Rand scores 5 percent to Jeb's 4 percent and Christie's 3 percent.
In New Hampshire, Trump dominates the GOP primary field, leading by 16 points compared to Rubio at 14 percent. Christie places third at 12 percent and Jeb comes in fourth at 9 percent.

Racial disparities
Lawmakers clash over racial disparities special session fix, MPR

Real ID
Minnesota, four other states, get two-year reprieve on Real ID, Star Tribune
Though Minnesota IDs good to fly until 2018, Dayton still wants special session, MPR
In case you missed it, we have until 2018 to update Real ID, Pioneer Press

Special session
Trying for agreement on special session, KARE
Gov. Dayton, Speaker Daudt say special session still possible on Iron Range, racial disparities, Star Tribune
Analysis: Dayton, Daudt not as far apart as word would indicate, Grand Forks Herald
State of the Union
Obama faces choices in final State of the Union address, The Hill
Empty seat will send a message at Tuesday's speech, Star Tribune
Ellison calls for lawmakers to bring Muslim-Americans to SOTU, WCCO
Cabinet members to promote Obama's State of the Union proposals for his final year in office, Star Tribune
5 things to watch for in Obama's final State of the Union, MPR
Taxes
Minnesota's elder taxpayers have clout. (Alas?), Star Tribune
The 400 highest-earning taxpayers in the U.S. paid just 17 percent in federal taxes in 2012 on average incomes of $336 million – the same rate they'd pay if they made $100,000. The superwealthy have essentially created a parallel tax system by paying lawyers and lobbyists to alter the tax code, create loopholes and set up complex shelters, trusts and shell corporations that confound even the IRS. New York Times.
LIKE the Minnesota DFL on FACEBOOK: https://www.facebook.com/MinnesotaDFL
Follow @MinnesotaDFL on TWITTER: https://twitter.com/MinnesotaDFL
On INSTAGRAM: http://instagram.com/minnesotadfl
daily brief · issues · news