CONTRIBUTE!
VOLUNTEER!
CONTACT US!
Can You Host an SD48 Lawn Sign?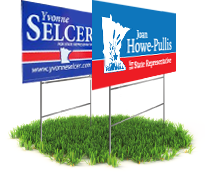 Our candidates are hoping to build visibility with lawn signs!
If you're willing to have one in your yard between now and Election Day, please e-mail us at . We'll pass your information along to our candidates.
Tweets by @DFL48
In the Know
Minnesota DFL
Feb. 10, 2014
Events today
10 a.m. – Joint House and Senate Transportation Committee hearing, State Office Building, St. Paul.
Gov. Dayton is scheduled to have hip surgery today at the Mayo Clinic. Dayton was scheduled to have the surgery last week but postponed it to attend the memorial services for Joan Mondale.

2014 election
Republicans are wooing the wired, New York Times
Governor
Your Turn: Instead of fix for MNsure, let's join feds, St. Cloud Times
GOP hopefuls claw for a shot at DFL Gov. Dayton's job, Star Tribune
Via the Thompson for Governor campaign in a memo to be released later this morning, VERBATIM: "It is unclear whether or not delegates are aware that Marty Seifert has refused to abide by their endorsement; he did so in 2010 and his change in positions has not been well publicized… Rep. Seifert is actually moving in the wrong direction; in 2010, he garnered over 50% of the total straw poll vote in a 7-way race. In 2014, he dropped over 20 points to 28%, despite the presence of fewer candidates on the ballot. MORE: Rep. Seifert's straw poll vote victory was driven by strong performances in Greater Minnesota. For example, his 92-vote win in Lyon County would translate to 11 delegates; Dave Thompson carried the 31st Senate District BPOU by 119 votes. This would translate to 40 delegates at state convention." Morning Take
U.S. House
'Collin Peterson for Congress' site sponsored by Republicans, Star Tribune
Hagedorn stresses aggressive campaign, Austin Daily Herald
Perske begins the 'toughest' marathon, The Newsleader
Balls & Strikes: NRCC should pull down fraudulent website targeting Peterson,politics mn
U.S. Senate
Independence Party's first U.S. Senate candidate enters race, Star Tribune
Don Draper to help drop big bucks for Franken, MPR
Actor Jon Hamm, best known for his role as Don Draper on the AMC television series "Mad Men," will headline a fundraiser for U.S. Sen. Al Franken. DFL fundraisers Sam and Sylvia Kaplan will host the Mad Men-themed event Feb. 21 in Minneapolis. Franken's campaign staff declined to provide further details on the event, such as ticket cost and location. Star Tribune

2014 session
State should reimburse IRRRB for 'Unsession' work, Mesabi Daily News
Minnesota Legislature: Beyond the 'Unsession,' Pioneer Press

2016 election
Eyeing 2016 campaign, liberals are watching Hillary Clinton for signs on how she might govern, Star Tribune

Agriculture
From the main course to dessert, 5 ways the farm bill affects what you're eating for dinner, Star Tribune
Klobuchar attends farm bill signing; Peterson, Walz decline invites, Star Tribune
Congress takes tentative steps forward with farm bill, Star Tribune

Capitol complex
Judge tosses out Senate office building lawsuit, Star Tribune
Capitol renovation uncovers architectural gems, KSTP

Congress
Divided government, congressional election year put brakes on most legislation in Congress, Star Tribune
Congressional delegation
Franken
Sen. Franken concerned about facial recognition apps and privacy, Star Tribune
Who's the real Al Franken? A look at a senator's transformation, Star Tribune
Klobuchar
Women are getting the job done, Huffington Post
Talking Points: Klobuchar on Target data breach, WCCO
Walz
Rep. Walz addresses pain on propane prices, KEYC

Dayton
After postponement, Minnesota Gov. Dayton heads for latest surgery on ailing hip,Star Tribune
Gov. Mark Dayton today will travel to Rochester's Mayo Clinic for surgery on his long-ailing hip. He will be in the hospital for a few days and in recovery, and wearing a hip brace, for months. At least in the early part of his recovery, he plans to work out of the governor's residence in St. Paul, rather than his office at the State Capitol. Dayton has said repeatedly that he can do the job of governor despite the ailment. Star Tribune

Debt limit
With the clock ticking, Republicans seek a solution to raising debt limit, but not a fight, Washington Post
US to get approximately $17.2T debt limit Friday, KSTP

Destination Medical Center
Some local businesses find Mayo Clinic expansion costly, MPR

DFL
The Minnesota DFL will release this video today about Minnesota's "Hot" economy despite our cold weather. WATCH: http://bit.ly/1lV4Mw8 Morning Take

Drones
Drones debate lands on Minnesota lawmakers' docket, Pioneer Press

Economy
The US economy may be stuck in the slow lane for years to come, Star Tribune
Carly Melin: Women deserve equal opportunities to succeed, Bemidji Pioneer
There's no pot of gold for the working poor, Star Tribune
Will Obama's steps fix income inequality? The Hill
Summit spotlights importance of women's economic status, Minnesota Budget Project
Sauk Rapids business hopes to offer good jobs while finding best welders in industry, St. Cloud Times
Will St. Croix span be bridge to prosperity on both sides of the river? Star Tribune

Education (higher)
Minnesota college's plan for growth: Head for Arizona, Minneapolis/St. Paul Business Journal

Elections
How candidates share without coordinating with outside groups, Roll Call

Energy
Approve the Keystone pipeline, MinnPost

GOP
CNN Poll: Majority say GOP out of touch with women, CNN
GOP will use ObamaCare to sow distrust, The Hill
The Minnesota Senate Republican Caucus today will announce Katie Fulkerson is coming on board as press secretary. She will be a new name in Capitol politics, but has had her own blush with the ballot. Fulkerson, who has spent the last eight years in digital marketing, ran for the Hopkins school board last year. She came in fourth, with 16 percent, in a race where the top three vote-getters moved on. She will join a four member GOP Senate communications staff. Star Tribune

Health and wellness
Dayton, execs promote 'worksite wellness', Star Tribune

Housing
Housing programs concentrate poverty in a few metro locations, report finds,MinnPost

Immigration
Democratic senator counters Boehner's claim that president can't be trusted on immigration law, Star Tribune
Twin Cities' new U.S. immigration building lacking bus service, Star Tribune
Minnesota mayors press Congress for immigration reform, Star Tribune
Labor
St. Paul teachers face possible strike-authorization vote, Star Tribune
TEACHER STRIKE? St. Paul educators may vote on Monday, Fox 9

Legislature
Is the Legislature really part-time? Rochester Post Bulletin

LGBT rights
Attorney General Eric Holder says same-sex marriage ruling is being applied to Justice Dept, Star Tribune
New rights for same-sex couples, The Hill

Marriage equality
Church disobedience in support of gay marriage widens rift in United Methodist church, Star Tribune

Minimum wage
Video: Myth and reality about the minimum wage and women, Raise the Wage Coalition
Stealth lobbying, opaque research muddies debate on minimum wage, New York Times

Mining
Price tag on future pollution underlies PolyMet mine debate, Star Tribune
Scrutiny of proposed PolyMet mine turns to cleanup costs; how much to protect taxpayers? Star Tribune
After mining is done, could PolyMet afford cleanup? Pioneer Press
Polymet: Can't we focus on prevention rather than the aftermath? mnpACT!
Our View: Mine impact raises unease about future, St. Cloud Times

MNsure
Enrollment threatens exchange funding, Pioneer Press

Mondale, Joan
Dignitaries, family bid final farewell to Joan Mondale, Star Tribune
Joan Mondale: a treasured friend, Star Tribune
Remembering Joan Mondale, arts advocate: 'She was our rock star', MinnPost
Dignitaries, family bid farewell to Joan Mondale, KARE
Joan Mondale's 'exuberant' life celebrated by friends, family and dignitaries, Pioneer Press

Obamacare
Where is the Democratic Party's pro-Obamacare campaign? National Journal

Politics
Even in Minnesota, politics runs in families, Star Tribune

Precinct caucuses
Hotdish Politics: Despite the Minnesota caucus curse, caucuses continue, Star Tribune
Racial equality
Community organizers lay foundation for racial equity agenda in Minneapolis, TC Daily Planet
Rubén Rosario: St. Paul nun says backlash against Coca-Cola ad is rooted in ignorance, Pioneer Press

Safe and Supportive Minnesota Schools Act
Bullying's a problem. Could this proposed Minnesota law be a solution? Pioneer Press

Taxes
Minnesota thrives as Land of 10,000 Levies under Dayton: Taxes, Bloomberg Business Week

Transportation
Minnesota traffic toll: Should safety take a back seat to privacy? MinnPost

Unemployment insurance
Why do Republicans oppose unemployment benefits? CNN

Vikings stadium
Best seats in the new Vikings stadium: $9,500, Pioneer Press
Vikings release details on stadium seat licenses, MPR
Personal seat licenses will raise $100 million for new Vikings stadium, Star Tribune

Voting
Legislature can end debate on online voting registration, Star Tribune
daily brief · issues · news