In the Know
Minnesota DFL
Aug. 11, 2014

Events today
9:30 a.m. – U.S. Sen. Al Franken will be joined by Sen. Tom Harkin at Goodwill Easter Seals in St. Paul to discuss the organization's partnerships with local community and technical colleges and with employers to prepare low-income and disabled Minnesotans for available jobs.
2 p.m. – Gov. Dayton will hold a roundtable meeting on rail safety with emergency managers and local leaders in Little Canada. (Little Canada City Center, Council Chambers, 515 Little Canada Road East, Little Canada, MN 55117.
You can vote early for tomorrow's primary at county election offices during regular business hours. (Click here for which cities have early voting available.)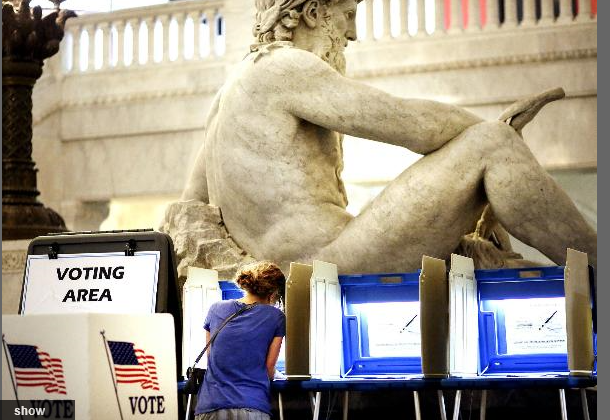 Star Tribune

Mark your calendars and spread the word!
1 day until the Aug. 12 primary and our first opportunity to vote for DFL endorsed candidates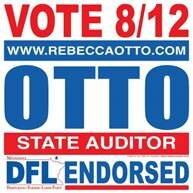 39 days until Sept. 19 and people can begin to vote by no excuse absentee ballot for the Nov. 4 election
84 days until the Nov. 4 election

2014 election
First the primary, then the recount? Star Tribune
Minnesota primary is Tuesday; here's what you need to know, Pioneer Press
Canvassing board selected for 2014 Minnesota state elections, MinnPost
GOP sample ballot for primary misses key races, politics mn
Minnesota primary will test Republican Party's endorsement value, Pioneer Press
Larry Jacobs previews Aug. 12 primary elections, WCCO
Persell, Pederson to face off in primary Tuesday, Bemidji Pioneer
A crash course on primary candidates who have visited Owatonna, Owatonna People's Press
Democrats on life support when it comes to Latino vote, The Hill
Looking to help conservatives, Koch brothers' reach out to Hispanics in bid to patch GOP gap, Star Tribune
'Boots on the ground' provide Labor's edge in 2014, Union Advocate
More absentee balloting coming from DFL areas, analysis shows, Star Tribune
GOP, local races dominate ballot, St. Cloud Times
Legislature
Steelworkers endorse Melin, Mesabi Daily News
Hibbing's Melin faces DFL primary challenge, Duluth News Tribune
Democrats and Republicans decide the future of their parties in Minnesota House primaries, Star Tribune
Kahn, Noor set for tight primary in University area, TC Daily Planet
State Auditor
Say Anything: mystery lawmakers support Matt Entenza for state auditor; many endorse Otto, Bluestem Prairie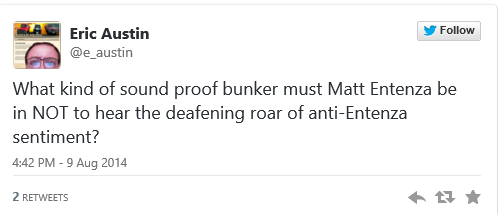 Governor
GOP governor candidate Seifert says he would use Minnesota budget reserve to improve roads, Pioneer Press
Jeff Johnson wants to see government change, Hutchinson Leader
Marty Seifert: I'm the candidate for all of Minnesota, Star Tribune
Seifert would tap budget reserves for roads, proposes tax break for seniors, Star Tribune
Seifert eyes budget reserve for possible road aid, WCCO
Dayton: 6 Minnesota Governor debates sufficient, WCCO
MN GOP governor candidate Mark Zellers stops by News 19, WXOW
Zellers touts his experience, pledges not to raise taxes, Rochester Post Bulletin
Minnesota Republicans trying to recapture statewide viability in primary, Star Tribune
Honour stakes claim to being most conservative candidate, mn progressive project
A slight political bent to Farmfest, Star Tribune
For GOP governor: Scott Honour, Mesabi Daily News
50 years later: Is the War on Poverty working? Dayton, Seifert respond, Northland News Center
Johnson: GOP governor's race about who can beat Dayton, St. Cloud Times
On primary eve, GOP governor hopefuls play to their strengths, MPR
GOP guv: Looks like Johnson will pull it out after all, mnpACT!
Republican Seifert back to stealing reserves, mn progressive project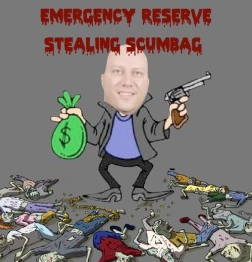 GOP candidates say Minnesota should be more like Kansas and Wisconsin. The numbers say otherwise, MinnPost
The Republican gubernatorial candidates portray the Minnesota economy as being shackled by regulations, burdened by high taxes, and strangled by unions. Yet the data in this article indicates otherwise.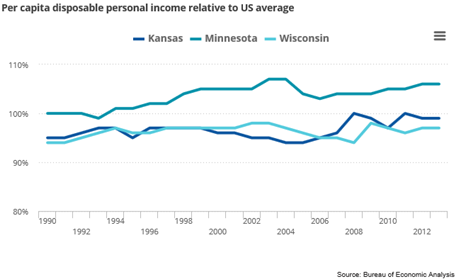 Minnesota was at the national average in 1990, with Kansas and Wisconsin at about 93-95 percent of the average. By 2013, however, Minnesotans earned about 106 percent of the national average income after taxes, while Kansas bumped around the national average and Wisconsin remained stuck below, at around 97 percent.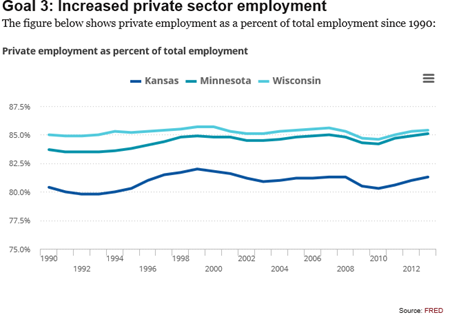 Wisconsin leads in this category, but has been pretty flat since 1990. Minnesota, on the other hand, has experienced rising private sector employment while Kansas has fluctuated around 80 percent.
Focusing on the period since the last recession began, in December 2007, through June 2014, private sector employment rose 0.3 percent in Minnesota, while in Kansas it fell 0.6 percent and in Wisconsin it decreased 2.2 percent.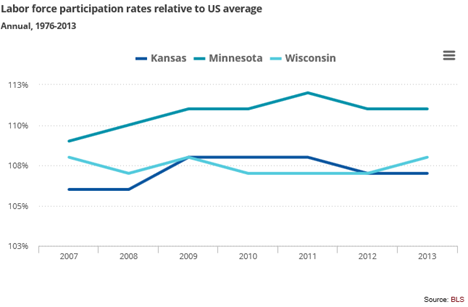 Minnesota's labor force participation rate started at 109 percent of the national average in 2007 (when the Great Recession began), and now stands at about 111 percent. Kansas and Wisconsin are both holding their own above the national average, but both states still lag behind Minnesota on this measure.
U.S. House
GOP Speaker Boehner, Hubbard Broadcasting owners throw Mills fundraiser, Star Tribune
GOP challenger Torrey Westrom has hefty credit card, student loan debt, Star Tribune
Ellis: Minnesota GOP takes aim at Walz, Argus Leader
Emmer puts 2010 behind him in 6th District bid, WCCO
Why Democrats can't win back the House, USA Today
Eighth District ad not completely 'yanked', Star Tribune
In 6th District GOP primary, Bachmann looms large in race to replace her, MPR
PoliGraph: '1 percent' ad against GOP's Mills misleads, MPR
Republicans vying for District 1 congressional seat, Mankato Free Press
U.S. Senate
Senate candidate McFadden delivers weekly Republican address, Star Tribune
McFadden says oral contraception should be available without prescription, Star Tribune
Mike McFadden claims PolyMet mine could yield thousands of jobs; Polymet Mining disagrees, Bluestem Prairie
McFadden tours MinnWest, talks economy and energy, West Central Tribune
Senate candidate McFadden delivers weekly Republican address, Star Tribune
McFadden job claims were false, mn progressive project
Franken challenger: Dem-controlled Senate land of '10,000 excuses,' The Hill
McFadden blasted on steel issue, Mesabi Daily News
GOP candidate makes national pitch for PolyMet, Mesabi Daily News
Mike McFadden highlights Polymet in weekly Republican address, KBJR
McFadden makes northland tour, talks Washington frustrations, WDIO
McFadden aiming to unseat Sen. Al Franken, WCCO
Abeler an outsider, but says he's also an expert, St. Cloud Times
McFadden: Build Keystone Pipeline with foreign steel if cheaper, The UpTake
McFadden GOP address on education: Private schools and work(no pay)/study program, MN Political Roundtable
Mike McFadden says YES To Chinese steel, mnpACT!
McFadden's address to the nation, MinnPost
GOP candidate for Minnesota senate blasted for Chinese steel comment, Duluth News Tribune
[At Farmfest] Franken explained that he supports the Keystone being built from American-made steel, which would help the Iron Range's taconite mines. He also said he wants the pipeline to provide oil to Americans, not for overseas sale, which could happen.
Moments later, a question put to McFadden was: If the cheapest steel comes from China, is that OK?
"I would love to see us use U.S. products when we can," McFadden said. "But it must be cost competitive. I am a supporter of free and fair trade."
So, Forum News Service pressed, would Chinese steel be OK?
"Yes," McFadden replied, "If it is not being subsidized by the Chinese government."
While Minnesota Republican U.S. Senate candidate Mike McFadden garnered national attention for delivering the GOP weekly address over the weekend, his closest competitor accused him of dodging questions back home. "It is unfortunate that McFadden is willing to spend time on a Washington radio address while refusing to attend local forums on Minnesota radio stations," said state Rep. Jim Abeler. McFadden and Abeler are the frontrunners in Tuesday's GOP primary to determine the nominee to challenge incumbent Democrat Al Franken. National party leaders sent a not-so-subtle message to Franken and Abeler by choosing McFadden, who already has the state GOP endorsement and a big fundraising advantage over Abeler, to deliver the party's radio address. The slot is usually reserved for sitting members of Congress, but promising candidates — including now-U.S. Sens. Marco Rubio of Florida and Pat Toomey of Pennsylvania — have delivered the address in the past. Star Tribune

2016 election
2016 preview? Perry, Cruz at same GOP gathering, Pioneer Press
2016 jockeying under way in Iowa, The Hill
Congress
Unfortunately for residents of CD 2 and CD 3, Congressman Kline and Congressman Paulsen hide from voter so this won't be possible.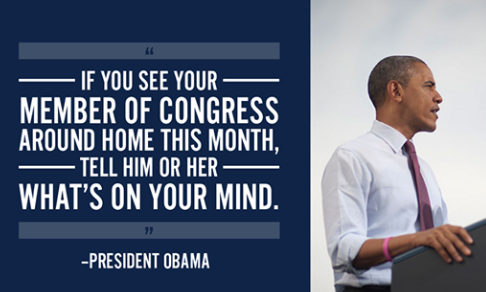 Congressional delegation
Ellison
Democratic Rep. Keith Ellison, the co-chair of the Congressional Progressive Caucus, is backing President Obama's latest military action in Iraq, but said "Congress has made it clear that the president does not have unlimited authority." Ellison cautioned that "intervention in Iraq should be limited in scope and duration." But his support is a sign that the left flank of the Democratic Party, which led the charge in bringing the Iraq war to an end, is rallying behind Obama. Star Tribune
Franken
Fanken, Baldwin push passage of propane bill, Northland News Center
Sen. Franken in Worthington to see community's energy retrofits, Prairie Business
Franken visits Worthington, Worthington Daily Globe
Klobuchar
Klobuchar trying to protect young minds from false advertising, WCCO
Sen. Klobuchar meets with Minnesota businesses, tourism leaders, ECM

Dayton
Governor Dayton highlights efforts to fight poverty at the Minnesota Community Action Partnership Conference, Office of Gov. Mark Dayton
Gov. Dayton calls out GOP 'hucksters' for 'highly irresponsible' pledge to reopen mine, Star Tribune

Economy
Inequality is a drag, New York Times

Education (K-12)
Minnesota teachers who pay for kids' supplies get some help, Star Tribune
St. Paul school district ponders later start for high schoolers, Pioneer Press

GOP
GOP shapes aggressive agenda, Star Tribune
'Stupid Republicans': Sen. Bill Ingebrigtsen dissed colleagues supporting medical cannabis reforms, Bluestem Prairie
Balls & Strikes: Primary election a big test for Downey & Civis, politics mn
Uniting to take Congress, G.O.P. tries to become the Party of 'yes,' New York Times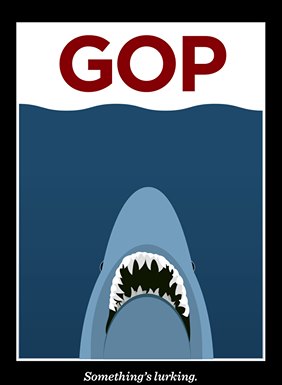 Hobby Lobby
Minnesota can take a stand in Hobby Lobby fight, Star Tribune

Labor
Union vote begins among home health care workers, Workday Minnesota

Legislators
Minnesota's House Speaker visits Moorhead, Valley News Live

Medical marijuana
Medical marijuana briefing draws hundreds of interested entrepreneurs, Star Tribune
Pool of prospective pot producers keeps growing, MinnPost
Business of pot in Minnesota is high-risk, Star Tribune
Big dreams, stiff rules: State starts search for medical pot makers, MPR

Minimum wage
Stillwater café owner's 'minimum wage fee' makes political waves, Pioneer Press
Minimum wage: Stillwater cafe owner decided to be transparent. The audacity.: Pioneer Press editorial, Pioneer Press
If a minimum wage hike costs me another 35 cents, go ahead, mnpACT!
Somali president's visit
Why Somali presidents come to Minnesota and what it means, MPR

Taxes
Let's talk taxes: DFLers encourage tax credit applications, Bemidji Pioneer
daily brief · issues · news