Daily Brief: June 22nd, 2015
Posted by SD48 DFL Communications Team in Daily Brief, News
In the Know
Minnesota DFL
June 22, 2015

Events today
Gov. Dayton will provide remarks at the National Governor's Association Talent Pipeline Policy Academy Cross-State Summit.
President Obama will host an Iftar dinner at the White House celebrating Ramadan.
11:15 a.m. – GOP Chairman Keith Downey, Vice Chairman Chris Fields and Chairwoman Aly Eichman of the Minnesota College Republicans will hold a news conference regarding Hillary Clinton's visit to Minnesota.
5 p.m. – Former Secretary of State Hillary Clinton will attend a fundraiser hosted by Ellen Lugar.

Save the date!
June 23 – The Bloomington Progressive Issues Forum, 5:30 p.m., Davanni's Pizza and Hoagies, 8605 Lyndale Ave. S., Bloomington.
June 24 – Are you alarmed at the rising rate of income inequality in our country? Are you tired of working hard and not getting ahead? The current state of the economy for working people is not inevitable. Learn how you can change the direction of our economy. Join the Saint Paul Regional Labor Federation's Community Connections' workshop on Common Sense Economics. East Side Freedom Library, 1105 Greenbrier Street, St. Paul, 7 p.m., free and open to all
June 27 – Stonewall DFL will at Twin Cities Pride from 10 a.m. – 6 p.m. on the festival grounds in Loring Park. For additional information, contact Gerald Strauss at .
June 23 – The Bloomington Progressive Issues Forum, 5:30 p.m., Davanni's Pizza and Hoagies, 8605 Lyndale Ave. S., Bloomington.
June 28 – Seventh Annual Family Picnic of the DFL Senior Caucus, noon – 3 p.m., Brookview Park, Golden Valley.
July 12 – Tickets are now on sale for the 3rd Annual Jackie Stevenson Dinner in Bloomington. Get more information here.
July 14 – Senate District 53 and Senate District 39 Summer Picnic, 5:30 p.m., Tartan Park, Lake Elmo.

2015 election
Checking in with St. Paul School Board candidates, Pioneer Press

2015 session
Outstate interest groups say the Minnesota Legislature disappointed them, Star Tribune
Despite dissent, Bakk retains post as Senate Majority Leader, Star Tribune
Minnesota business groups upbeat about legislative session, Star Tribune
How to guide a legislative session Daudtfully, Star Tribune
Municipal officials, rural lobbyists blame lawmakers for poor Greater Minnesota session, Albert Lea Tribune
Non-metro areas snubbed in session, Duluth News Tribune
Editorial: The 2015 Legislature's failures for west central Minnesota, West Central Tribune
Our View: Outstate gets small wins at Capitol, Mankato Free Press
Was special session good for Greater Minnesota? Detroit Lakes
Coalition says Legislature did very little for Greater Minnesota, Detroit Lakes
Agreement lacking on Legislature greater Minnesota accomplishments, Alexandria Echo Press
Greater Minnesota officials not pleased, Mesabi Daily News
Special session ends in anger, Agri News
Dayton did Senate leader Bakk no favors, Morrison County Record
Loyal DFL senators rally around Bakk, Mesabi Daily News
Bennett looks back on 2015 session, Austin Daily Herald
Dayton's vision was better for our region, Worthington Daily Globe
Stop the secret deals, Worthington Daily Globe
Legislators rightfully upset over this session's special interest orgy, Ely Timberjay
PoliGraph: Daudt spending claim mostly true, MPR
DFL legislature helped turn Minnesota around, Morris Sun Tribune

2016 election
Huckabee says voters want presidential candidates focused on economy, national security, Star Tribune
Why the GOP's presidential nominee will back legalizing undocumented immigrants, Star Tribune
Pope's climate-change encyclical puts GOP candidates in an awkward place, MinnPost
Minneapolis' Ole Savior on long list of 2016 presidential candidates, MinnPost
Republicans tread carefully in criticism of Confederate flag, New York Times
Marco Rubio, everyman, Politico

Affordable Care Act
Affordable Care Act repeal would increase federal deficit, Star Tribune
Washington whipped into a frenzy ahead of Obamacare ruling, The Hill
CBO: Repealing Obamacare would leave 19 million uninsured; raise federal deficit
Jeb Bush has said repealing the Affordable Care Act would be a "high high" priority in his first 100 days of his presidency.
Ted Cruz stated he would repeal every "bloody word" of Obamacare.
Rand Paul said he "would do everything possible to stop Obamacare."
Marco Rubio said the healthcare law "will have to be repealed."
Scott Walker has said "hands down" he would repeal the Affordable Care Act altogether.
Rick Perry has said that if he ever elected president, "Obamacare will be wiped out as much as it can be."
Ben Carson claimed that Obamacare "is the worst thing that has happened in this nation since slavery."

Agriculture
Avian flu outbreak slows, but impact still being felt, Swift County News Monitor

Charleston
Minneapolis A.M.E. church vows openness after Charleston killings, MPR

Congressional delegation
Ellison
Interview: Congressman Keith Ellison, Harvard Political Review
Klobuchar
Klobuchar to speak to Nebraska Democrats, WCCO

Demographics
Poverty nearly doubles in Twin Cities suburbs, Star Tribune
Economy
Boosting exports to Cuba, creating jobs in Minnesota, Detroit Lakes

Education (E-12)
Small but vital funding step builds momentum for Indian school construction, Star Tribune
Reception is mixed on new education bill, Hutchinson Leader
Fight brews over if charters will be included in integration aid funding, Pioneer Press

Education (higher)
Lawmaker: U's low out-of-state tuition hurts Minnesota students, Star Tribune

Environment
The environment: Somewhere in the mix is a project for you, Star Tribune
Klobuchar, Franken shouldn't bow to lobbyists on Clean Water Rule Star Tribune
Eken fights MPCA, says costs could break Greater MN cities, Detroit Lakes

Humphrey-Mondale Dinner
Three WHS students are guests at DFL political dinner, Worthington Daily Globe

Labor
As Minnesota taconite producers cut their costs, labor contracts are next, Duluth News Tribune
Fired after joining strike, four janitors suspect retaliation, Workday Minnesota
In this episode of the AFL-CIO's "Minnesota Works," United States Senator & union member Al Franken joins us to talk about his experience as a union member. He also tells us why he voted against Trade Promotion Authority. Minnesota AFL-CIO Legislative Director Jennifer Schaubach also stops in with a review of what did and didn't happen during the 2015 Legislative Session.
Today in history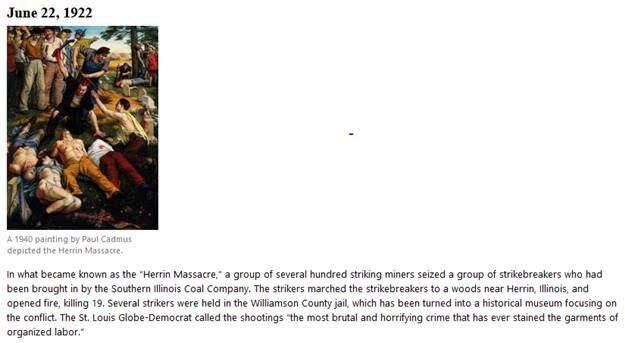 Marriage equality
Before its term ends next week, the Supreme Court appears very likely to recognize a Constitutional right to gay marriage in Obergefell v. Hodges. Such a landmark ruling, which could be announced as early as today or Thursday, would end the bans still in effect across more than a dozen states, from Ohio and Michigan to Kentucky and Tennessee
Long term, this should take the marriage issue off the political table. GOP leaders in Washington overwhelmingly – but mostly privately – support gay rights. They're eager for the chance to say that the Court has spoken and the subject is settled, even as they publicly express disagreement.
Short term, the Court's expected ruling will put gay marriage front and center in the 2016 GOP primary. With a field of almost 20 candidates, the undercards are looking for every opportunity to stand out. Though attitudes have shifted rapidly, social conservatives who oppose same-sex unions retain the power to decide who wins Iowa's caucuses and South Carolina's primary. The National Organization for Marriage is determined to make support for a Constitutional amendment overturning the SCOTUS decision a litmus test. Last week, it began publicly prodding 2016 candidates to sign a pledge that they will do everything possible to "overturn" an "illegitimate" decision.
Minnesota
50 Minnesota innovations that changed the world, MinnPost

Transportation
Rail safety must remain a key priority in Minnesota, Rochester Post Bulletin
Insisting on gas tax dooms long-term road funding, Red Wing Republican Eagle
Post session job 1 – create a transportation plan, ECM

U.S. Supreme Court
Couples, courthouses, opponents nationwide readying for Supreme Court gay marriage ruling, Star Tribune
LIKE the Minnesota DFL on FACEBOOK: https://www.facebook.com/MinnesotaDFL
Follow @MinnesotaDFL on TWITTER: https://twitter.com/MinnesotaDFL
On INSTAGRAM: http://instagram.com/minnesotadfl
daily brief · issues · news