Daily Brief: Friday, Oct. 10th, 2014
Posted by SD48 DFL Communications Team in Daily Brief, News
In the Know
Minnesota DFL
Oct. 10, 2014
Events today
1 p.m.

– President Bill Clinton leads a grassroots rally for Sen. Al Franken and Gov. Mark Dayton, University of Minnesota.

1:30 p.m.

– Congressman Rick Nolan will lead a rally for National Minimum Wage Day to bring attention to the need to raise the wage to $10.10 an hour. North Branch DFL Office, 38880 Oakview Ave, North Branch.

6 p.m.

– Governor's Pheasant Opener Reception and Banquet, Worthington Event Center.
Event tomorrow
6 a.m.

– Gov. Dayton hosts a breakfast as part of the Governor's Pheasant Opener. Worthington Event Center.

8:30 a.m.

– Gov. Dayton will see-off Minnesota veterans who are hunting

Saturday

with the Wounded Warriors. Lake Bella Waterfowl Production Area.

5 p.m.

– Gov. Martin O'Malley is the keynote speaker at the 9th Annual DFL Founders Day Dinner, Minneapolis Convention Center.
Mark your calendars and spread the word!
Early voting is open! #simonsaysvote www.mnvotes.org
Via a news release from the Secretary of State: "The Office of the Minnesota Secretary of State reports 72,361 absentee ballots have been distributed to voters for the November 4 General Election, of which 22,442 have been returned and accepted by election officials — more than 11,000 in the past week alone…The 22,442 accepted ballots to-date in 2014 compares to 41,208 this time in 2012, and 13,915 in 2010."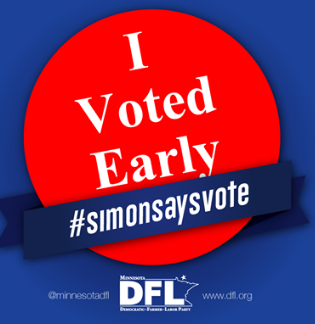 25 days until the Nov. 4 general election
Want to volunteer to elect DFLers? Visit http://www.dfl.org/gotv/
2014 election
Ellison pounds pavement to get 'souls to the polls,' Star Tribune
Online absentee ballot request problems being addressed, state says, Pioneer Press
Legislature
North-suburban House race illustrates differences, Star Tribune
Governor
Dayton walks back from gas sales tax, MPR
Johnson goes negative in new campaign ad, MPR
Dayton seeks to clarify gas tax remark from Moorhead debate, Star Tribune
After candidate debate, Dayton clarifies gas tax proposal, Pioneer Press
Reality Check: Jeff Johnson's ad calls Gov. Dayton 'unaware', WCCO
Yesterday, the Johnson campaign released a new ad that criticizes some of Gov. Mark Dayton's first term decisions and lack of awareness on key issues. http://bit.ly/1oX9R3Y Morning Take
Secretary of State
Under the radar, secretary of state race offers similar names — and big policy differences, MinnPost
U.S. House
KSTP/SurveyUSA: Peterson leads Westrom in 7th District, but too close for comfort, KSTP
U.S. Senate
MN Senate race tenth most expensive on the airwaves, MPR
Senate candidate McFadden plans paid time to re-air Franken debate, Star Tribune
Al Franken up 7 points in Republican poll, Roll Call
Late-season surprises shake GOP confidence in Senate elections, Washington Post
Democrats jump into South Dakota race, Politico
One major indicator in the final few weeks for the McFadden campaign will be whether or not the candidate himself puts cash into the race. Since Franken has outraised him 2:1 in Q3 and leads in polls, the greatest indication of the candidate's confidence in winning would be his own investment in the race. Morning Take
2016 election
In speech, Clinton describes themes that might form backbone of presidential campaign, Star Tribune
Dayton
Dayton to head to Worthington for weekend pheasant opener, Pioneer Press
Ebola
Dayton: Feds should consider screening for Ebola at MSP, MPR
Minnesota officials say they're on top of Ebola situation, Pioneer Press
Minnesota leaders confident in Ebola protections, Fox 9
Economy
Job vacancies in Minnesota hit 13-year high in second quarter, MinnPost
Vikings
Vikings reportedly increasing stadium contribution Friday, Star Tribune
Wisconsin
Supreme Court halts Wisconsin voter ID law, MPR
US Supreme Court blocks Wisconsin from implementing law requiring voters to present photo IDs. Star Tribune
U.S. Supreme Court blocks Wisconsin voter ID law; judge halts Texas law, Pioneer Press
Court strikes down voter ID laws in Wisconsin and Texas, New York Times
daily brief · issues · news