Daily Brief: Friday, May 8th, 2015
Posted by SD48 DFL Communications Team in Daily Brief, News
In the Know
Minnesota DFL
May 8, 2015

Events today
9 a.m. – The Minnesota House of Representatives meets in session.
11 a.m. – The Minnesota Senate meets in session.
2 p.m. – Gov. Dayton and an illustrious group of state officials and former officials will gather at the Armstrong Day Bay Area on the shores of Lake Vermilion near the Soudan Underground Mine State Park to hold a groundbreaking for the new Lake Vermilion State Park. Former Gov. Pawlenty, who initiated the Lake Vermilion State Park plan in 2010, will be at the event.
4 p.m. – A community picnic kicks off the 2015 Governor's Fishing Opener, Tower Civic Center. The event includes free food, free games, great entertainment and several other activities. Follow along at #MNGFO2015.
5:45 p.m. – Gov. Dayton and Lt. Gov. Smith will buy their 2015 fishing licenses at the Soudan Community Store, 30 Main St., Soudan.

Event tomorrow
Midnight – Gov. Dayton, Lt. Gov. Smith, former Chief Justice Eric Magnuson, and Congressman Rick Nolan will fish on Lake Vermilion, from the docks at local resident Brian Anderson's cabin, 1325 Whiskey Point Rd, Tower.
8 a.m. – Gov. Dayton and Lt. Gov. Smith will speak at the Fishing Sendoff Ceremony at Fortune Bay Casino before fishing on Lake Vermilion. Docks and Marina of Fortune Bay Casino Resort, Tower.
11:30 a.m. – Gov. Dayton and Lt. Gov. Smith will attend a shore lunch at Fortune Bay Casino, Tower.

Constituency Caucus meetings
May 12 – The North Metro Chapter of the DFL Senior Caucus will meet at 11:30 a.m. at Little Venetian Inn, Little Canada. Ramsey County Commissioner Mary Jo McGuire and Ramsey County Deputy Manager Heather Worthington will discuss the Twin Cities Army Ammunition Plant redevelopment.
May 16 – The DFL African-American Caucus will meet at 10 a.m., Golden Thyme Coffee House, 921 Selby Ave, St. Paul.
May 16 – The DFL Environmental Caucus will hold a membership meeting, noon, Powderhorn Recreation Center, 3400 15th Ave. S, Minneapolis.
May 21 – MYDFL Central Committee meeting, 6:15 p.m., Rondo Community Library, 461 N Dale St., St. Paul.
May 21 – The Hennepin County DFL Senior Caucus will meet at 12:30 p.m. at Maria's Cafe, 1113 E Franklin Ave., Mineapolis. The speaker will be Lee Graczyk, lead organizer for RxRights.org. He is knowledgeable on the politics of Prescription Medicine.

Events you won't want to miss!
June 6 – Tickets are now on sale for the 4th Annual Humphrey-Mondale Dinner. Donate $5 or more to help our progressive candidates win and be entered to be Jennifer Granholm's special guest at the dinner. Click on the image to donate.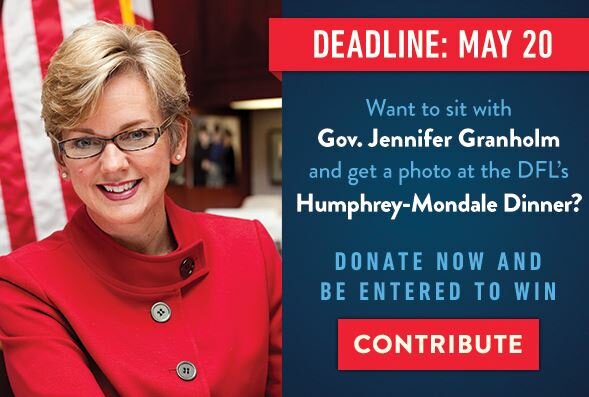 June 20 – Registration is now open for the DFL Training Summit. Attend and learn how you can help the party build to win, built to last.

2015 session
With10 days left in Minnesota's legislative session, visions clash, Star Tribune
State budget talks accelerating, but Daudt says deal 'quite a ways away', Star Tribune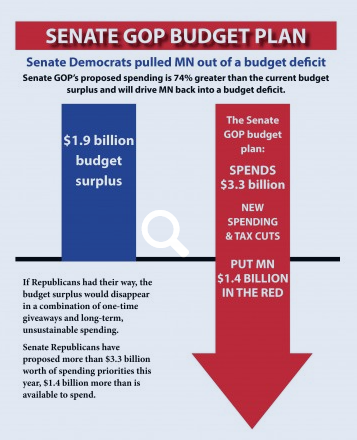 2016 election
Iowa GOP aims to scale back sideshow at 2016 straw poll, cutting cost for White House hopefuls, US News and World Report
Santorum's visit kicks off presidential campaigning in Rochester, Rochester Post Bulletin
Former appointee to New Jersey Gov. Christie pleads guilty to bridge scandal, Duluth News Tribune

Agriculture
Twin Cities grocers have temporary egg shortages because of bird flu, Star Tribune
Bird flu in Minnesota's poultry farms: Why you should care, MPR

Budget (federal)
How the GOP House budget takes aim at funding for college students, The Washington Post

Congress
Disturbing data: The rich and powerful get their policies adopted, even if opposed by most voters, MinnPost

Congressional delegation
Franken
Franken proposes $200M to treat mental illness in children, WCCO
Klobuchar, Emmer
Klobuchar, Emmer introduce legislation to aid doctor shortages in rural areas and international doctor backlog, Star Tribune
Nolan
Congressman Nolan discusses tourism industry, Fox 21

Dayton, Mark
The greening of Mark Dayton, MinnPost

Economy
Fewer layoffs than expected coming to Minntac plant, MPR
US employers added 223,000 jobs in April, sending unemployment rate to 7-year low of 5.4 pct., Star Tribune

Education (K-12)
Tackling the achievement gap for American Indian students, Session Daily

Environment
Minnesota pulls out all the stops to protect walleye, MPR

Fishing opener
Boat diplomacy: Minnesota Capitol's top 3, Dayton, Bakk and Daudt, headed on joint fishing trip, Crookston Times
More than fishing, Mesabi Daily News
Dayton and Lt. Gov. Smith will open the fishing season Saturday on Lake Vermilion, MinnPost
GOP
Legislature 2015, GOP vision: Raising taxes amid surplus is illogical, Star Tribune
'Freedom of Conscience' bill would allow some Minnesota businesses to refuse same-sex wedding services, Star Tribune
Bill would allow refusal of same-sex weddings, Pioneer Press
Lawmaker introduces 'Freedom of Conscience' bill; says measure is not anti-gay, MinnPost
Senator's bill allows business owners 'of faith' to deny gay couples wedding services, WCCO

Health and human services
Poppe, DFL stand against House proposal to cut health program, Austin Daily Herald
Budget deal rests on health and human services spending, MPR
MinnesotaCare should not be eliminated in the state budget, U of M Daily

Immigration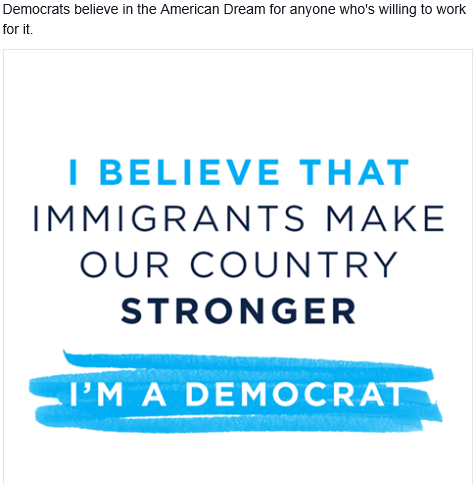 Lottery
Minn. Senate passes bill restricting expansion of State Lottery, Star Tribune
Minnesota Senate votes to kill online lottery games, Pioneer Press
Minnesota Senate votes to end online lottery games, Fox 9

Major League Soccer
State Rep. Phyllis Kahn proposes new MLS team be community owned, Star Tribune
Minnesota lawmaker wants Packers-style public ownership of soccer team, Pioneer Press
Taxes
How the Senate District 48 DFL Communication Team is using information about the House Republicans' tax bill to show how it is impacting their community: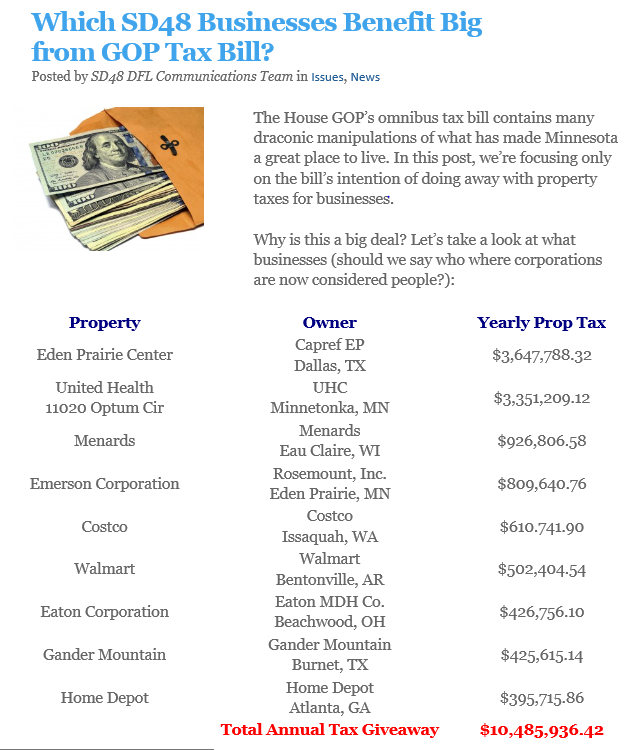 Transportation
Fiery derailment underscores Minnesota has no rail deal, Pioneer Press
New rules may make it harder to get information on Bakken oil trains, Star Tribune
Traffic congestion growing in Twin Cities metro area, Star Tribune
LIKE the Minnesota DFL on FACEBOOK: https://www.facebook.com/MinnesotaDFL
Follow @MinnesotaDFL on TWITTER: https://twitter.com/MinnesotaDFL
On INSTAGRAM: http://instagram.com/minnesotadfl
daily brief · issues · news