Daily Brief: Friday, May 1st, 2015
Posted by SD48 DFL Communications Team in Daily Brief, News
In the Know
Minnesota DFL
May 1, 2015

Events today
Minnesota Secretary of State Steve Simon will travel to St. Louis, Carlton, Isanti, Pine, and Anoka counties to meet with business leaders and local officials, as well as Minnesotans who help with the Secretary of State's Safe at Home address confidentiality program, which helps protect victims of domestic violence.
9 a.m. – The Minnesota Senate meets in session.
10 a.m. – The Minnesota House of Representatives meets in session.
10:30 a.m. – Minnesota Commissioner of Health Dr. Ed Ehlinger will meet with local city, county and public health officials in Hutchinson to see how the Statewide Health Improvement Program (SHIP) has supported various efforts in the city and county, including active living and healthy eating projects. City Council Chambers in the Hutchinson City Center.
2:30 p.m. – More than 40 immigrant rights organizations, unions and social justice organizations will meet at Lake St. and Nicollet Ave. in Minneapolis and march to the Hennepin County Government Center for a 5 p.m. rally.
9 a.m. – Congresswoman Betty McCollum will march in the Cinco de Mayo parade with Ramsey County Commissioner Rafael Ortega, State Sen. Sandy Pappas, State Rep. Carlos Mariani, City Councilmember Dave Thune, DFL-endorsed candidates, and local DFLers. Parade line-up begins at 9:00 AM and the parade kicks off at 10 a.m. The line-up area is at 75 West Plato Blvd. The DFL is Unit #37.
11:30 a.m. – State Central Committee meets, Carpenter's Hall, 700 Olive St., St. Paul.

Constituency Caucus meetings
May 2 – The DFL Veterans Caucus meets, Carpenter's Hall, 10:30 a.m., 700 Olive St., St. Paul.
May 16 – The DFL African-American Caucus will meet at 10 a.m., Golden Thyme Coffee House, 921 Selby Ave, St. Paul.

Events you won't want to miss!
June 6 – Tickets are now on sale for the 4th Annual Humphrey-Mondale Dinner.
June 20 – Registration is now open for the DFL Training Summit. Attend and learn how you can help the party build to win, built to last.
2015 session
Burning budget talks question: Where do we sit? MPR
Speaker: Dayton might get bills he does not want, Pioneer Press
Legislators prepare for showdown over taxes, WCCO
Firefighters push to ban flame retardants in Minnesota, KARE
Minnesota firefighters seek action on stalled flame retardant bill, Star Tribune
2016 election
Two leading DFL women; two very different views of Hillary Clinton's candidacy, MinnPost
Sanders says his campaign will focus on struggling middle class, USA Today
In presidential bid, Sanders differs with Clinton, Star Tribune
Bernie Sanders becomes 5th presidential candidate in Vermont history, Smart Politics
Is Jeb Bush too reasonable for the GOP? Star Tribune
In response to Bernie Sanders' announcement that he will run for president in 2016, DNC Chair Rep. Debbie Wasserman Schultz released the following statement:
"Democrats welcome Vermont Senator Bernie Sanders as the second candidate to officially seek the Democratic Party's nomination for President in 2016. Senator Sanders is well-recognized for his principled leadership and has consistently stood up for middle class families. Throughout his service in the U.S. House and Senate, Bernie Sanders has clearly demonstrated his commitment to the values we all share as members of the Democratic Party.
‎
"The Democratic Party appreciates the contributions that Senator Sanders, Secretary Clinton, and other candidates will make to a healthy dialogue about the future of our party and our nation. There is a distinct contrast between Democrats who are on the side of middle and working class families and Republicans who are concerned with the very rich and wealthy corporations. Over the next year, the discussions we have during our respective nominating processes will help make that choice clear."

Avian flu
First Minnesota wild bird tests positive for avian flu, Fox 9
Hawk from Yellow Medicine Co. tests positive for avian flu, KARE

Black Lives Matter
Black Lives Matter Minneapolis rallies in solidarity with Baltimore, TC Daily Planet

Budget (federal)
House passes budget in win for GOP, The Hill

Campaign finance
Big MN donors spent at least $11 million in 2014, MPR

DFL
Crow Wing County DFL Convention held April 25, Brainerd Dispatch

Environment
Senators want provisions removed from enviro bill, MPR
House passes legacy bill, appropriating $540 million for upcoming biennium, Session Daily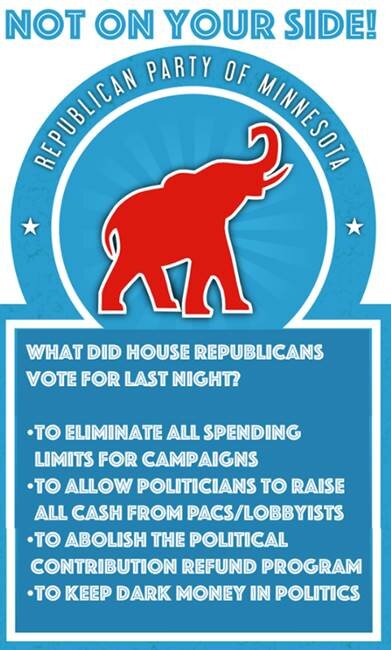 K-12 education
Five school districts OK'd for another year of four-day weeks, MPR

Labor
Top Dems line up behind $12 minimum wage, The Hill
Today is May Day
May Day rallies broaden to address police brutality, race, AP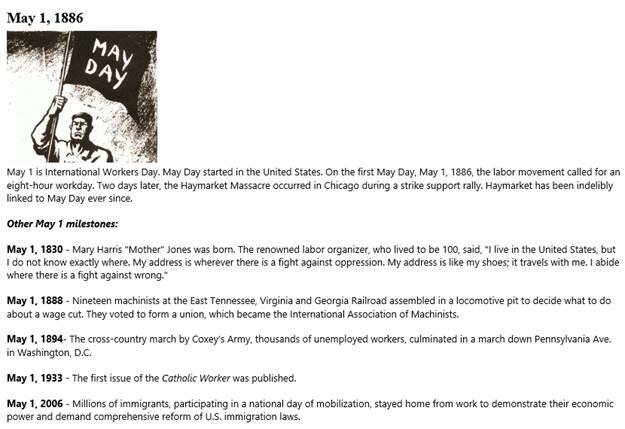 LGBTQ Day at the Minnesota Capitol
Protester Daudtless in Capitol, Pioneer Press
Major League Soccer
Building Minnesota United stadium 'very difficult' without tax relief, owner says, Pioneer Press
Mining
Audit of Minnesota's taconite tax system calls for changes, Pioneer Press

NAACP
Activist Levy-Pounds hopes young people energize NAACP, MPR

Presidential library
AP sources: Chicago wins long-running competition to host Obama presidential library, Star Tribune

Rothman, Mike
Rothman wins committee backing, MPR
GOP senators grill commissioner over MNsure, nonprofit woes, KSTP

Taxes
Guide to tobacco tax breaks in House omnibus tax bill, Clearway Minnesota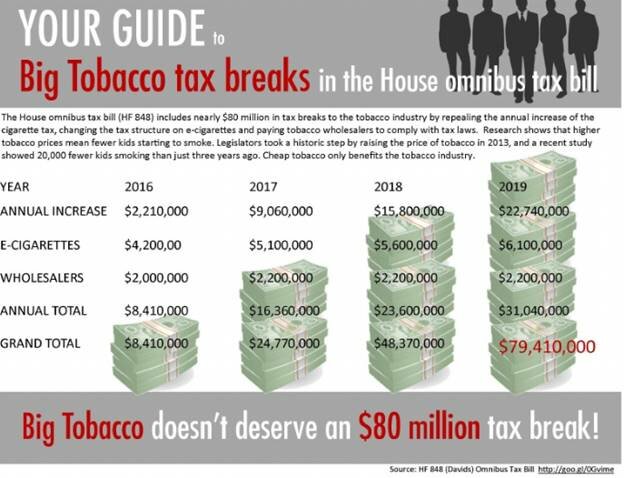 Transportation
Oil train safety through Twin Cities considered at Capitol, Pioneer Press
What's next for the Southwest light rail project? MPR
Map: Who needs to evacuate if an oil train catches fire? Pioneer Press
Report: Average Minnesota deficient bridge is 66 years old, KSTP
Voting
How a bill does not become law: behind the mysterious death of a bipartisan measure to restore felon voting rights, MinnPost
MN Secretary of State talks voting with UMD students, WDIO
LIKE the Minnesota DFL on FACEBOOK: https://www.facebook.com/MinnesotaDFL
Follow @MinnesotaDFL on TWITTER: https://twitter.com/MinnesotaDFL
On INSTAGRAM: http://instagram.com/minnesotadfl
daily brief · issues · news