CONTRIBUTE!
VOLUNTEER!
CONTACT US!
Can You Host an SD48 Lawn Sign?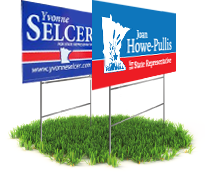 Our candidates are hoping to build visibility with lawn signs!
If you're willing to have one in your yard between now and Election Day, please e-mail us at . We'll pass your information along to our candidates.
Tweets by @DFL48
In the Know
Minnesota DFL
June 6, 2014

Events today
Minnesota Human Services Commissioner Lucinda Jesson and Supreme Court Chief Justice Lorie S. Gildea visit Grand Rapids to highlight progress and work to be done on behalf of foster children. Timberlake Lodge.
Gov. Dayton will attend the Minnesota State High School Clay Target League's 2014 Championship at the Alexandria Shooting Park in Alexandria, Minnesota.
7 p.m. – TPT's Almanac will have GOP endorsed gubernatorial candidate Jeff Johnson.

Event Sunday
11 a.m. – 15th Annual DFL Women's Hall of Fame Luncheon, Prom Center, Oakdale.

2014 election
Legislature
SW MN representative incumbents will face DFL challengers in November election, KWOA
Filing error means House candidate running in wrong party, Bemidji Pioneer
Governor
Seifert brings primary challenge to Brainerd, Brainerd Dispatch
Seifert: 'Full steam ahead', Albert Lea Tribune
Seifert making his primary pitch, Fairmont Sentinel
Seifert: 'I'm the most electable candidate', New Ulm Journal
Seifert touts himself as 'maverick', Rochester Post Bulletin
SIDEWAYS THUMBS: We weren't at last weekend's GOP State Convention, so we won't pile on in the aftermath of what happened when gubernatorial candidate Marty Seifert released his delegates to the furor of the convention crowd. All we'll say is we're not a big fan of what he did, mostly because of the negative ruckus it stirred in a party that really doesn't need a negative ruckus. The crowd wasn't happy with him, and the press took him to task. But this we know: He can take it – he knows if one can't take the heat, the kitchen is not the place to be. Well, he's in the kitchen now. We believe Seifert would do things differently if given another chance, but in the end, he will have to live with a decision that could haunt him at the Aug. 12 primary. Will voters remember what went down in Rochester last weekend? Perhaps, but it would be nice if his competitors would steer clear of casting stones at him (in the same vein, it would behoove Seifert to do the same – he has said he will run a clean campaign, and we hope he stays true to that). As a whole, the Republican Party has been doing damage control for some time now, and the remaining candidates have a chance to move the party forward – given they can get out of each other's way and sell themselves as opposed to raking muck within the party. In the end, one candidate will be left standing, and for the sake of the party, the other candidates and all Republicans in Minnesota would be wise to fully get behind whomever wins in August, because the party at the state level needs unity, not more divisiveness. We hope Seifert can steer himself out of this fishtail he's in right now and remain a viable competitor in the race. We still maintain that having a rural person running the show at the Capitol will be good for Greater Minnesota – and southwest Minnesota; how can anyone in this region or any other rural area argue that? In that respect, we wish Seifert the best of luck going forward. Marshall Independent
State Auditor
DFL auditor primary challenge continues to roil, Star Tribune
State Auditor race gets competitive, combative, WCCO
U.S. House
Mills touts his 'hunting camp doctrine' in second ad, MinnPost
Westrom running for Congress after 18 years in Legislature, West Central Tribune
The DCCC added Mike Obermueller's challenge of Rep. John Kline to its "Emerging Races" initiative. The DCCC defines this designation of challengers as candidates "that are making themselves competitive by running smart campaigns which are becoming increasingly competitive." Morning Take
In a new television ad, Republican Eighth Congressional District candidate Stewart Mills goes for the north woods hunting camp vote. Mills, who rose to national attention when he railed about a proposed "assault weapons ban," said in the ad: "I'm Stewart Mills. I guess I don't look like a typical politician. So people always ask me: Why am I running for Congress? It starts with my family's hunting camp doctrine: If you complain about something, you get the job to fix it. Well, I'm fed up with Washington. The bickering. The debt. Obamacare. Instead of complaining, I'm going to fight to fix it. I'm Stewart Mills and I approve this message, because this hunting camp could teach Washington a thing or two." Star Tribune

2014 session
Legislature sent 170 bills to Gov. Dayton this year; he vetoed one, MinnPost

2014 State Conventions
Social media tracks votes, fireworks, and snakes at political conventions, Star Tribune
Campaign finance
Minn. DFL party chair predicts demise of state, local political parties, MPR

Capitol Complex
State Supreme Court clears way for controversial Capitol office building project, Star Tribune
Minnesota Senate building gets legal green light despite objection from ex-lawmaker, Pioneer Press
Senate office building gets legal green light, MPR

Congressional delegation
Klobuchar, Franken
Sens. Franken, Klobuchar push for more answers on prisoner swap, Star Tribune

D-Day 70th anniversary
Obama pays tribute to 9/11 generation while remembering WWII sacrifices 70 years after D-Day, Star Tribune



Dayton
Gov. Dayton helps St. Cloud celebrate $11.6 million in state funds for convention center, MinnPost
Dayton's St. Cloud visit celebrates River's Edge expansion, St. Cloud Times
Governor Dayton dishes on new plan to provide free meals to hungry Minnesota students, Star Tribune
After long wait, Convention Center money flows to St. Cloud, KSTP

Election Day


Energy
New billing method proposed for Xcel would raise rate for energy hogs, Star Tribune

GOP
Texas Republican Party moves closer to endorsing psychological treatment for gays in platform, Star Tribune
Wisconsin GOP files complaint in Paul Ryan's race, Pioneer Press
Job growth to be focus of think tank's plans for Minnesota policies, Pioneer Press

Guns




MNsure
MNsure makes a difference for more than 220,000 Minnesotans, Minnesota Budget Project
The crop of Republican gubernatorial candidates are starting to show some policy distinctions on the fate of MNsure, the state's health exchange program ushered in with the Affordable Care Act. In an Austin Daily Herald piece published Thursday, Marty Seifert said: "The bottom line is you have to have MNsure." He told the newspaper the health exchange should be rebuilt, not dismantled. On his campaign website, Jeff Johnson has put out a slightly different message: "I will work to eliminate MNsure and move toward a market-based healthcare system in Minnesota." Back in April, Scott Honour said he was for scrapping the health exchange. "I believe it is best to cut our losses by scrapping the Obamacare-MNsure exchange," he said. As far back as last year, Kurt Zellers said MNsure "isn't going to work," andthis winter he reiterated his belief that it should be repealed. If any of the GOP candidates win, they may have a tough time putting their plans into action; there will be a DFL Senate until at least 2016. Star Tribune

Pride Month


Sex offender program
Panel recommends release of man held in sex offender program, Star Tribune

Tax havens
Medtronic a big user of tax havens, holding $20.5 billion overseas, Star Tribune
Medtronic second only to Wal-Mart in use of overseas tax havens, MinnPost

Technology
Democrats unveil new data program to boost voter registration, MSNBC
Veterans
Senators reach accord easing worries over veterans' health measure, New York Times
daily brief · issues · news