Daily Brief: Friday, Aug. 8th, 2014
Posted by SD48 DFL Communications Team in Daily Brief, News
In the Know
Minnesota DFL
Aug. 8, 2014

Events today
10:06 a.m. –How U.S. Senate FarmFest forum could shape Tuesday's primary, Daily Circuit, MPR
U.S. Sen. Al Franken and Minneapolis Mayor Betsy Hodges will join the owner of Crankshaft Supply in Minneapolis to discuss how making energy efficiency updates to buildings creates jobs, saves money, and promotes economic development.

Events Saturday
County election offices (and some city halls) are open for early voting, 10 a.m. to 3 p.m. Find more information at www.mnvotes.org.

Mark your calendars and spread the word!
Early voting for the Aug. 12 primary is open. Stop by your county election office and cast your vote or click here to request an absentee ballot and vote by mail. Please support your DFL-endorsed candidates!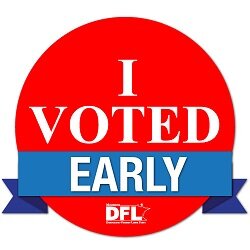 4 days until the Aug. 12 primary and our first opportunity to vote for DFL endorsed candidates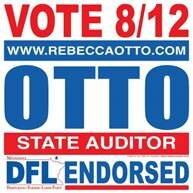 42 days until Sept. 19 and people can begin to vote by no excuse absentee ballot for the Nov. 4 election
87 days until the Nov. 4 election

2014 election
Candidates are skipping debates left and right. Why that strategy makes perfect sense,MinnPost
Will you take advantage of the early voting option?, MPR
Despite push, absentee ballots lag 2010, MPR
Minnesota absentee ballot filings near 16,000, Pioneer Press
Legislature
Noor, Kahn go door to door to make their final pitch, Star Tribune
Kahn, Noor press fight for Minneapolis House seat as primary nears, MPR
Minnesota Supreme Court
GOP Supreme Court candidate Michelle MacDonald ticketed again, Star Tribune
Governor
Candidate for governor Scott Honour compaigns in Zumbrota, Zumbrota News Record
Johnson draws fire as GOP's Governor primary nears, WCCO
Johnson: Senate office building an example of 'Dayton Administration', WCCO
Dayton calls rivals' stand on Polymet 'highly irresponsible', Star Tribune

Scott Honour: I'll change how this state is governed, Star Tribune
GOP governor hopefuls attack each other as primary nears, MPR
'Mock' groundbreaking puts campaign spotlight on Senate building, KSTP
Secretary of State
Secretary of State candidate Steve Simon has supported voting reforms, Rochester Post Bulletin
State Auditor
Rebecca Otto has proven track record as state auditor, Rochester Post Bulletin
U.S. House
With little policy difference, Westrom hopes to pin Peterson to national Democrats,MinnPost
National media outlets call out WDIO & KSTP for 'political activism,' Northland News Center
Shiny fresh new MN07 Republican talking points repeat same old message about Collin Peterson, Bluestem Prairie
U.S. Senate
McFadden to deliver GOP's weekly address, WCCO
KBJR Vice President responds to Al Franken ad featuring station anchor, Northland News Center
Obama in Franken's shadow at Farm Fest – 97% of the time, politics mn
Congressional delegation
Franken
Franken tours RELCO plant in Willmar: Company paid workers to learn the skills they would need, West Central Tribune
McCollum
Cuts to National Guard motorsports sponsorships draw mixed reviews, Roll Call
Education (K-12)
Minnesota: New school-year approaches, Pioneer Press

Medical marijuana
Interest lights up as state looks to select first medical marijuana manufacturers, KSTP

Minimum wage
Dayton: Restaurant minimum wage fees 'tacky', MPR
Stillwater cafe owner's 'minimum wage fee' makes political waves, Pioneer Press

Vikings
Vikings, fans ready for August outdoor football — but what about January? MPR
No tags
<< Outrage on Iron Range Mounts over McFadden's Anti-Minnesota Jobs Stance