Daily Brief: Friday, Aug. 21th, 2015
Posted by SD48 DFL Communications Team in Daily Brief, News
In the Know
Minnesota DFL
Aug. 21, 2015

Events today
Lt. Governor Smith will meet with Consul General Toshiyuki Iwado of Japan.

Events Saturday
1 p.m. – Minnesota workers, community members, & a Huhtamäki worker from California will call on Chipotle to ensure their "Integrity" principles apply to workers in its supply chain. Chipotle Cultivate Festival, Minneapolis, demonstrators will be meeting at the corner of Willow St. & W. Grant St., Minneapolis.
2 p.m. – A MN Seniors' Legislative Issues Forum will be held at Wescott Library, 1340 Wescott Rd, in Eagan. The event is free and sponsored by The DFL CD 2 Outreach/Inclusion Committee and DFL Southwest Metro Senior Caucus. Sen. John Marty (DFL-Roseville), Sen. Jim Carlson (DFL-Eagan), Sen. Kevin Dahle (DFL-Northfield), Rep. Debra Hilstrom (DFL-Brooklyn Center), and Rep. Sandy Masin (DFL-Eagan) will speak about legislation benefiting seniors' income, health, transit, and housing, as well as advocacy that can be done for upcoming legislative efforts.

Mark your calendars
Aug. 26 – The Herstoric March on Women's Equality Day will start at St. Stephen and the Incarnation Episcopal Church in Washington D.C. following the 8 a.m. blessing of the walkers. Many will accompany Helene de Boissiere Swanson for the final four miles of this 7,000 mile spiritual pilgrimage to the U.S. Capitol to promote the passage of the Equal Rights Amendment. The four-mile route passing the White House and on to the Upper Senate Park at National Mall where top feminists and human rights activists will hold a press conference, and then rally for the ERA.
Aug. 26 – There is a free screening of the Oscar nominated film "Selma" at Capri Theater, 2027 W Broadway Ave, Minneapolis, at 6 p.m. Following the screening will be a panel discussion featuring Congressman Keith Ellison and other leaders from the Twin Cities civil rights community.
Aug. 29 – The Democratic National Committee (DNC) Seniors Coordination Council will meet at the Hilton Minneapolis Hilton at 1001 Marquette Ave. S. from 10 a.m. to noon. Admission is free. For more information contact DFL Senior Caucus Vice Chair Karla Sand at .
DNC presidential primary debates

Oct. 13 – CNN – Nevada
Nov. 14 – CBS/KCCI/Des Moines Register – Des Moines, IA
Dec. 19 – ABC/WMUR – Manchester, NH
Jan. 17 – NBC/Congressional Black Caucus Institute – Charleston, SC
February or March – Univision/Washington Post – Miami, FL
February or March – PBS – Wisconsin

2015 election
Three DFLers line up to run for District 3A, The Timberjay

2016 election
Walker trails Clinton by 10 in Wisconsin, The Hill
How realistic is Trump's immigration plan? MPR
Jeb Bush: 'Anchor babies' isn't offensive, The Washington Post
Inside the GOP clown car, Rolling Stone
O'Malley to propose expansion of Social Security benefits, other measures to aid seniors, The Washington Post
Inside the GOP field's new strategies to ride out the Trump tornado, The Washington Post
Bernie Sanders draws big crowds to his 'political revolution,' The New York Times
Donald Trump is going to pack a college football stadium in Alabama on Friday night. The scene will be part Lynyrd Skynyrd concert, part tea-party rally. It'll also likely be the biggest event so far in the 2016 race. And there is nothing GOP leaders or his rivals can do about it.
Ladd-Peebles Stadium in Mobile, Ala., is one of the last places you'd expect a Republican presidential candidate to appear in late August before the primaries. This chapter of the contest is usually devoted to sleepy getting-to-know-you huddles at the Pizza Ranch in Pella, Iowa. But the sloped steel bowl near the Gulf Coast, just a short drive from the vote-rich Florida panhandle, is where the billionaire is planning to host more than 30,000 people.

Corey Lewandowski, Trump's campaign manager, called The Washington Post on Thursday to preview the event. He said Trump's goal is to start laying the groundwork for the swing of Southern primaries in March and for what could be a drawn-out nomination fight. "That's where we're looking," he said. "Iowa, New Hampshire and South Carolina, and then be ready for the rest of the way."

The gathering under the Friday night lights, however, is not only a strategic move to round up signatures and e-mail addresses in the parking lot and in the bleachers. It is a sweaty political moment — the latest and largest spectacle in what has become the most colorful and bombastic campaign in American politics. The Washington Post
Black Lives Matter
Black Lives Matter to protest at State Fair, MPR
Black Lives Matter announces protest to disrupt the Minnesota State Fair, Fox 9
Black Lives Matter group to rally, disrupt operations at Minnesota State Fair, Star Tribune

Carter, Jimmy
With humor and honesty, Carter talks about his cancer, MPR
Former president Jimmy Carter says cancer has spread to his brain, The Washington Post
Jimmy Carter 'perfectly at ease' despite cancer diagnosis, The Washington Post
Former President Jimmy Carter news conference on cancer diagnosis, CSPAN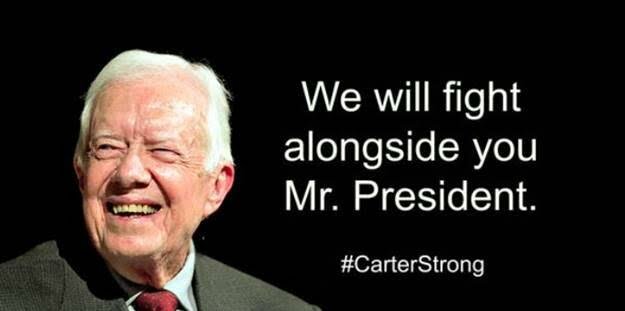 Congress
If Congress keeps cutting its staff, who is writing your laws? You won't like the answer. The Washington Post

Congressional delegation
Klobuchar
Klobuchar adds personal touch to political profile with memoir, MPR
Klobuchar on Iran, Cuba and lessons as a carhop, USA Today

Democratic National Committee – today is the contest deadline!
Don't miss today's deadline to enter to win a chance to see Hillary Clinton, Bernie Sanders, Martin O'Malley, Lincoln Chafee and Jim Webb in Minneapolis a week from today. Click here to give now to enter before tonight's deadline!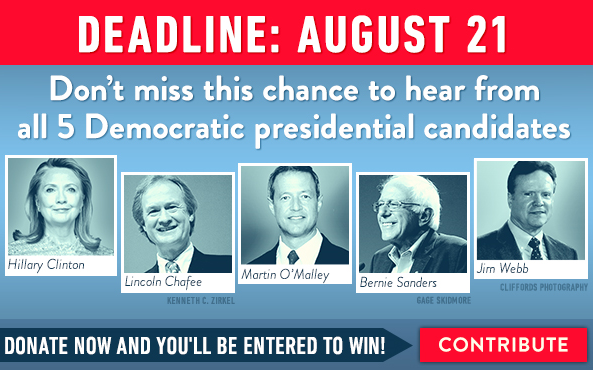 Dill, David
Anderson: Ally of the outdoors, Dill will be dearly missed, Star Tribune

Economy
Minnesota lost 3,900 jobs in July, unemployment rises to 4 percent, MinnPost

Environment
July was the hottest month in Earth's hottest year on record so far, The Washington Post

GOP
DFL Chairman blasts Daudt for spending $2M on Capitol furniture, WCCO
Daudt backed additional $2M for legislative space upgrades in renovated Capitol, Star Tribune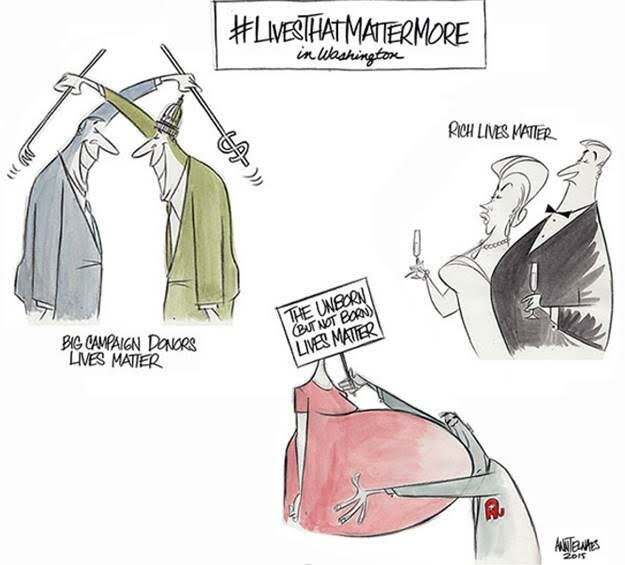 Health care
UCare sues to keep access to Minnesota public health plans, Pioneer Press

Iran
Nolan leaning toward backing Iran nuclear deal, MPR
Iran deal ads running in at least 23 states, including Florida, Texas, California and Pennsylvania, The Washington Post
Okay, so what if Iran does get nuclear weapons? The Washington Post
Congress unlikely to override an Obama veto in Iran nuclear fight — for now, The Washington Post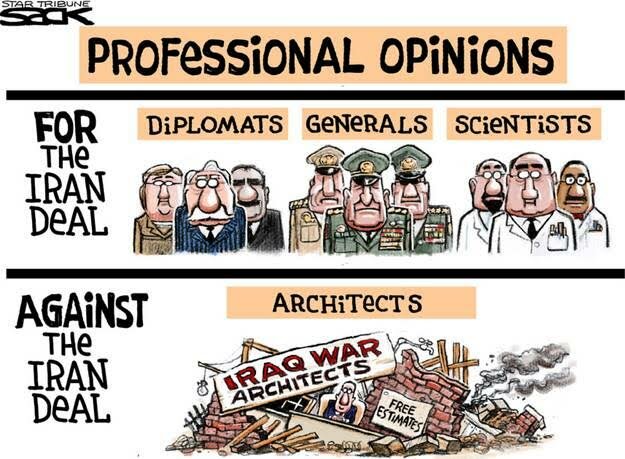 Major League Soccer
St. Paul mayor, Minnesota United owner meet to discuss stadium, Pioneer Press
Resolution supporting soccer stadium bid to go before St. Paul City Council next week, MinnPost
MNsure
MNsure tackles tech problems weeks before signups start, Pioneer Press
LIKE the Minnesota DFL on FACEBOOK: https://www.facebook.com/MinnesotaDFL
Follow @MinnesotaDFL on TWITTER: https://twitter.com/MinnesotaDFL
On INSTAGRAM: http://instagram.com/minnesotadfl
daily brief · issues · news