Daily Brief: April 14th, 2015
Posted by SD48 DFL Communications Team in Daily Brief, News
In the Know
Minnesota DFL
April 14, 2015

Events today
8:30 a.m. – Lt. Gov. Tina Smith will visit a pre-kindergarten classroom and talk with administrators at Probstfield Center for Education, 2410 14th Street South, Moorhead.
9 a.m. – The Minnesota House of Representatives meets in session.
9:30 a.m. – Gov. Mark Dayton, Education Commissioner Brenda Cassellius, Sen. Katie Sieben, Sen. Richard Cohen, and House Assistant Minority Leader Erin Murphy, will visit Expo Elementary School in St. Paul to talk with preschool students, teachers, and parents, and discuss the impact of their proposal to send every Minnesota 4-year-old to preschool.
11 a.m. – The Minnesota Senate meets in session.
Noon – Workers who clean Best Buy stores, including corporate headquarters, will hold a press conference and delegation visit calling on Best Buy executives to stop blocking legislation which would improve the job quality and health of Minnesota workers. Best Buy is a key leader of the Minnesota Retailers Association, which has been actively lobbying state legislators to block policies like earned sick time, paid family leave, and inflation indexing for future minimum wage increases – among the MnRA's top 2015 legislative policies.
12:30 p.m. – Lt. Gov. Smith will hold a roundtable discussion on college affordability at Bemidji State University, Deputy Hall Room 306, 1500 Birchmont Dr. NE, Bemidji.
1:30 p.m. – The House Health and Human Services Finance Committee is scheduled to take up bills that would repeal MNsure and MinnesotaCare, and transition the state to the federal health insurance exchange.
4 p.m. – Senate Majority Leader Tom Bakk (DFL-Cook) will be available to the press to take questions regarding his meeting with Dr. Bill McGuire and Minnesota United FC advocates.

Save the date
April 16 – Rally for transportation, noon, lawn in front of the State Capitol. Gov. Dayton and DFL legislators will speak.
April 18 – DFL African American Caucus meeting. 10 a.m., Northeast Library, 2200 Central Ave NE, Minneapolis.
April 19 – DFL Environmental Caucus planning meeting. 2 – 4 p.m., Burnhaven Library, 1101 West County Rd. 42, Burnsville.
May 16 – First membership meeting of the DFL Environmental Caucus. 1 – 4 p.m., Maplewood Library, 3025 Southlawn Drive, Maplewood.
June 6 – Tickets are now on sale for the 4th Annual Humphrey-Mondale Dinner.
June 20 – Registration is now open for the DFL Training Summit. Attend and learn how you can help the party build to win, built to last.

2015 session
Budget bills head to Senate, House committees at the Capitol, MPR
Don't look at the speaker rule survives, Pioneer Press

2016 election
Sen. Marco Rubio tells backers he is running for president, 'time has come for our generation,' Star Tribune
Rubio confident he's ready to be president from 'day 1', MPR
7 things you should know about Marco Rubio, MPR
Who is the most qualified candidate running for president?, MPR
Quiz: Find out how much you know about Hillary Clinton, Pioneer Press
Hillary Clinton starts small in Iowa as her vast national network whirs to life, The Washington Post
What Marco Rubio would need to do to win, The New York Times
Immigration debacle dogs Marco Rubio, Politico
Marco Rubio spokesman Alex Conant is a Minnesota native, MinnPost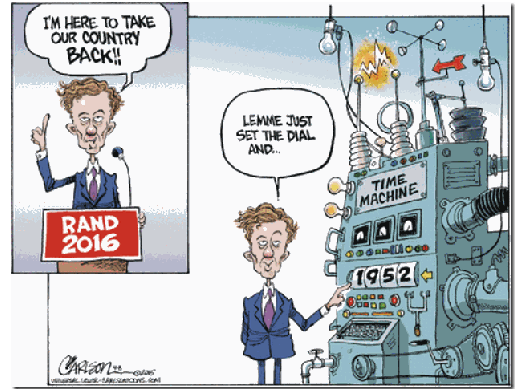 Agriculture
Political Notebook: Davids vows to kill Dayton's buffer strips proposal, Rochester Post Bulletin

Budget (state)
House plans smaller House budget: $58 million budget, Pioneer Press

Education (higher)
The House Republicans unveiled their omnibus higher education bill shortchanges Minnesota students. While Gov. Dayton wants to continue the current tuition freeze for students attending all state schools, the House Republicans freeze tuition only for students at two-year MnSCU schools. House DFL Leader Paul Thissen released the following statement:
"We have a $2 billion surplus. Yet, the Republican plan guarantees tuition will increase, debt will escalate, and it will be more expensive for hardworking Minnesota students to get a degree and get ahead. That is unacceptable, especially since the Republicans are favoring tax cuts for their special interests friends over Minnesota's future – its students.
"Two years ago Gov. Dayton and the DFL-led legislature froze tuition for all Minnesota public colleges and that was with the state facing a $627 million deficit and the need to repay the school shift. After a decade of steep tuition hikes the cost of a higher education is still too steep for many families and students. If we want Minnesota to continue its competitive edge we need to make college more affordable – not less.
"This comes down to priorities. We believe that with a $2 billion surplus we should make college more affordable for all hardworking students. Unfortunately, Republicans would rather give $2 billion in tax breaks away that largely benefit corporate special interests."

Environment
House budget bill rolls back invasive species boating rule, Pioneer Press
Environment needs more federal help, says 48% in U.S. Gallup Poll, MinnPost

Equal Pay Day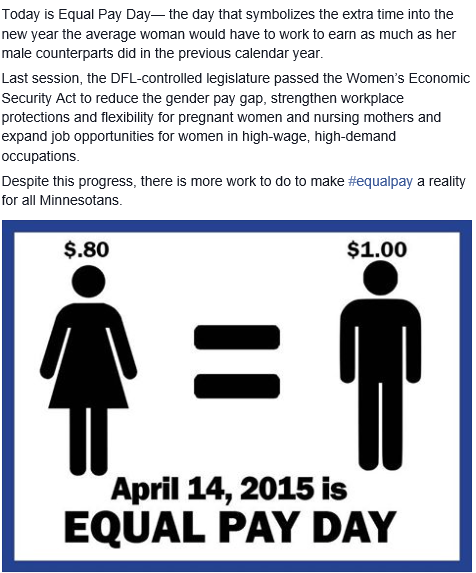 GOP
Three months after big fine, FEC again warns state GOP to clear up paperwork, Star Tribune

Labor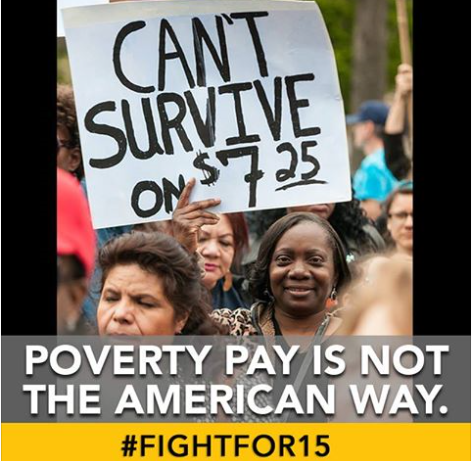 Today in history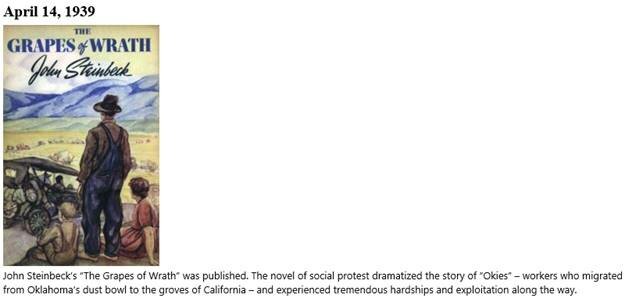 Liberals
Wealthy donors on left launch new plan to wrest back control in the states, Washington Post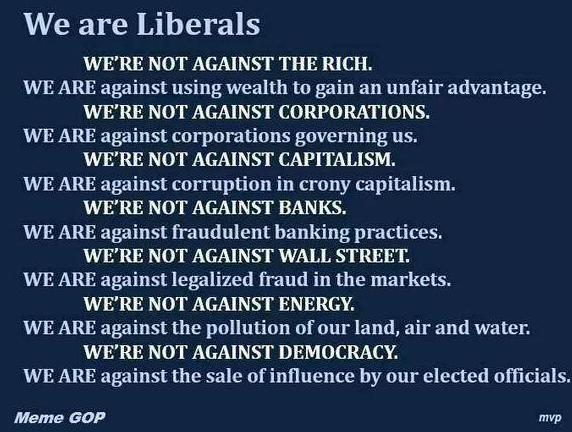 Major League Soccer
Senate Majority Leader Tom Bakk definitive no on pro soccer stadium, Star Tribune
Bakk: Soccer stadium wouldn't get one vote, MPR
Finding funding for proposed soccer stadium is complex, Star Tribune
Met Council
Latest episode in pay dispute: House GOP moves to cut Metropolitan Council chair's pay in half, Star Tribune

Mining
Poll shows lower support for 'sulfide' mining in Minnesota, MPR

Sandpiper Pipeline
Judge supports Sandpiper pipeline in northern Minnesota, Star Tribune
Senate office building
State Senate building costs spark renewed debate, MPR

Sunday liquor sales
Bakk: Sunday liquor sales chances remain slim, Star Tribune
Transportation
House transportation bill clears first hurdle, MPR
Met Council promises light-rail fare skipping addressed, Pioneer Press
GOP transportation bill adds money for rail safety, Pioneer Press
Light-rail fare jumpers could face crackdown, WCCO
Working poor
How much each state spends on aid to poor workers, The Washington Post
Nationally, working families receive 81 percent of spending on Earned Income Tax Credits; 55 percent of spending on health coverage for poor adults and children; 38 percent of spending on food stamps; and 27 percent of spending on welfare.
LIKE the Minnesota DFL on FACEBOOK: https://www.facebook.com/MinnesotaDFL
Follow @MinnesotaDFL on TWITTER: https://twitter.com/MinnesotaDFL
On INSTAGRAM: http://instagram.com/minnesotadfl
daily brief · issues · news