Daily Brief: Friday, Oct. 17th, 2014
Posted by SD48 DFL Communications Team in Daily Brief, News
In the Know
Minnesota DFL
Oct. 17, 2014

Events today
Gov. Dayton will convene a special meeting of his Cabinet for an update on the state's Ebola preparedness and prevention efforts.
7 p.m. – Rep. Steve Simon, the DFL-endorsed candidate for Secretary of State, will take part in a debate on "Almanac."
Gov. Dayton will provide remarks at the Minnesota State Fire Chiefs Association Awards Banquet.

Events Saturday
11 a.m. – U.S. Sen. Elizabeth Warren will lead a GOTV Rally at Carleton College.
2 p.m. – U.S. Sen. Elizabeth Warren will rally DFL volunteers at the St. Paul Campaign Office, 262 University Ave. W, St. Paul.

Event Sunday
7:45 a.m. – Come show your support for Gov. Dayton at Hamline University's Klaus Center, 1537 Taylor Ave, St. Paul, at an early morning rally. Coffee and a light breakfast will be served.
9 a.m. – Gov. Dayton and Jeff Johnson debate at Hamline University.
Sen. Al Franken will host Montana Sen. Jon Tester, chairman of the Senate Committee on Indian Affairs, for a meet and greet at Red Lake Indian Reservation and a grassroots campaign event at the White Earth Reservation.

Event Tuesday
2 p.m. – First Lady Michelle Obama will headline a GOTV Rally for Sen. Franken and Gov. Dayton at Patrick Henry High School in Minneapolis. Free tickets are available on a first come, first serve basis atdfl.org/mpls-rally.

Mark your calendars and spread the word!
Early voting is open! #simonsaysvote www.mnvotes.org
Minnesota absentee voting sharply outpacing 2010, WCCO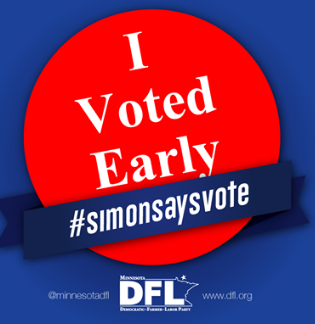 18 days until the Nov. 4 general election
Want to volunteer to elect DFLers? Visit http://www.dfl.org/gotv/
2014 election
Michelle Obama to campaign in North Minneapolis, WCCO
Four campaign finance takeaways, MPR
Week in politics: Fighting for control of the Minn. House, MPR
Congressional fundraising: Nolan reports huge quarter; big numbers in Senate race, MinnPost
Michelle Obama, VP Joe Biden coming to Minnesota next week for campaign events, MinnPost
2014 Campaign Finance Dashboard, MinnPost
Legislature
Rep. Tara Mack, 57A wants to take away your health care, mnpACT!
Secretary of State
The invisible race: Minnesota secretary of state job up for grabs, MPR
Candidate's view: Right to vote requires protection, Duluth News Tribune
Sec of State candidate Severson apparently confused on absentee ballot law, The UpTake
GOP poll: Tight race for Secretary of State, politics mn
Steve Simon's statement on Minnesota's 111,000 absentee ballots requests
"It's great to see that over 111,000 Minnesotans have requested absentee ballots for this year's election. I've spent my legislative career passing laws to help make it easier and more accessible for people to vote. For a mid-term election year, I'm very encouraged by the fact we already have over 14,000 more votes accepted than in 2010.
"With the new 'no excuse' absentee ballot law giving people the ability to order their ballots on-line and then vote from home, I believe we will continue to see these positive results.
"I am proud to have helped pave the way for more voters to cast their ballots and, as Secretary of State, I will continue to improve and modernize the state's elections system."
Governor
Johnson says Dayton's 'lying' over health rates, WCCO
Dayton, Johnson trade jabs as the race for governor heats up, Pioneer Press
Minnesota absentee ballots largely from regular voters, Democratic areas, Star Tribune
Minnesota Supreme Court
Minnesota Supreme Court: David Lillehaug vs. Michelle MacDonald, Pioneer Press
U.S. House
Mills glad he got off the bench and into the 8th District race, Park Rapids Enterprise
Emmer bolsters financial lead in 6th Congressional District race, St. Cloud Times
Folks of the Second District will get a fairer shake from Obermueller, ECM
KSTP/SurveyUSA POLL: Upset brewing in 8th District? KSTP
2014 candidate message: GOP challenger Jim Hagedorn, KSTP
GOP poll: Peterson and Westrom neck and neck, Star Tribune
Koch Brothers Reward Stewart Mills III for His Loyalty: Our suspicions are confirmed: after shilling for corporate special interests throughout his career, Stewart Mills III disclosed that he is being funded by the conservative billionaire Koch brothers, according to his latest FEC report. The Koch brothers are pouring money into Mills III's campaign coffers because he has pledged to support the Kochs' misguided priorities that heap tax breaks on billionaires like them, while handing the middle class the bill.
"It's no surprise to see the Koch brothers funding Stewart Mills III's campaign, since his agenda would stack the deck for billionaires like the Kochs at the expense of middle class families," said Josh Schwerin of the Democratic Congressional Campaign Committee. "Stewart Mills III has the same out-of-touch priorities as this reckless Republican Congress, and the Kochs are rewarding him for his loyalty."
The Democratic Congressional Campaign Committee is launching its latest television ad in Minnesota's 8th Congressional District, highlighting how Millionaire Stewart Mills III is only it for himself with his plans to give more big tax breaks to millionaires like himself while Mills opposes tax breaks for 95 percent of Minnesotans.
U.S. Senate
McFadden, Franken seize on high-pressure issues, WCCO
Franken looks ahead to final weeks of re-election campaign, MPR
McFadden, Franken square off over handling of Ebola, Star Tribune
McFadden releases plan aimed at working families, Star Tribune
A Senate race where Democrats neutralized Obamacare attacks, Roll Call

Congressional delegation
Franken
Franken: Override 'Hobby Lobby,' make contraceptives more available to women, Star Tribune

Dayton
Gov. Mark Dayton celebrates grand opening of Iron Range wastewater plant, Northland News Center

Economy
It's undeniable – MN has been an economic star, mnpACT!
Minnesota's unemployment rate dropped to 4.1% in September, MinnPost
DEED's monthly jobs report showed Minnesota employers added 7,200 new jobs during the month of September. The report also showed Minnesota gained 2,700 more jobs in August than were originally reported. DEED also announced today that Minnesota's unemployment rate has dropped to 4.1 percent – reaching its lowest level in eight years. It total, Minnesota has added 172,000 new jobs since Governor Dayton took office in January 2011. The following is a statement from Governor Dayton:
"Our state's many successful businesses and their hard-working employees deserve the credit for Minnesota's strong and continuing economic growth. Today's jobs report offers still more evidence that their success and hard work are moving our state in the right direction.
"Since January 2011, Minnesota has added over 172,000 new jobs. But we cannot be satisfied yet. There is still more work to do to grow our economy, and create more good jobs for Minnesotans."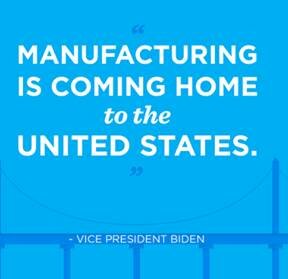 GOP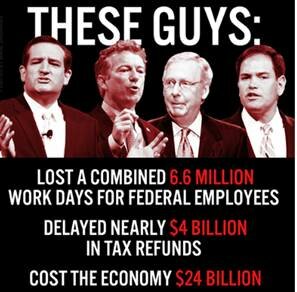 daily brief · issues · news