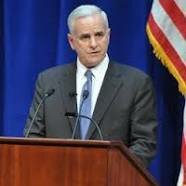 Today, Gov. Mark Dayton rolled out his proposed budget for the next two years, which would invest the state's $1 billion surplus in initiatives to improve our education system, and strengthen the middle class.
Here's a look at the Governor's budget proposal at a glance:
Focus on students and children – The Governor would dedicate over half of the state's budget surplus to education and other initiatives to improve the lives and educations of children and families across Minnesota. It would make bold, strategic investments to narrow the achievement gap and help ensure all kids receive excellent educations.
Investing in higher education – The Governor's budget would make important investments in higher education to hold down tuition, provide additional financial aid, and improve the quality of our higher education institutions.
Tax cuts for the middle class – The Governor's budget would target tax relief to hundreds of thousands of middle-class Minnesotans, including Child and Dependent Care Credits for 130,000 working families and immediate tax relief for 200,000 middle-income Minnesotans.
Needed investments in transportation infrastructure – The Governor has proposed a straightforward, honest solution to fix Minnesota's aging and underfunded transportation systems. The Governor's plan would repair or replace 2,200 miles of roads and over 330 bridges statewide.
A more comprehensive look at the Governor's budget proposal is included below. A detailed spreadsheet is available on the MMB website.
Additional information about Gov. Dayton's budget proposal is available on the online took kit. You can also follow the conversation on Twitter and Facebook.
2015 Minnesota budget · Gov. Dayton · Mark Dayton